Woodland Moss Christmas Wreath
Please note that this post contains affiliate links. As an Amazon Associate, Rewards Style influencer and Jane Influencer, we earn from qualifying purchases and any sales made through such links will reward us a small commission – at no extra cost for you.
Hey y'all…It's amazing what difference a day of sunshine can make in my life. I feel happy, energetic and full of creativity! I am so glad the 3 weeks of dark and dreary are far behind us and that brighter days are definitely ahead!
I was so energized and creative yesterday that I made 3 Christmas wreaths, 2 sets of ornaments and worked on a Christmas sign! Whew…it felt good!
I am determined that this year I will not spend any extra money on my Christmas decor or gift wrap. Full disclosure…I have a lot of supplies on hand that I have collected over the years or purchased after Christmas last year.  I also plan to reuse and repurpose items from Christmas' past.
Like this woodland moss Christmas wreath that I made yesterday.
These are all leftover materials from past projects. I have had this grapevine wreath for years – I just remove the previous decor and added the new.
I love the earthiness of a natural grapevine wreath. You can still see the dried leaves on it.
I applied the moss with hot glue – I'm not gonna lie, I burned myself twice doing this. Thanks goodness for aloe!
I glued the white miniature bottlebrush trees from their base onto the vine.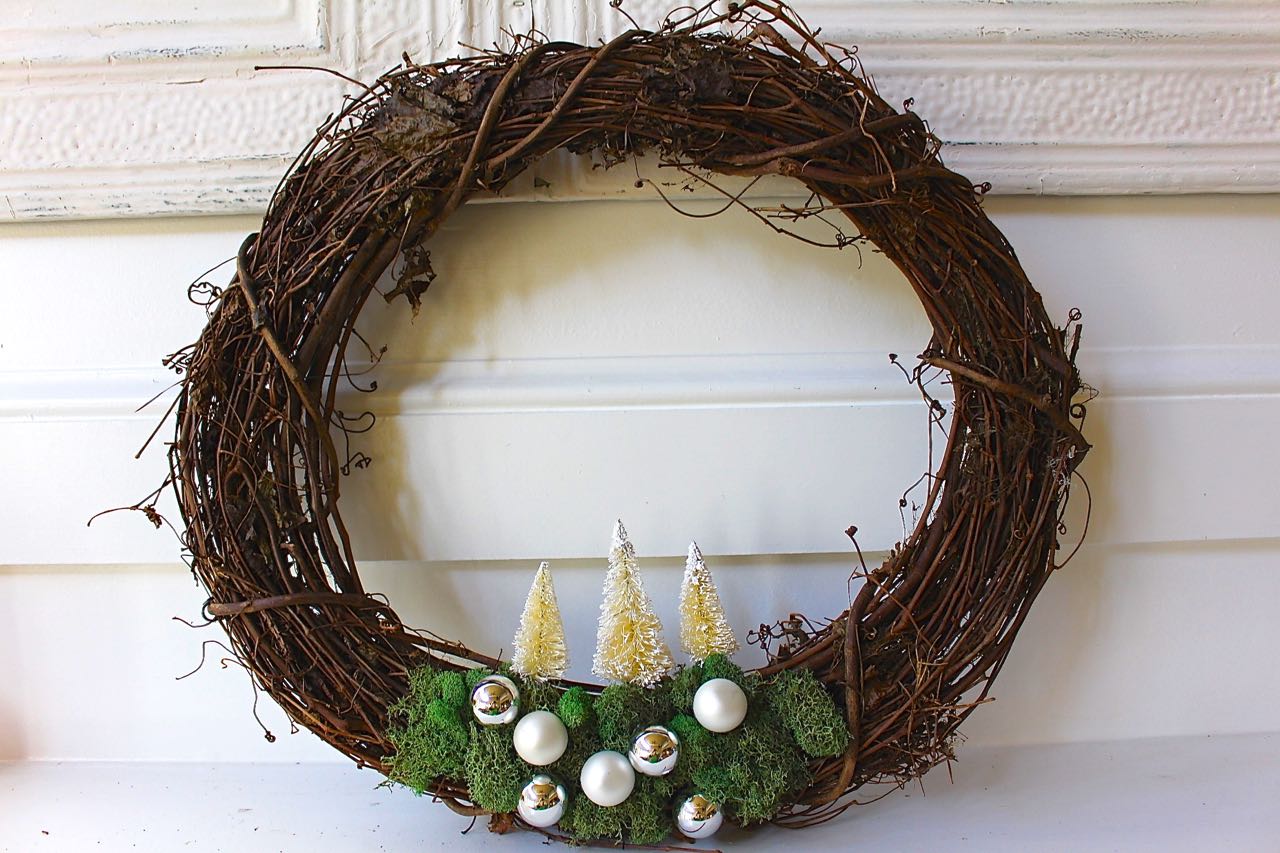 I have lots of these miniature Christmas ornaments. I chose to use the shiny silver and the opaque white to add dimension to the wreath.
I toyed with the idea of adding this bow. I'm not sure if I will be using it or not.
What do you think…yea or nay?
I love how the wreath looks. Moss green is definitely my color scheme this year so this wreath fits the bill perfectly!
I am so excited for the upcoming weeks leading up to Christmas! I like to do a lot crafting and creating so I needed to start early in order to get everything done. I have lots more to share with you!
Until tomorrow…
XO~Vicki