Wicker Bottle Centerpiece – Thrifty Style Team
Please note that this post contains affiliate links. As an Amazon Associate, Rewards Style influencer and Jane Influencer, we earn from qualifying purchases and any sales made through such links will reward us a small commission – at no extra cost for you.
When you put like items together, they immediately become a collection. When hosting a recent dinner, I made a wicker bottle centerpiece – Thrifty Style Team.
Welcome to our Thrifty Style Team! This is the place where we get together with our talented and creative blogger friends every month. We each display, makeover, repurpose or transform something from our homes or thrift stores. A giant thank you to our friend Julie of Redhead Can Decorate for coordinating this wonderful group! Here's how I easily created a wicker bottle centerpiece – Thrifty Style Team.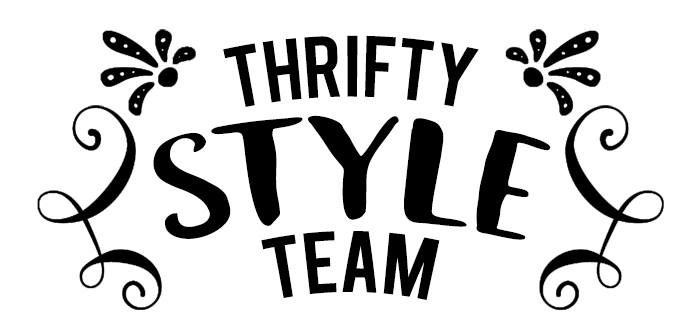 One of the things in my life that brings the greatest joy is entertaining family and friends. No matter if it's dinner for a few or many, I love to create centerpieces or focal points for the dining room table.
Recently Jenn and her family came over for Sunday supper. In our house this meal is traditionally spaghetti and meatballs. The recipe I use was brought from Italy to America in 1899 by Honey Bee's grandfather, Dominic Palumbo when he was just 16 years old. Anyway, I digress LOL.
Make every meal special
After perusing my stash, I decided to pull together some of my wicker wrapped bottles. When I placed them in the middle of the dining room table, I quickly realized that this wasn't the look I was going for.
After another look in the pantry, I pulled out this painted lazy Susan tray. This was a gift from one of my besties, Linda. Super cute, right? The added height made such a difference.
Next, I grouped the bottles together on the tray.
Candles and greenery completed the centerpiece.
Some of the bottles were free. The tall curvy bottle was free from an Italian restaurant. Don't be afraid to ask the owner/manager if they have any empty chianti bottles. The shorter chianti bottle was a freebie from a friend.
The most I paid for any piece in this collection was $3.00. It was for the silver top bottle from a local antique store.
The greenery pieces are from my decor stash as well. I know that they look authentic, but the are faux.
The wicker handled bottle on the left was from a thrift store and cost just $1.00
Each bottle individually is great, but when gathered together they make for a perfect centerpiece.
I hope that you've been inspired in some small way today!
Don't forget to pin this to your favorite Pinterest board!
Now let's see what our creative team members are sharing today!