Repurposed Mirror for Bathroom Makeover – Thrifty Style Team
Please note that this post contains affiliate links. As an Amazon Associate, Rewards Style influencer and Jane Influencer, we earn from qualifying purchases and any sales made through such links will reward us a small commission – at no extra cost for you.
Recently I removed the oversized builder-grade mirror above the guest bathroom vanity. After searching high and low for a replacement I repurposed a mirror for the bathroom makeover.
I have been working for five straight weeks on our guest bathroom makeover. One of the first decisions that I made was to get rid of the mirror above the vanity. After searching high and low for a replacement, I remembered that there was a mirror I was no longer using being stored in my closet. The only problem was that the color and finish were not going to work with my design plan. Not a problem..a repurposed mirror for bathroom makeover was the perfect answer.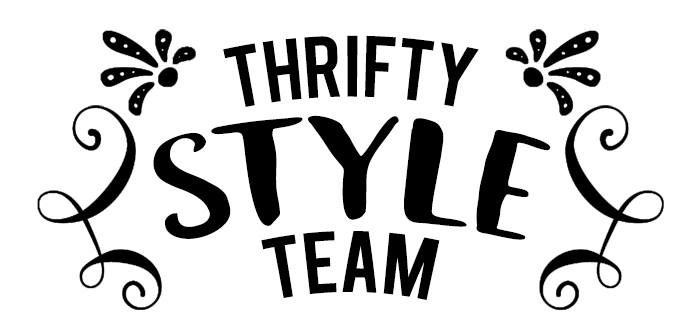 Welcome to the May edition of Thrifty Style Team. If you are new here, this is where we get together the second Wednesday of each month with some of our favorite thrifty design friends. We each share our best thrifty style in the hopes of inspiring you to do the same in your home! You can see more of everyones work at the end of this post. Bur first, let's look at my "new" mirror!
Mirror Reimagined
This mirror was actually a thrifty purchase when I bought it a couple of years ago. It was on clearance and I was able to get a deeper discount because the paper and cardboard backing was falling off. After I got this mirror home, I hung it above a table above our entryway and used it for about one year. There was just something that always bothered me about the finish though. It wasn't neutral brown or cream. Honestly it clashed with everything – so I took it down and stored it in the closet.
Until now. I wasn't sure if this mirror was going to be large enough to fill the space above the sink. The frame is definitely grand and hefty. Checking my paint stash I pulled out my favorite Amy Howard One Step Paint in Bauhaus Buff. This is the same color I used for the dining room sideboard makeover.
Adding two coats of white paint made all of the difference in the world. The wood trim and carved features really pop now.
Needless to say, I couldn't wait to hang it up on the tiled feature wall. I was a nervous wreck because this mirror weighs 40 pounds and I hung it up entirely by myself!
Doesn't it look beautiful?
Here's a sneak peek of other things to come in my guest bathroom reveal post tomorrow!
My thrifty style definitely paid off big time for me with this repurposed mirror. When I at first was shopping for a new mirror, they were all fairly pricey. This mirror was in my closet and I already had the paint. Win/win!
Don't forget to Pin the to your favorite Pinterest Board!
Now let's see what everyone else is up to!