Spring Container Garden Tips and Ideas
Please note that this post contains affiliate links. As an Amazon Associate, Rewards Style influencer and Jane Influencer, we earn from qualifying purchases and any sales made through such links will reward us a small commission – at no extra cost for you.
Spring Container Garden Tips and Ideas for Beginners.
By no means am I professional gardener. Like, not even a little bit. I have made more mistakes with my plantings than I care to admit. Something comes over me when I walk into a nursery or garden center. My heart skips a beat as soon as I enter the nursery. Hanging baskets filled with petunias, flats of pansies in a variety of colors and pot containers in a million colors beckoning to be filled. In the past I let my heart be the guide when piling my cart with seasonal pretties. This was never a plan of success. Today, in the hopes of helping you resist the same mistakes that I have made I offer spring container garden tips and ideas for beginners.
Meet Bess, my sweet antique concrete cherub. She recently came home after being in storage. I know that Bess is at least 80 years old – and still looking beautiful. She is the perfect centerpiece for our side yard.
A few years ago I attended an event by Southern Living Plant Collection at Home Depot. I had a lot of fun that day, playing in the dirt. Obviously, I should have paid better attention to what plants are best to plant in containers – LOL. Since then, I have discovered a few things.
Make a List Before you Go
For me, making a list before I arrive at the garden center is crucial. Being that I'm a newbie gardener I find that I must be armed with a list in hand. Otherwise, I am always dazzled by the beautiful flowers and potted plants. This means that I buy pretty flowers, but they are impractical for my porch and yard. Now, I create a list listing the garden spot that needs new flowers along with light and watering requirements.
Select the Correct Pot
Carefully select the correct pot size before you plant. The plant tag gives you the information of how much room your plant needs. In this case, I feel bigger is better.
Drainage
Make sure that your planting pot has proper drainage holes on the bottom. Otherwise, your plants will end up with root rot from too much moisture and have no way to survive.
Pot Fillers
Pot fillers can be a controversial subject. Let's face it – plant pots are large and can be expensive to fill with proper soil and fertilizer. My sweet friend, Darlene, has a very green thumb. She gave me a great suggestion. Fill the bottom of a large garden pot with empty water bottles. This is a genius idea as you are recycling and your plants still have room to grow, even though you are using soil for only half of the pot.
You can also use empty egg crates.
Or you can use a broken planting pot.
Just remember, because your containers hold less soil, they will require more frequent watering.
Play Well Together
Make sure your flower and plant selections play well together. By this I mean the plants should have the same tolerance to sunshine and water. Plantings come in a variety of light requirements such as, full sun, partial sun full shade or partial shade. Needless to say if you pair a full-sun plant with a full-shade plant, you have already set yourself up for failure.
Proper Potting Soil
Good soil makes all of the difference in the world. Trust me, I have used inexpensive soil in the past and have never had planting success. Proper soil comes with nutrients and water retention materials to ensure growing success.
Start with a hanging basket
Personally, I want to save money wherever and whenever I can. I've discovered that typically beautiful hanging baskets offer the best value. The flowering plants are already established and much larger than single pots. All you have to do is hang it as-is or remove it and replant it in a pot.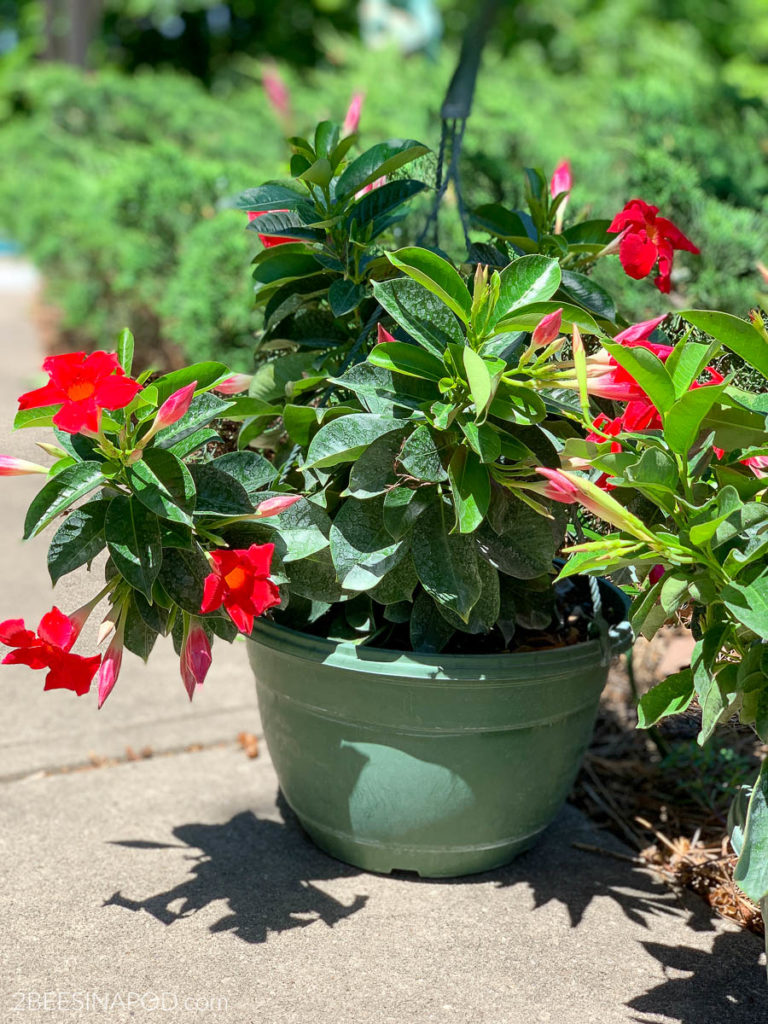 Repotting
Using the above suggestions, ready your pots for plantings. Carefully remove the plant from the hanging basket or plastic pot.
Loosen the root ball.
Add more good soil to the top of the pot. Step back and admire your work!
Feed you Plants
Some flowers and plants require special fertilizer and food for healthier growth. Again, read the plant tags when at the garden center.
Save the Plant Tags
Plant tags offer a plethora of information. Planting zones, sun requirements, food requirements, planting depth and overall care. Save the plant tags for reference or for later if there is an issue.
Needs
This past winter we lost our aloe plant. I've lost count to how many years that I had that aloe plant. For our house it's a necessity, due to cooking burns. Aloe is a natural burn healer and pain reliever.
I love to cook and use fresh herbs in my recipes. Buying them at the grocery store can be quite expensive. Basil and oregano are two of my favorites.
In just one week, these plants have doubles in size. I also planted sweet mint for sweet tea and mojitos.
Hopefully you find these tips helpful. Please let us know what you are planting this season.
Don't forget to Pin this to your favorite Pinterest Board!