Teal Master Bedroom Makeover
Please note that this post contains affiliate links. As an Amazon Associate, Rewards Style influencer and Jane Influencer, we earn from qualifying purchases and any sales made through such links will reward us a small commission – at no extra cost for you.
Take a peak inside our Teal Master Bedroom Makeover.
Friends, it's been a hot minute since you last heard from us. Since the beginning of the New Year it has rained one million days straight. Okay, that might be a slight exaggeration – but it definitely feels true! This teal master bedroom makeover has been complete for awhile now.
With our dark dreary days it has been nearly impossible to take bright and sunny photos. Photography light kits didn't even help. Hopefully you can appreciate the new colors.
Before the Before
When we first bought this house, the bedroom looked like this on move-in day. Just a general setup to get us through the night.
Obviously, no glam or shine here. Just a place to rest our heads after unpacking boxes.
And Then
Bit by bit we painted the walls and added pieces of charm.
At this point I felt that the room was looking a bit harsh and bright. I had visions of a more colorful and warm bedroom. You know – more cozy and inviting.
Painting the bedroom walls was essential for a cozy and ambient vibe. Selecting paint color can be more difficult than root canal. You need to be sure that you have a game plan set in place before you walk into the paint store. If not, you can be easily swayed by all of the pretty color swatches saying "pick me, pick me". Be sure that you are armed with fabric swatches and inspiration photos to keep you on track.
The Winner Is
Ultimately, I chose Watery by Sherwin-Williams. It is a beautiful blue/green chameleon of a color. Depending on the time of day and lighting in the room, the walls can look blue, green, gray or aqua.
Remember when I decided to white wash the antique fireplace mantel headboard?
This was the beginnings of the master bedroom makeover and it was a game changer. Even though I love painted furniture, I was so hesitant to cover up this vintage beauty. In the end I realized that I needed to follow my own advice and gut instinct. The orangey wood was throwing off the design of the entire room. By white-washing the headboard, the bedroom immediately felt fresh and clean.
Can you be in love with a fabric? I fell hard for Ballard's, Cynthia Gray design But I had to resist buying yardage until there was an excellent sale.
This beautiful painting was the inspiration piece for the entire room. A HomeGoods purchase of $29.99!
By the way. This room-sized rug is deeply discounted right now!
Rugs USA Blue Albina Winter Abstract rug – Contemporary Rectangle 10′ x 14′
Colored glass was collected over time. All of the glass pieces are from the thrift stores or HomeGoods.
When I painted the armoire a couple of years ago, I had no idea that the bedroom would evolve to embrace so much teal.
My desk was moved from the family room and is nestled next to the armoire. At first I was worried that it might look too crowded and busy. Admittedly, I love them together.
Years ago I painted this chair and pillow.
Teal lamps are from Jenn's attic. She used them in a previous home and they are perfect for my room.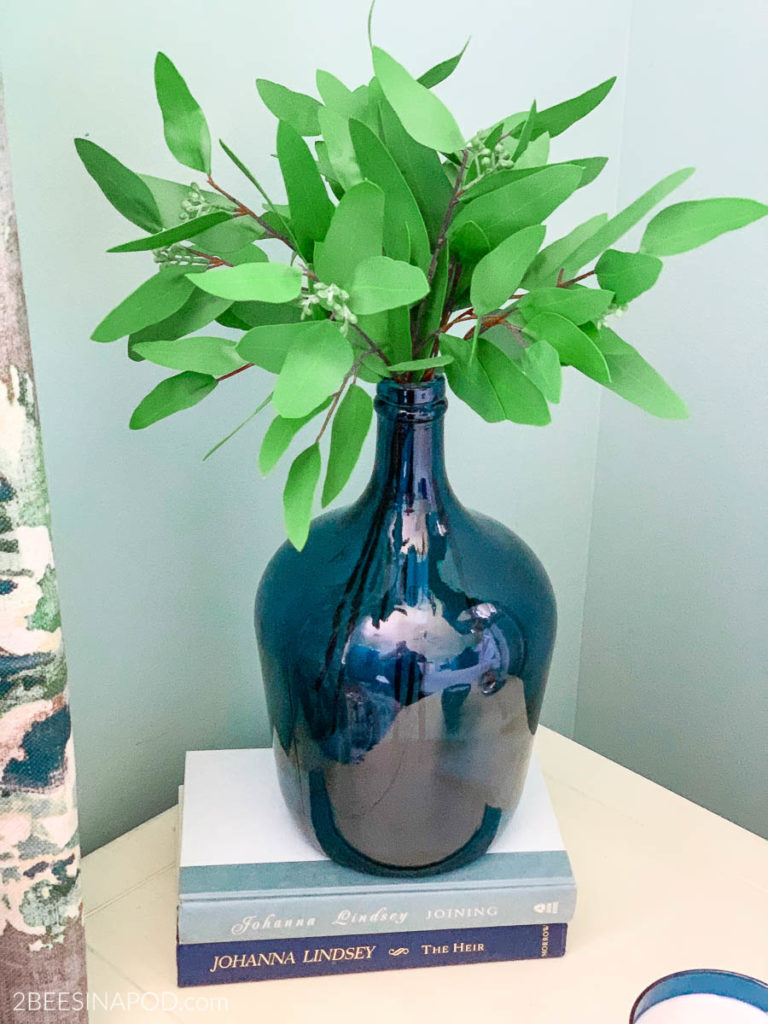 I hope that you love my Teal Master Bedroom Makeover even half as much as I do…because that would be a lot.
Don't forget to Pin this to your favorite Pinterest Board!