Repurposed Vintage Tin Ceiling Wall Decor
Please note that this post contains affiliate links. As an Amazon Associate, Rewards Style influencer and Jane Influencer, we earn from qualifying purchases and any sales made through such links will reward us a small commission – at no extra cost for you.
Adding characteristic and charm to your home can be easily achieved with antique and architectural materials. In my home I personalized spaces with repurposed vintage tin ceiling wall decor.
This vintage tin ceiling piece was purchased many years ago at an antiques fair. The tag had a notation that the tin came from an 1899 home in Dublin, GA. At one time I loved the jewel tones that the artist painted on the tin, but over time my tastes have changed. Also, there was a high-gloss finish on top that created a shiny spot from any lighting.
Time for an updated look
I am a firm believer in the fact that if you own something you can do with it whatever you like. In this instance I feel like I'm really taking it back to more of its original finish.
Two years ago I did this with a much larger piece and I loved the new finish. You can read the tutorial HERE.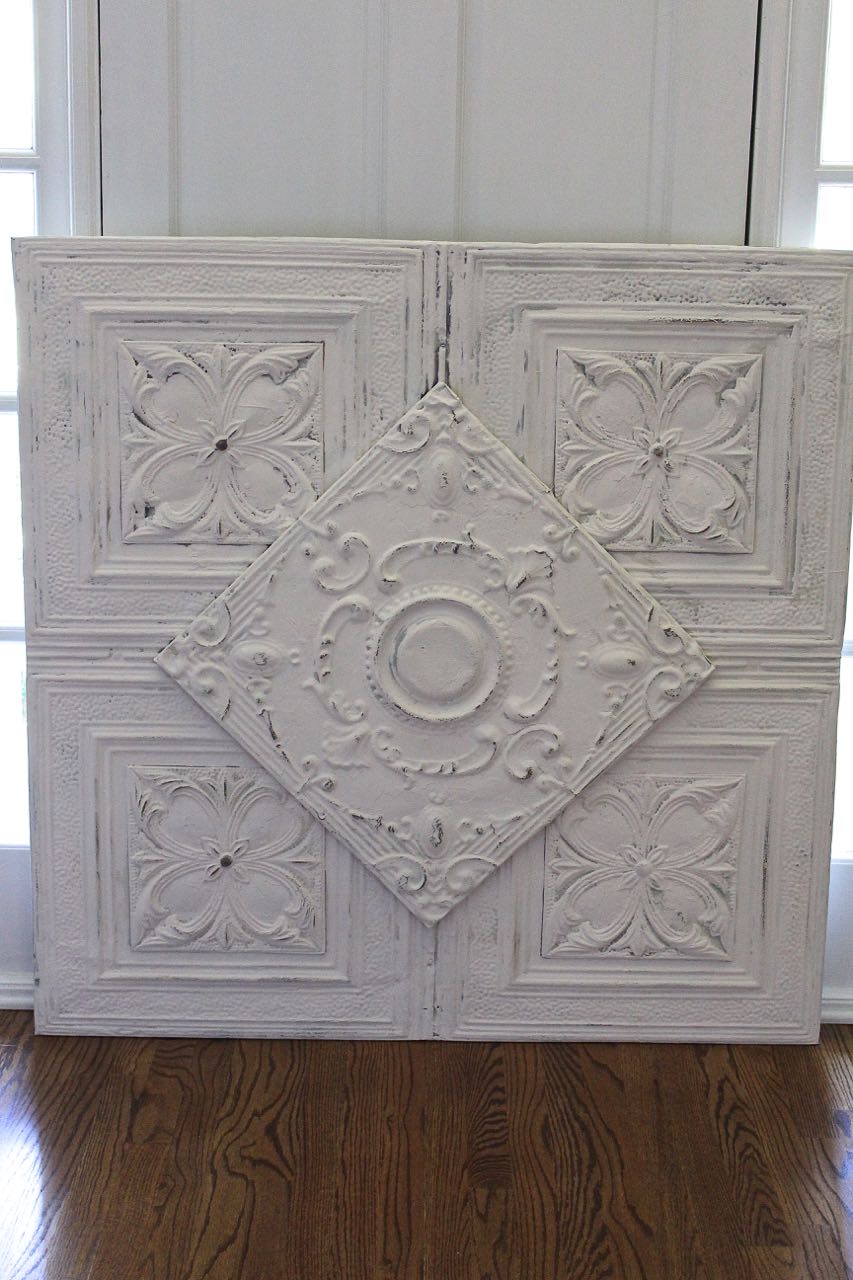 All this needed was one good coat of creamy white chalk type paint.
After it was completely dry I added a small amount of dark paste wax. The detailed areas are where the wax looked best because it highlighted the artistry of the pressed tin work.
Personally, I think this looks so much better.
Plus the fact that this is no longer in a box in the garage. This gorgeous piece of history is being proudly displayed in my home again.
When I do my kitchen makeover this painted vintage ceiling tin will be part of the wall decor.
Some of my ancestors were born in Dublin, GA. I wonder if this ceiling tin could have been in one of their homes? You never know 🙂
Don't forget to Pin this to your favorite Pinterest board!