Peanut Butter, Chocolate & Ritz Cracker Cookies
Please note that this post contains affiliate links. As an Amazon Associate, Rewards Style influencer and Jane Influencer, we earn from qualifying purchases and any sales made through such links will reward us a small commission – at no extra cost for you.
We're getting closer to Christmas, which means we're in baking mode…and apparently based on this week's posts drinking mode as well 🙂
Our family is all about holiday traditions, especially when it comes to food and special beverages! My mom always made these growing up around the holidays and this year I wanted to give them a try. I mean how could you not love Ritz Crackers, peanut butter, and chocolate?! It is seriously three of my favorite things all together. If I were with Julie Andrews in the Sound of Music trying to not be frightened by a storm, this is literally one of the things I would have sung about.
And the great thing is, is that they are sooo easy to make! Who has time during the holidays to spend hours in the kitchen when you could be spending that time with family.
Here is what you will need:
Peanut Butter, Chocolate & Ritz Cracker Cookies
Ingredients
Ritz Crackers (you can use as many as you would like)
Peanut Butter, creamy
Chocolate Bark, 24 oz.
Wax Paper
Instructions
First thing to do is to make your peanut butter sandwiches. I would use about 1/2 a tbsp. of peanut butter between the crackers.
Once you have your sandwiches made, you will want to melt the chocolate, which can be done on the stove or in the microwave.
You will then dip the sandwich into the chocolate and make sure it is fully covered.
Once you remove it from the chocolate, place on wax paper to harden.
https://2beesinapod.com/peanut-butter-chocolate-ritz-cracker-cookies/
The first thing to do is to go ahead and make your peanut butter sandwiches. I like a lot of peanut butter on mine, so I tend not to measure and just put on what I think is enough.
Then I melt my chocolate bark, which I feel is easiest to do in the microwave. Just be prepared to act quickly once you remove it, so it doesn't harden. You also want to melt it in intervals so you don't burn it.
I then dip the entire cookie in the chocolate and remove with a fork.
You want to place it on wax paper after you've removed it, so it can harden.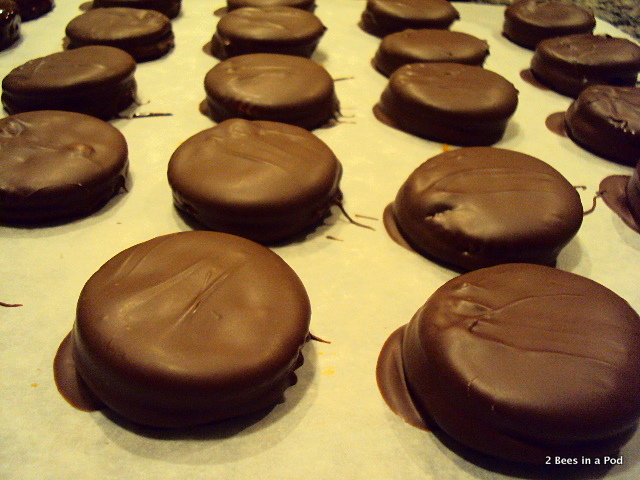 I couldn't wait to eat these with a cold glass of milk 🙂
They may not have turned out exactly like my mom's, but they are pretty darn close.