Peanut Butter Fingers Recipe…
Please note that this post contains affiliate links. As an Amazon Associate, Rewards Style influencer and Jane Influencer, we earn from qualifying purchases and any sales made through such links will reward us a small commission – at no extra cost for you.
Here's a recipe that we have shared before and is one of our most popular posts. Happy baking!
I honestly joke about this recipe…as I tell people that this tasty treat is why my Honey Bee married me. This is what he had to say…
"Peanut butter fingers.  The words alone cause my mouth to water.  It has been said that the way to a man's heart is through his stomach.  Alas, I confess that this is (at the very least partially) true.  Vicki, a.k.a. Queen Bee, found the perfect remedy to open my heart with her peanut butter fingers long ago in our youth.  She recently prepared a batch of these delicious delights – for dinner guests!  Not to worry though.  There were a few put aside for leftovers.  Peanut butter fingers.  Mmmmmmmm….."
See why I love him 🙂
I have been making Peanut Butter Fingers since I was about 10 years old. I think that originally this was a bake-off recipe in a small paper cookbook that my mother had…I don't know what happened to that cookbook, but so grateful that I wrote the recipe down when I got married and left home 🙂
This recipe was a favorite for my parents and my brothers. When I got older, Peanut Butter Fingers became Honey Bee's favorite dessert the first time I made them for him. And needless to say, they became Jennifer's favorite. It goes without saying that our family goes crazy for the chocolate and peanut butter combo!
I don't make them that often, as Honey Bee and I would eat the whole pan-full. But as Christmas is upon us…I make these every year. In fact I will be baking these later today! It's a tradition that has been kept strong for many years in my family. Lets get started!
Some of the items you need…
Ingredients
1/2 cup butter, softened
1/2 cup white sugar
1/2 cup packed brown sugar
1 egg
1/3 cup peanut butter
1/2 tsp vanilla extract
1 cup all-purpose flour
1/2 tsp baking soda
1/4 tsp salt
1 cup rolled oats
1 cup semisweet chocolate chips
1/2 cup confectioner's sugar
1/4 cup peanut butter
3 TBS milk
Instructions
Preheat oven to 325 degrees
Grease a 13x9 inch pan
In a large bowl, cream together the butter, white sugar and brown sugar until smooth. Beat in the egg, 1/3 cup of peanut butter and vanilla. Combine the flour, baking soda and salt - stir in the peanut butter mixture. Mix in the rolled oats. Spread the dough evenly into the pan - patting if you need to.
Bake for 20 to 25 minutes until the edges are firm. Remove from the oven and immediately sprinkle the chocolate chips in a single layer over the top. Let stand for 5 minutes and then spread the melted chips. Allow to cool. In a small bowl mix together the confectioner's sugar and 1/4 cup peanut butter until smooth. Stir in one tablespoon at a time. Drizzle over the bars (and I prefer to spread this on top of chocolate). Cool. Cut into bars.
https://2beesinapod.com/peanut-butter-fingers-recipe/
I love my vintage mixing bowl. Can anyone offer information of the pattern or other details. I think it may be Pyrex.
I used organic oats.
Spread and pat the dough into a 13×9 pan…
Mixing together the sweet, yummy peanut butter topping…
Fresh out of the oven…
…and immediately pouring the chocolate chips onto the hot baked mixture.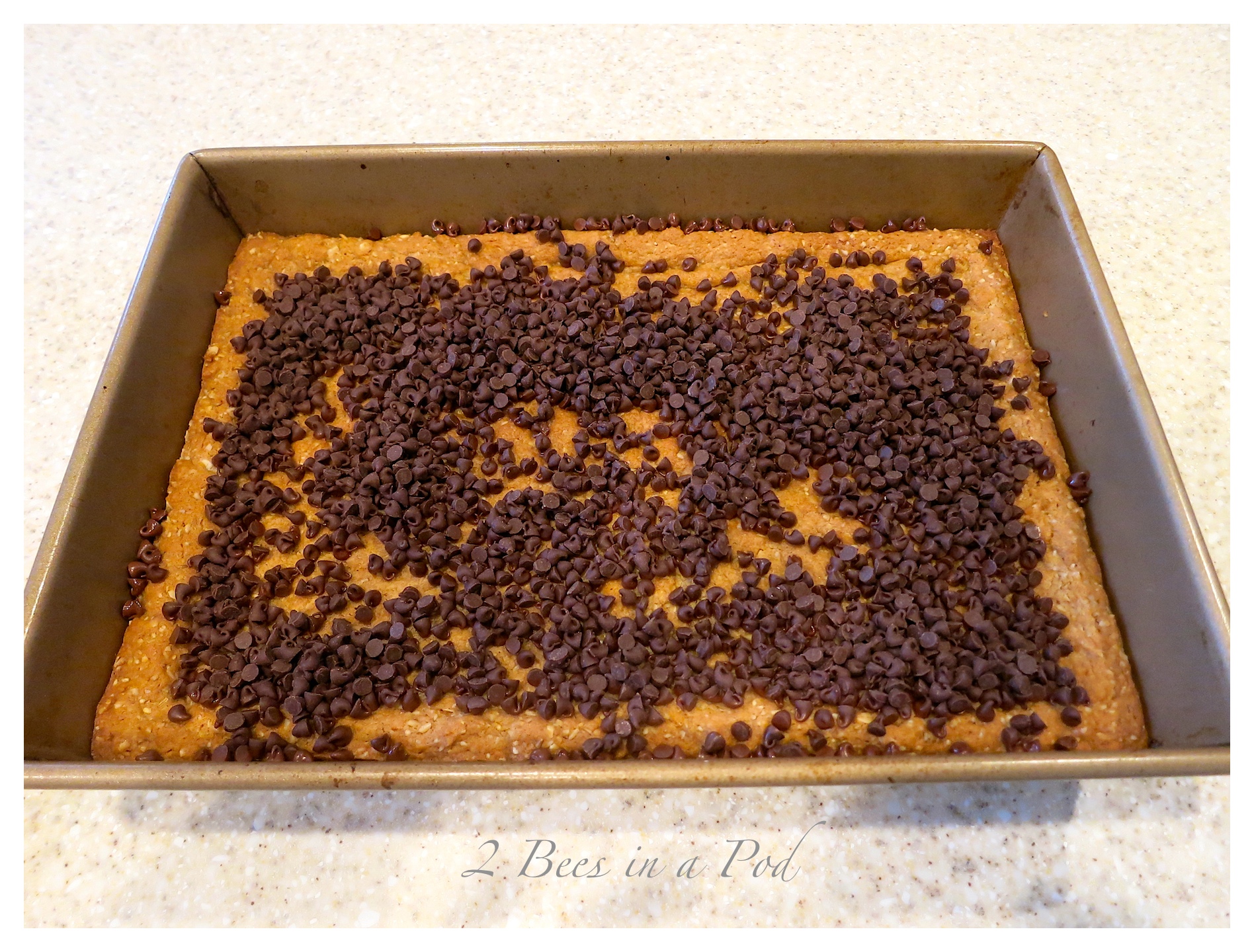 Spreading the melted chocolate chips..
…pouring the peanut butter drizzle onto the chocolate.
…and lightly spreading the peanut butter goodness 🙂
Cut into squares…
…and devour!!
Man…these are so good! They are very rich – hence, I don't make them that often. But when I do, my family feels the love and memories from the past, and thinking of the next time we get to share Peanut Butter Fingers.