Paris Gray Chalk Paint Dresser Makeover
Please note that this post contains affiliate links. As an Amazon Associate, Rewards Style influencer and Jane Influencer, we earn from qualifying purchases and any sales made through such links will reward us a small commission – at no extra cost for you.
Hey there – so glad you're here! I was fortunate to have spent a perfect-weather week at Anna Maria Island, Florida. Honey Bee and I visited friends, ate too much, ocean kayaked, got a tan and created new memories. We loved our fun in the sun but had to return home.
It may not surprise you to know that while I was vacationing I visited several thrift stores. I returned home with an SUV full of furniture – so much so that you couldn't even see out the back window. Honey Bee was super-thrilled to say the least 🙂 Thank goodness he's supportive of what Jennifer and I do and he took it all in stride. I think every driving vacation we have ever had  has always ended with a carload of stuff. We will be showing you these furniture pieces in the next few weeks.
As soon as I got home, Jennifer and I hit the ground running. We delivered a custom painted piece to a client, Ashleigh. She had been on the hunt for a dresser and just couldn't find exactly what she wanted. Jennifer showed her an unfinished piece that we had and Ashleigh felt that it would work well. She wanted it painted in Paris Gray chalk paint – no distressing – and we knew that it would be beautiful.
But it took us a bit to get the the beautiful stage. Here's what we started with…
We lovingly called this piece "Mr. Big Stuff". It is solid wood, has four interior drawers, and he is a heavy beast! He was pretty beat-up and neglected and needed a bit of sprucing up.
There was damage to the veneer. We decided to remove the damaged layers and repair it with Bondo. Being that we painted Mr. Big Stuff we didn't show the repair process. We could have just painted over the damaged areas but this was for a client and we wanted to take this extra step.
And look at this beauty now…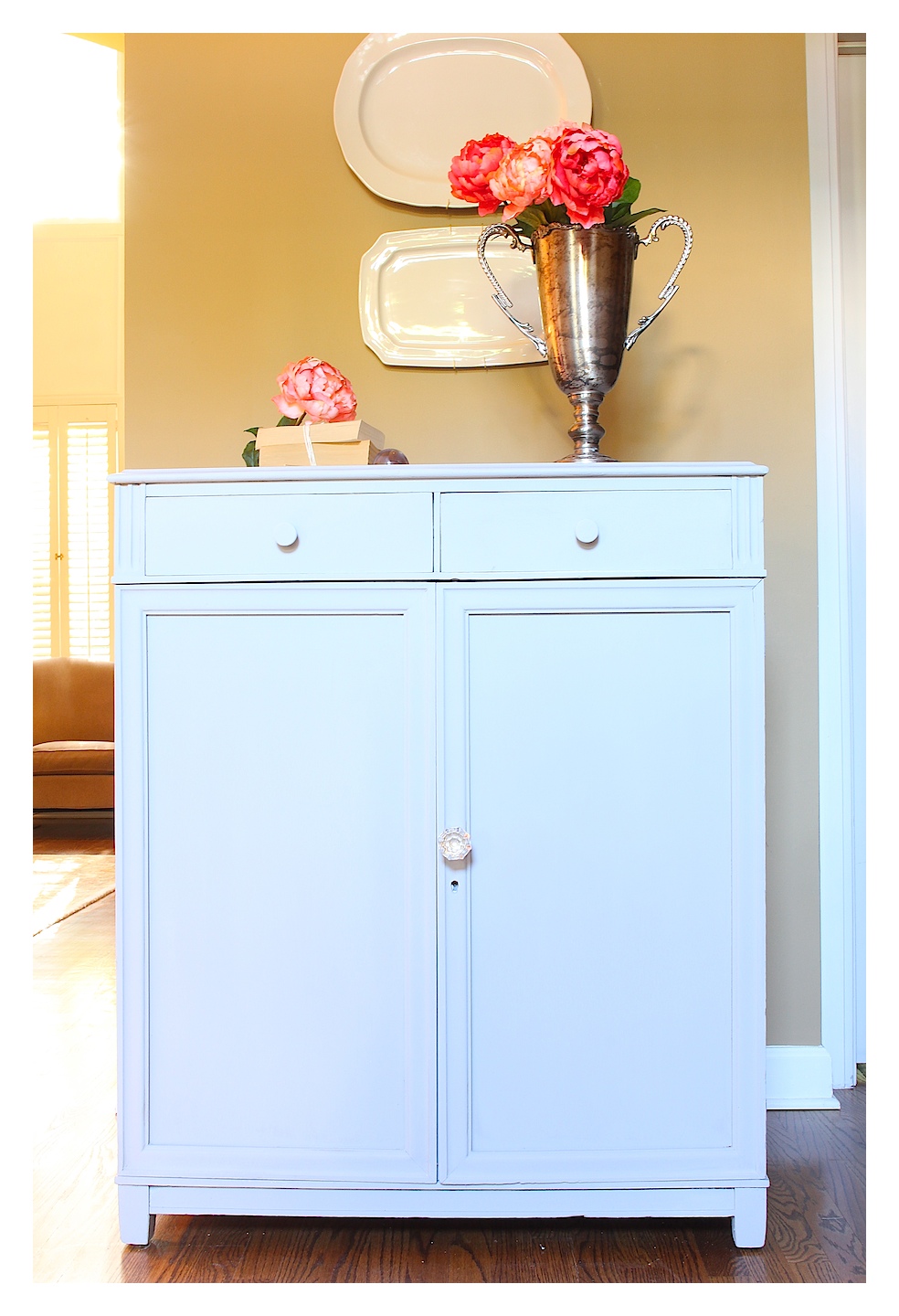 We used Annie Sloan Chalk Paint in Paris Gray. It is such a chameleon color…in some light it looked blue or white and in other light it is a pretty, soft gray. After the dresser was completely dry, we used two coats of clear wax on all painted surfaces. We put a third coat on the top.
It's always so hard to let go of a piece like this after it has been painted 🙂
We added this pretty glass knob to the door front.
Ashleigh was thrilled with her new dresser…which always makes us happy! Have you painted anything lately? Thanks to the vacation trip, the garage is full of painting projects. Stay tuned!
XO~Vicki and Jennifer