Chandelier Makeover with Chalk Paint
Please note that this post contains affiliate links. As an Amazon Associate, Rewards Style influencer and Jane Influencer, we earn from qualifying purchases and any sales made through such links will reward us a small commission – at no extra cost for you.
This week I learned a couple of things. Doing a chandelier makeover with chalk paint is super easy. Photographing a chandelier is a tad challenging. Let's start at the beginning.
This is the chandelier light fixture that is hanging in our dining room. Nothing particularly wrong with it…just not my style.
We recently painted the dining room in Benjamin Moore's Gray Owl and the new color significantly lightened up the room.
The chandelier globes made the room glow yellow…and not in a good way. I'm sure the globes were designed to make the room more radiant. Instead, the dining room looked like it was bathed in bad self-tanning lotion. 🙂 The dining room walls were previously a goldish color and the lighting was perfectly fine. It's amazing how many things are affected with new paint color.
The dark bronze is just too heavy for the room. I've been searching for a new chandelier for quite awhile now. Apparently, I have champagne taste as all of my favorite choices cost hundreds of dollars. This expenditure isn't in the current budget so I needed a Plan B.
My first idea was to remove the globes and create a candlestick chandelier. Well, this idea was quickly thrown out. See that large white ridged ceramic socket? It's not removable unless I planned to rewire the entire chandelier…which I did not. The socket was too large for a candlestick sleeve. Which leads me to Plan C.
Jenn and I have successfully used chalk paint for a lot of projects – painted furniture and craft projects. I decided to give it a try for this chandelier makeover. I used a single coat of leftover Chalk Paint in Paris Grey. I turned the circuit breaker switch off for the chandelier and began painting. I didn't even take the chandelier down – I simply painted it in place. After the chalk paint dried I added a coat of dark wax to give the chandelier an antiquated look.
New light globes were needed to cover up the ceramic socket. Being ever mindful of my budget, I pride myself on doing makeovers and projects for the smallest amounts of money as possible. Replacement globes can get pretty pricey, so I decided to head out to a local Habitat store. Look at what I found for $1.00 a piece!! I was thrilled!
Here's a close up shot of the waxing detail. Remember when I said chandeliers were difficult to photograph?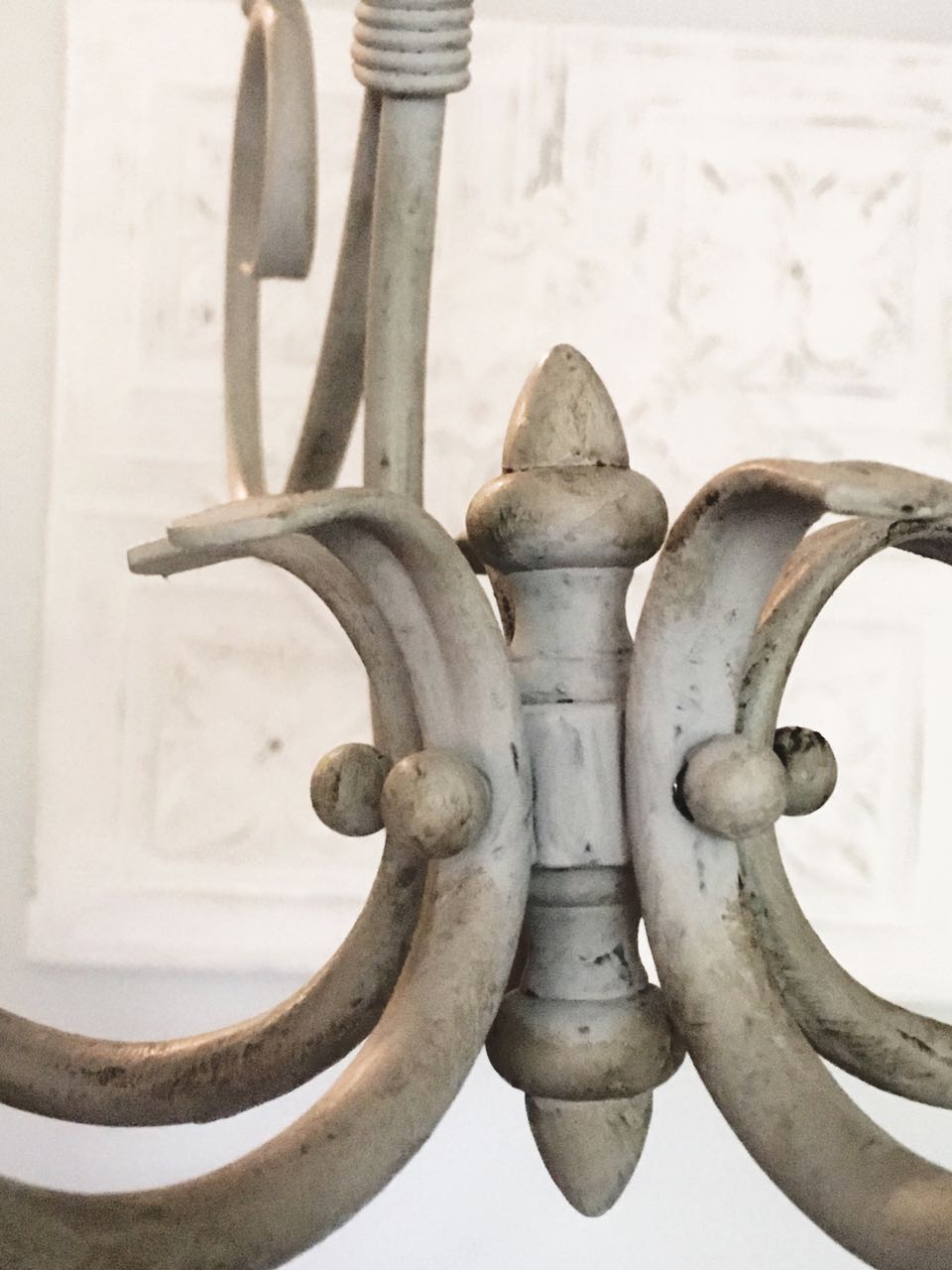 There are so many open spaces and half walls in this house. I hope you get the essence of how great this chandelier looks now.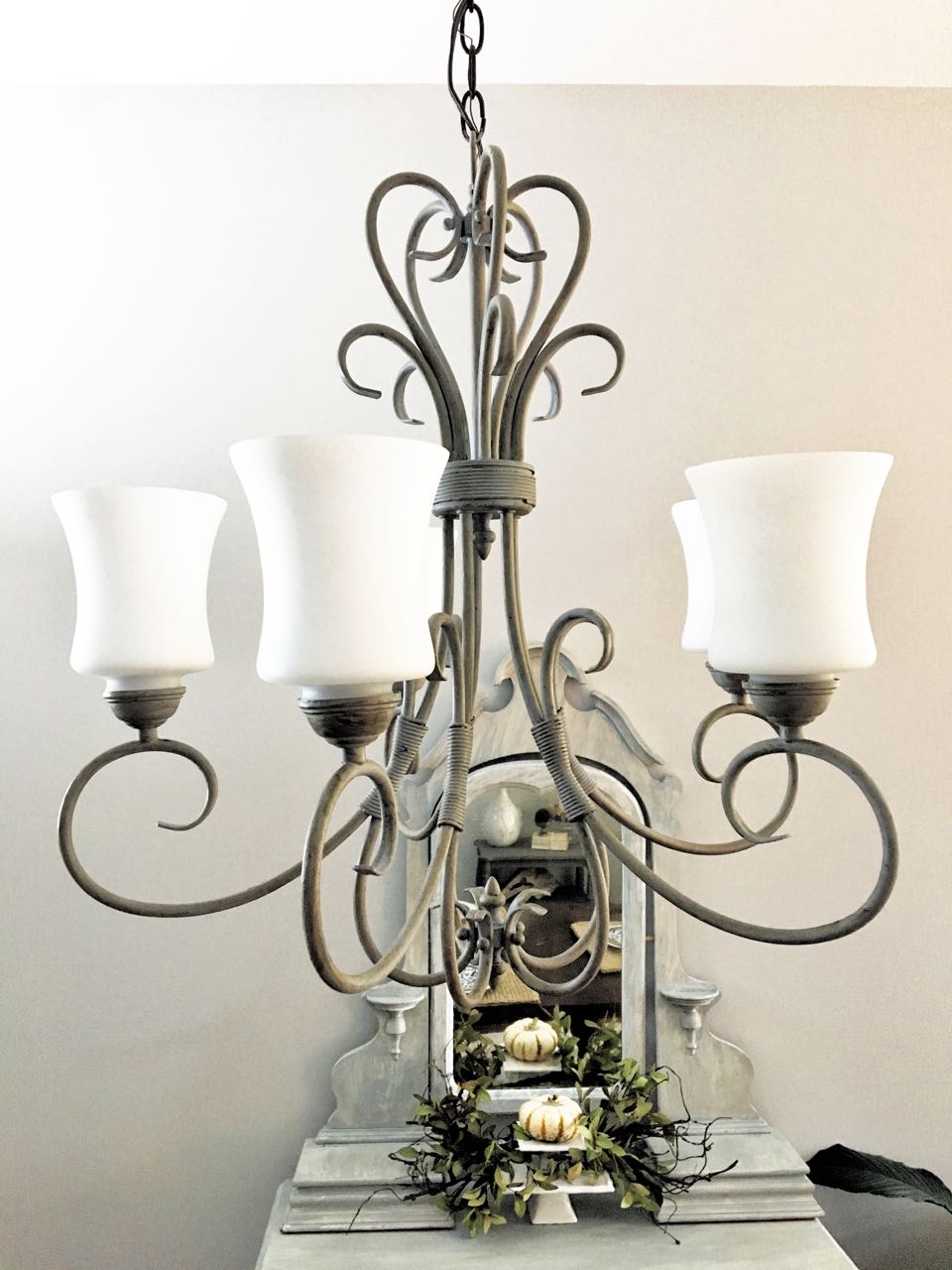 The white globes and new light bulbs bathe the dining room in bright light now.
The chandelier blends so well now with my decor and style.
I am so glad that I took the time to give this light fixture a makeover. It saved me a lot of money and I really love the new look. It was $5.00 well spent! Have you chalk painted anything recently?
Until tomorrow…
XO~Vicki
Let's be Pin Pals. Pin this to your favorite Pinterest board…