Painted Wing Chair and Update
Please note that this post contains affiliate links. As an Amazon Associate, Rewards Style influencer and Jane Influencer, we earn from qualifying purchases and any sales made through such links will reward us a small commission – at no extra cost for you.
When I decided to paint this wing chair, Honey Bee thought that I had lost my mind. He is always very supportive of my crazy design and decor ideas, but this is one project that he thought wasn't going to end well. So, I am here to tell you that this painted wing chair looks beautiful and Honey Bee had to eat his words 🙂
This project is the second most popular post of all time for 2 Bees. We get asked a lot of questions and I hope to address those today. My goal is for you to be encouraged to paint a piece of furniture for yourself.
Please excuse some of these less-than-stellar photographs. They were taken in the early days of our blog – we sure have come a long way, haven't we?
This is what the wing chair looked like before we painted it. Purple, gold and olive green were no longer a desired color palette in my home. And don't get me started on this plaid. The chair was in excellent condition but re-upholstery costs were staggering…$400 for labor added with another $300 for fabric. Needless to say at these prices it would be more cost effective to buy a new chair. Affiliate links have been added for your convenience.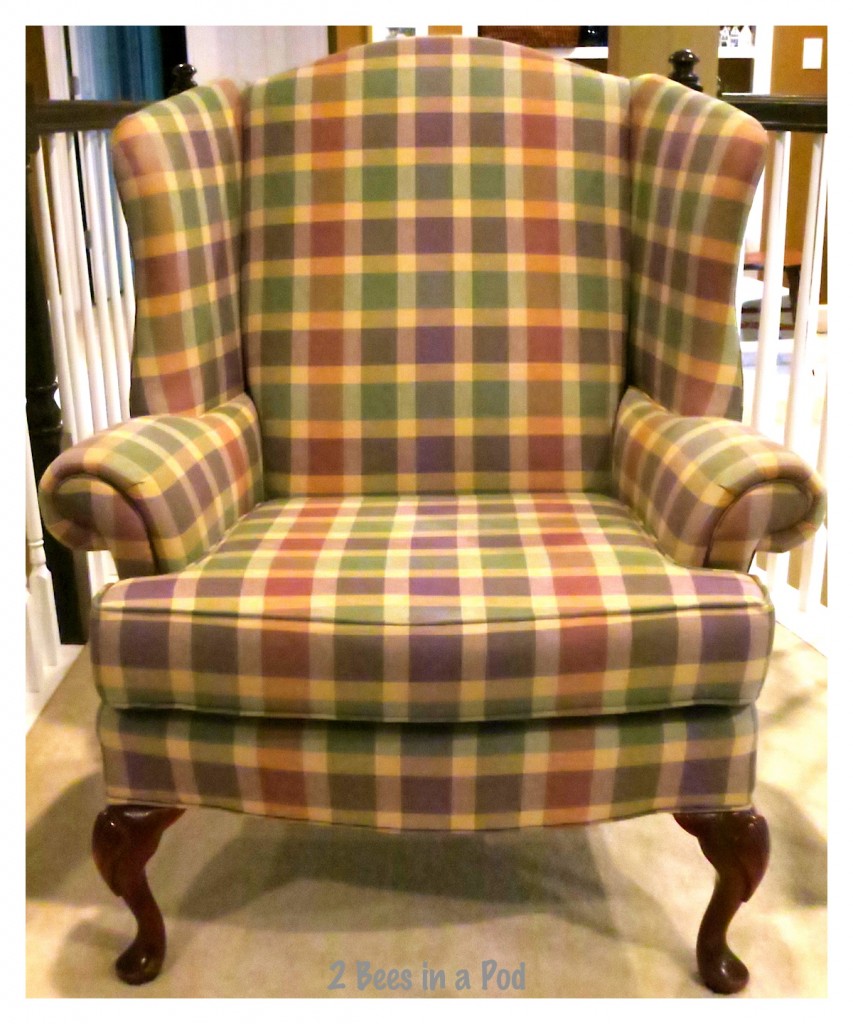 Being that I am not a quitter and too cheap to buy expensive furnishings, I came up with an idea to paint the chair. After much research I came up with a game plan and set to work, ever confident that this was going to work! Adding this paint medium is a must for success!
Right about this time I started to become a bit worried 🙂 If you decide to paint a fabric chair, don't give up! You can see the entire tutorial HERE. I promise you, it is worth it!
See what I mean? Night and day difference.
After 3 ½ years the painted wing chair still looks like new.
The painted wing chair looks fabulous at our new home. The sunroom is bright and sunshiny every day and the chair is a focal point.
Here are some of the most asked questions about the painted wing chair:
Does the paint flake or chip off?
Absolutely NOT. Using our tutorial and the correct paint and materials = success.
Does the paint come off onto anyones clothes?
Absolutely NOT! Following the proper steps, the paint is permanent.
What does the chair feel like?
Once the paint is completely dry, the chair feels like a soft painters canvas.
Do you sit in the chair?
YES – I sit in this chair every single day! Don't be afraid to use your chair.
Can you clean the chair?
I've never really spilled anything on the chair. For testing purposes I smeared a bit of dirt on the chair. It wiped right off with a damp sponge and a dot of laundry soap.
Was it easy to paint?
Yes…the hardest part for me was having the patience to wait between the steps 🙂
Would you do it again?
What is the most important step?
Honestly, they all are – follow the tutorial. Definitely the paint medium spraying with water and sanding are very important.
Painting this wing chair I saved approximately $677.00! Don't you think it's beautiful?
I would love to answer any questions or concerns that you have. I'm planning on painting another chair in a couple of weeks!!! Look for that update here.