Navy and White Bathroom Makeover – One Room Challenge Week 1
Please note that this post contains affiliate links. As an Amazon Associate, Rewards Style influencer and Jane Influencer, we earn from qualifying purchases and any sales made through such links will reward us a small commission – at no extra cost for you.
We are back for our third round of the One Room Challenge™. This time we will be showcasing our navy and white bathroom makeover.
If you found us from the ORC, welcome! We are Vicki and Jenn – a mother/daughter blogging team that loves everything to do with home decor, DIY and getting the look for less. You can visit our past ORC projects Master Closet Makeover and She Sed Reveal to get an idea of what we love to create. This time around we are working at Vicki's house and creating a navy and white bathroom makeover.
If you are not familiar with the One Room Challenge™ let us remind you. Within the next five weeks we will completely makeover one room from top to bottom. Every Thursday we will give you a progress report and let you know how we are doing. You will not only get to see our progress updates, but of lots of other designers as well! On May 10th we will all have the big reveal of our magnificently completed spaces. The featured designers post on Wednesdays and design bloggers like us will post on Thursdays.
Here's The Dream
Isn't this all beautiful? The dream is way better than reality. Plus, can we just say that it is very difficult to photograph a bathroom with zero windows and no direct light whatsoever. Obviously we need to figure this out as soon as possible! Just forgive us for what these photos look like and we will definitely work on getting better pics!
This bathroom hasn't been decorated for 11 years. Originally this was a vacation home for 9 years before becoming a full-time residence. The above wall is getting a beautiful wallpaper treatment.
Now it is officially time to really change things up. The funky drooping light fixture has got to go. As you can see on the mood board we hope to replace it with a pretty brass fixture.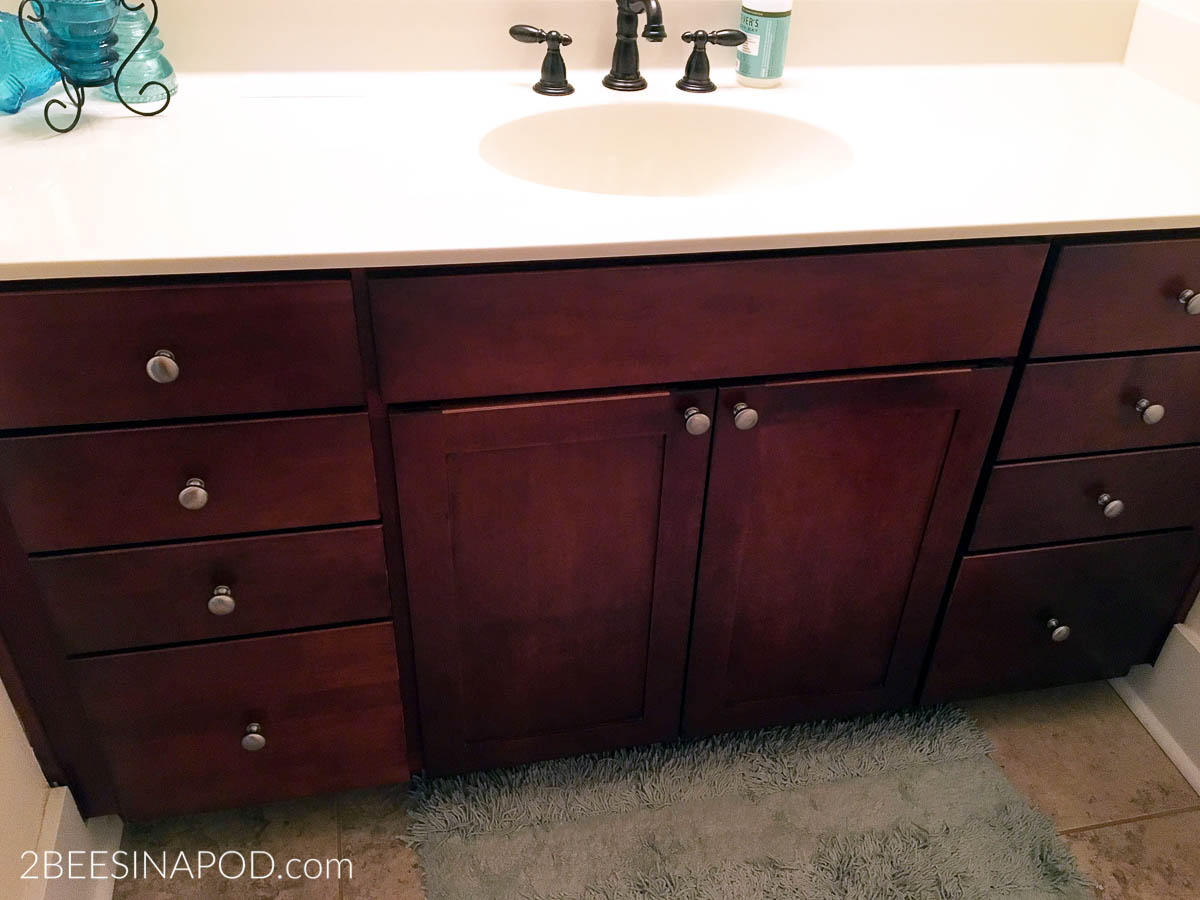 The vanity will be painted in navy blue and all of the hardware will be replaced with champagne bronze.
Meanwhile this pale yellow wall paint will be eliminated with a bright white satin finish. A new shower curtain is in the works too – but no final decisions have been made yet.
Now, here's the really scary part. All of the floor and shower tile is going to be painted. Hopefully when it is finished it will look like marble! Please pray, light candles, cross your fingers or whatever it is you do for good luck – because this idea has got to work!
Now, look at this big wall and the tiny grouping of art. It looks like they have been held hostage or something LOL. Not sure yet what this will be replaced with.
Following is our big list that we will update each week.  Hopefully by next Thursday those tiled floors and shower walls will look like marble EEK! And that this wallpaper arrives in time!
To Do List
take down wall mirror
take down old light fixture
paint walls
add ceiling paint
paint vanity
change out vanity hardware
new vanity countertop
change out vanity faucet
paint floor tiles
paint shower tiles
add glass subway tile feature wall above vanity
wallpaper feature wall
new light fixture
There you have it – our big plans to carry us through for our navy and white bathroom makeover. We would love for you to follow our progress each Thursday and cheer us on! You can actually go to this One Room Challenge ™, Spring 2018, Week 1 page to follow everyones rooms!