Bathroom Makeover Roadblocks and More – One Room Challenge Week 2
Please note that this post contains affiliate links. As an Amazon Associate, Rewards Style influencer and Jane Influencer, we earn from qualifying purchases and any sales made through such links will reward us a small commission – at no extra cost for you.
Most room makeovers and remodels never go smoothly. Invariably something unexpected always happens. Here's the tale of our bathroom makeover roadblocks and more.
Welcome to Week 2 of the One Room Challenge. You can catch up on our guest bathroom makeover design Week 1 Navy and White Mood Board. Full disclosure, I didn't officially start on my bathroom makeover until this Tuesday! That's right – just two short days ago. More than likely that is why I am already sharing bathroom makeover roadblocks and more. Let's start at the beginning.
The Challenge is Real
I love the One Room Challenge specifically because of the challenge. You have just 6 weeks (really 5 working weeks) to complete an entire room makeover. Anyone who knows me well, knows that I do my best work under pressure. But, Jenn and I always do the ORC together. Being that her daytime work schedule is so busy right now, there is no way that she can participate in this challenge this Spring. I hemmed and hawed until the very last minute making sure that I could do this bathroom makeover 95% on my own. Once I felt confident about this I quickly created a plan of action and a mood board. By doing this I had no time to really research anything – availability, sizes, etc.
For the following week and a half I have experienced frustration and probably every emoji face that there is LOL.After doing my research and homework this is what happened…
Roadblocks
See that gorgeous Pearson light fixture pictured above? It's on back order and won't be here in time for the ORC reveal. In fact, it's on backorder until June. So – I had to find another fixture.
My current vanity top is 64 inches wide without the side splashes. Guess what? This is a custom order only size. So far the only options that I am finding are very expensive…Like over $1,200 expensive…so that's not in the budget!
I don't want to throw any big-box store under the bus, so I won't mention them by name. Imagine my surprise when I arrived at at the big box store and was told that my order wasn't ready and that they didn't even carry the merchandise that I ordered from their website! Even though the inventory was clearly marked on the shelf in their store. I showed the order on my phone but it didn't make a difference, The customer service staff was rude and didn't even try to assist me.
I received my beautiful wallpaper mural – in the rain at my doorstep. Only the tube closing was missing as well as the cellophane protection. This was delivered in the rain on my uncovered and unprotected front porch – so I pray that this wallpaper mural is in mint condition!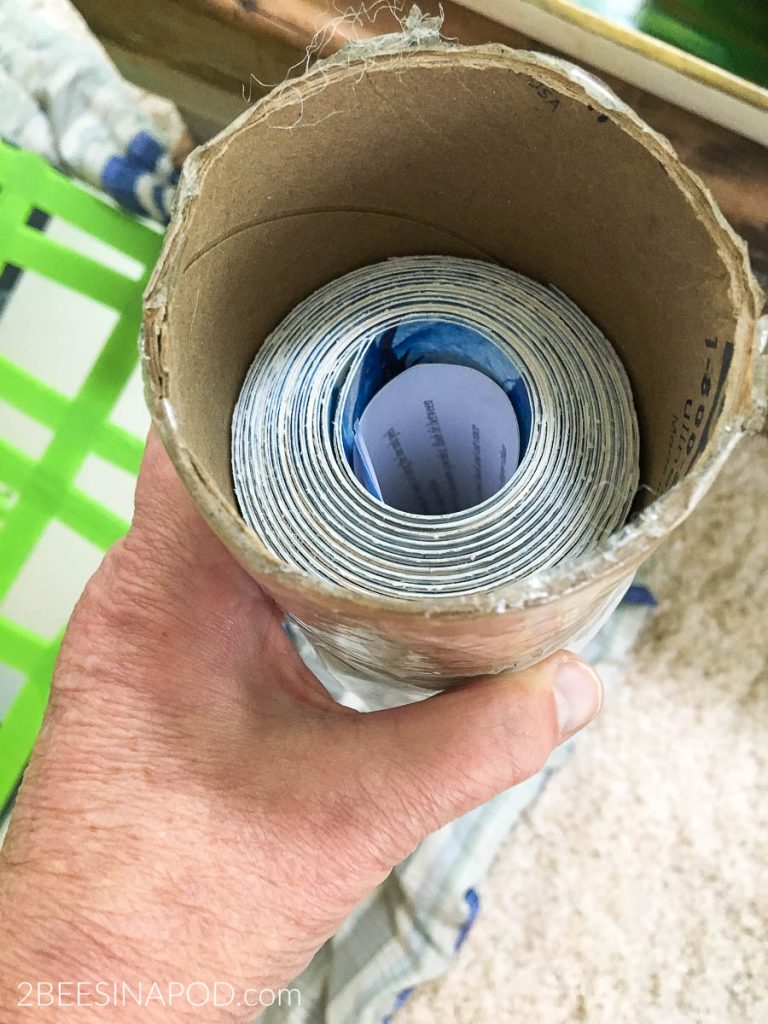 Even though there were so many stumbling blocks this week, I was able to rally and create a manageable to-d0 list. I was able to cross a few thing off of my list. Bathroom makeover roadblocks and more…
To Do List
take down wall mirror
remove existing toilet paper holder
take down existing towel bar
remove existing towel ring
tape off walls, baseboards and doorway for wall painting
repair and patch drywall holes before painting
paint walls
tape off walls in preparation for ceiling paint
paint ceiling 
tape off flooring and walls in preparation of painting vanity
remove vanity hardware
remove vanity drawers and doors
prime vanity
paint vanity
seal vanity
add new vanity hardware
change out vanity faucet
clean and degrease tile floors and shower tiles
sand tile floors and shower wall tiles
thoroughly clean tile floors and shower wall tiles
prime floor tiles
prime shower wall tiles
paint floor tiles
paint shower wall tiles
faux paint floor tiles
faux paint shower wall tiles
seal floor tiles – 3 coats
seal shower wall tiles – 3 to 4 coats
add glass subway tile feature wall above vanity
install wallpaper mural feature wall
hang new mirror
remove existing light fixture
install new light fixture
hang new shower curtain rod
hang new shower curtain
install new toilet paper holder
add  two (2) new towel hooks
install new towel ring
I removed the wall mirror with success! Not one crack or chip! This mirror went to Habitat for Humanity.
I don"t know what the cutouts and chips in the sheetrock were for where the the mirror previously hung. Hopefully  these spaces can be buffed out. The bathroom mirror area is a hot mess right now. I am currently on the hunt for a new vanity mirror.
But look at the new paint job! It is so bright white right now. I don't know why there are so many sheetrock cuts where the mirror was. I'm just excited that the mirror came down in one piece and we donated it to our local Habitat for Humanity. I painted the walls in Benjamin Moore's Super White. The bathroom is already so much lighter and brighter.
Look at these fab spaces from the designer entries and the guest participants.This is the first of many projects! Please follow along our makeover journey. You can check out our previous One Room Challenge projects HERE and HERE.   We love that Media Partner House Beautiful  is a sponsor of this challenge.
Thanks so very much for following along!