Spring Ranunculus Wreath and Printable
Please note that this post contains affiliate links. As an Amazon Associate, Rewards Style influencer and Jane Influencer, we earn from qualifying purchases and any sales made through such links will reward us a small commission – at no extra cost for you.
When spring approaches, the first decor item that we put up is a wreath on the front door.  We created a new spring ranunculus wreath and matching printable.
Are you doing any spring decorating in your home? Slowly but surely I am working on projects and putting finishing touches in rooms in the house. It feels so good to banish the heaviness of winter and start celebrating the freshness of spring. The first thing I like to do is add a pretty spring wreath to the front door. I saw a beautiful wreath in an online catalog and quickly had sticker shock. The price tag was $189.00! As much as I loved this wreath there was no way I was paying the hefty price. I set out to my local craft store to try and replicate the gorgeous spring ranunculus wreath from the catalog.
Finding the best price
Luckily for me the floral department at the craft store was having a 50% off sale. After purchasing everything I needed for my ranunculus wreath the grand total was just $12.00!
Supplies Needed
14″ grapevine wreath
1 pink ranunculus spray
1 white ranunculus spray
4 bushy and vining greenery picks
Wire cutters
Hot glue gun and glue stick
Rubberband
How to Put the Wreath Together
Gather all of the materials and lay them out
Push the greenery picks through the grapevine wreath
Use wire cutters to carefully cut off excess stems.
Again, using wire cutters bend the stem over onto the back of the wreath.
Glue the stem down with hot glue.
Gather the pink and white ranunculus sprays and trim the stems with the wire cutter.
Rubberband the two sprays together and glue them down onto the wreath.
Fluff the greenery
You can add a little message of spring, but it is not necessary.
These ranunculus look so authentic. The vining greenery is so pretty too.
If you haven't made a wreath before, now is definitely the time. This wreath literally took just a few minutes to make! Plus think of all of the money you will save by doing it yourself 🙂
I created a free 8x 10 inch printable with pink ranunculus and a "Hello Spring" greeting.
Just click on the link below or on the photo. The printable looks best when printed on cardstock paper. Enjoy!
Hello Spring Printable in Pink with 2 Bees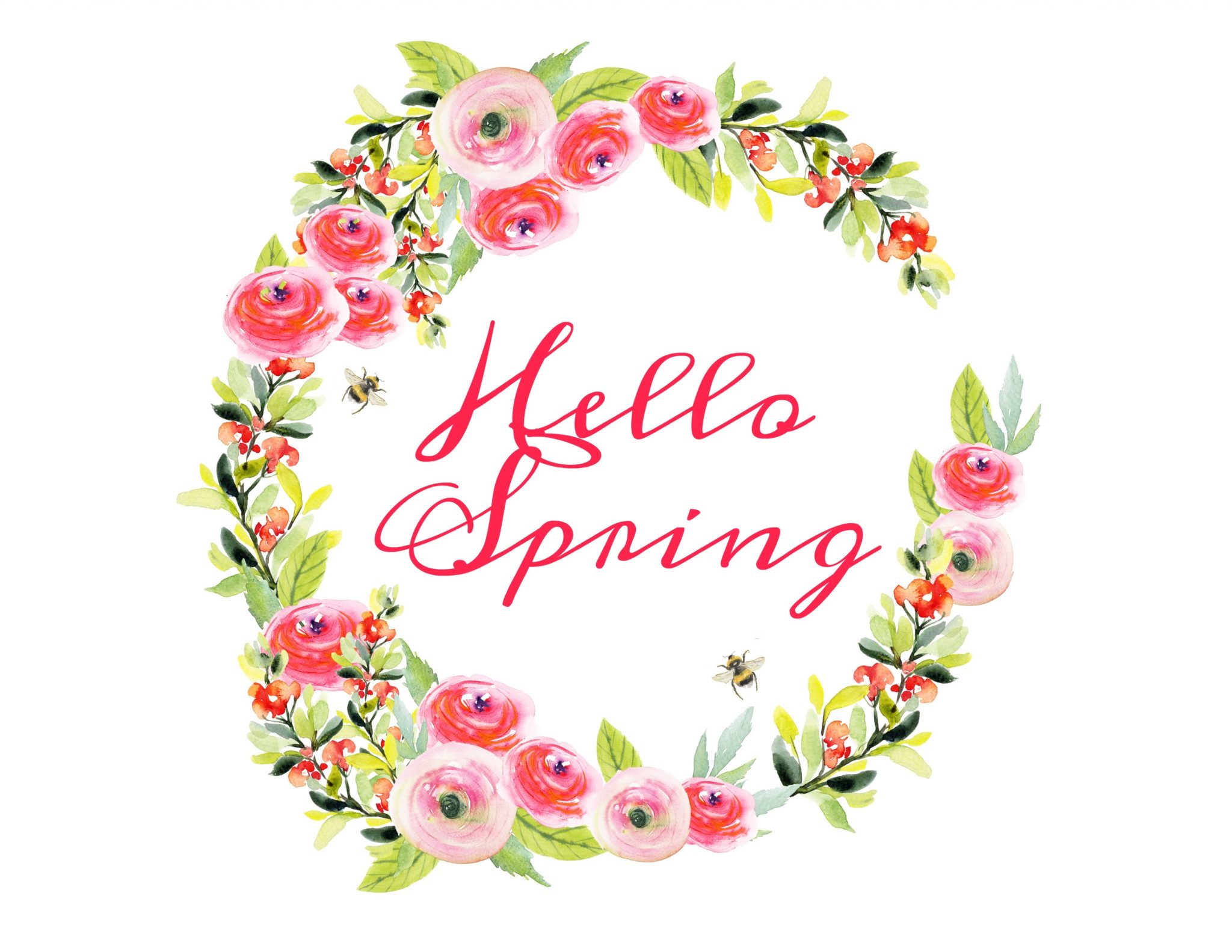 Don't forget to Pin this to your favorite Pinterest board!