How to Chalk Paint Furniture – Our Best Tips
Please note that this post contains affiliate links. As an Amazon Associate, Rewards Style influencer and Jane Influencer, we earn from qualifying purchases and any sales made through such links will reward us a small commission – at no extra cost for you.
Today we spill the secrets on one of our favorite things to do. How to chalk paint furniture – our best tips.
This topic is hands-down the one we get the most questions asked about. If you have never chalk painted furniture or anything else before, this post is for you! By the time you get finished reading how to chalk paint furniture-our best tips, you will feel confident and anxious to get started with your first project. If you are already a chalk painting pro, we hope that you pick up a few tips from us. We would love to have your input too!
Our past posts have included How to Style a Coffee Table , Pantry Organization and Easy Flower Arrangements.
One thing that we have learned over the years, no two chalk painting methods seem to be alike.
After reading our comprehensive guide How to Paint Chalk Furniture – Our Best Tips you will be more than ready to paint furniture!
Some of our posts contain affiliate links. When you purchase a product through one of our affiliate links, we make a small commission from the company at no additional cost to you at all. Regardless of whether or not we make a commission, we only recommend products we genuinely use, love and know to work.
Let's get started!
First, we highly recommend that you read our posts 5 Things to do Before You Paint a Piece of Furniture and What's in my Paint Bag. These posts both have detailed, helpful information for your painting success.
Select Your Piece of Furniture
For your first piece we highly recommend something small like a side table. Also, it should be a piece that doesn't need any repairs or fixes. You want this first chalk painting experience to be as easy as possible.

Choose Your Chalk Paint® and Color
Officially there is only one true Chalk Paint® and that would be Annie Sloan Chalk Paint®. It is a premiere, registered brand and it is arguably the cadillac of furniture paints. There are loads of other chalk-type paints on the market. Another brand that we use and love is Amy Howard One Step Paint. We have even had luck making our own chalk paint recipe.
Use the right Brush
Choosing the correct paint brush is just as important as the paint. Sponge brushes and cheap bristle brushes typically leave streaks and fall apart. Worse, the bristles fall out of the brush and permanently dry onto your piece of furniture. You are better off spending a little bit more money for a great brush. If you take care of it and keep it clean, the brush will last for years. These are our recommended brushes:
Gather Your Supplies
Chalk painting furniture success is guaranteed when you are organized. Before you start to paint be sure that you have all of the necessary supplies. Again, you should read our post What's in My Paint Bag.
1 quart of Chalk Paint® in your preferred color. Paint can be pricey at $39.99, but this paint goes a long way – we promise. Our personal favorite colors that we use over and over again are Old White, Pure White, Duck Egg, Paris Grey, Graphite, French Linen, Aubusson and Napoleonic Blue.
Clean, lint-free rags
Paint can opener
Wooden paint stirrer
Ziplock baggies
Cup of water
Container to hold paint that you are painting with
Screwdriver to remove hardware
Paper towel
Paper plate
Choose the ideal workspace
Sometimes finding the perfect place to paint your piece of furniture can be difficult. This is especially true with limiting weather conditions. As with most paints, you can't paint outdoors if it is too hot or too cold. Honestly, we have found the ideal workspace to be inside the house under controlled temperature. Take extra care to protect the flooring and avoid splattering paint.
Prep and clean your furniture piece
Take a "before" photo of your piece of furniture. You will want to show everyone what it looked like before you transformed it!
Remove any removable elements such as hardware, drawers and shelves.
Remove any stickers, labels or residue that is stuck on top of the furniture. We always use Goo Gone. You may also use warm water and soap – just make sure you dry it completely right away.
Run your hand across the furniture piece. If you feel any rough patches they need light sanding with 220 grit sandpaper. You do NOT need to sand the entire piece of furniture when you use Chalk Paint.
Clean, clean, clean. Even though the furniture may look clean, 9 times out of 10 it is not. Dirt, grime and oily residue need to be cleaned away to insure that your chalk paint will have great adhesion. Trust us – you don't want to skip this step and then have to start over. We use a little bit of Dawn dish soap and warm water. For really difficult jobs we like to use TSP solution mixed with water. Again, make sure to dry the furniture well.
Tape off any area with painter's tape that needs it. Drawer edges. Also, use painter's tape to mark the drawers so that you know where they go when your done painting.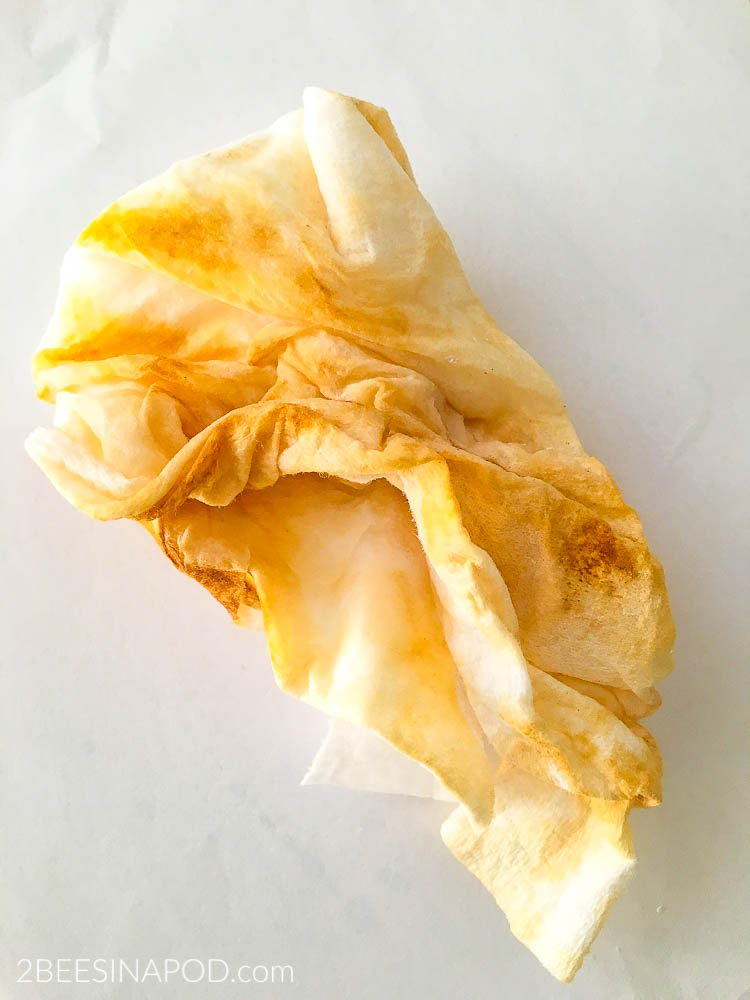 Time to Chalk Paint – Don't be Scared!
Take a deep breath
Make sure your can of paint is mixed and stirred very well, especially from the bottom of the can.
Dip your paintbrush in clean water. Pat dry with a clean rag.
Pour ½ cup of paint into a leak-proof container and add 1 teaspoon of water. Stir well. Be sure to cap off the original can of paint to avoid it drying out.
Dip your brush into the paint. You want to start with a light hand. If you're feeling especially nervous you can start in an inconspicuous place like the side.
You really can't go wrong with whatever stokes you use. Paint with the grain of the wood. Just remember that the first coat will be streaky – don't freak out. It is best to work in small areas at a time. For example: paint one leg at a time, complete painting the side before moving to the other side, etc.
After the first coat wrap your wet paintbrush bristles in a ziplock baggie to avoid drying out.
Now you're ready for the second coat!
Typically the first light coat will dry within one hour! Using the same exact painting steps you can now paint your second coat – and you can apply a slightly thicker coat. Out of all of our painted furniture projects only one piece ever needed a 3rd coat of paint. Just so that you know you may need a third coat. Let this coat dry for 24 hours.
Clean your brush
Yes, it's a pain to stop and clean anything. At this point though the brush is easiest to clean with dish soap and warm water. We promise you that we have been using the same paintbrushes for years because we take care of them. After the brushed are cleaned of paint pat them dry and then let them air dry.
Do you want to distress your furniture?
Distressing a painted piece gives your furniture lots of character. It can make the furniture look authentically vintage, aged and worn. This step is NOT necessary. If you do decide to distress:
Use a piece of 220 grit sandpaper or a sanding block and rub it over areas that would get normal wear and tear over time. Edges, corners, legs, knobs detailing, etc.

Using a clean lint-free cloth make sure that all of the dust is removed before moving on.
Time For Wax
Applying wax is necessary to seal your paint and to add a protective finish. You definitely need to add a layer of clear wax. You can use a wax brush like this Annie Sloan Wax Brush or you can use a clean lint-free rag.
Dip into the clear wax and rub or brush directly onto the painted finish. Remember a little bit goes a long way. Massage and buff the clear wax and work on a small area at a time. Like when you painted – a leg, a side of a table or a quarter of a table top. You will see how this wax enhances the color of your paint as it protects.
Using another clean cloth and wipe in the direction of the wood grain to remove excess. Repeat this process until you have completed the entire piece of chalk painted furniture.
Do you want to add dark wax too? Now is the time. Dark wax enhances and lends to the overall vintage effect. Again, dark wax is not necessary but we do add it about 65% of the time.
Use even less dark wax as it can almost behave like a stain. Start on areas with rich detail or legs. Again – very small amount of wax and rub and buff immediately.
Take a Bow
You did it! Take a step back and admire your handiwork. No matter how many pieces of furniture we have painted, this is our favorite part. We are always amazed by the power of paint and how it can beautifully change a drab, unwanted piece of furniture.
Following are some of our own transformations. Just click on any of the photos and you will be taken to our original posts. You won't believe what some of the "before" pics look like! Enjoy! We truly hope that you use our guide How to Chalk Paint Furniture – Our Best Tips. You've got this! Also, don't forget to check out the sage painting advice from our design friends!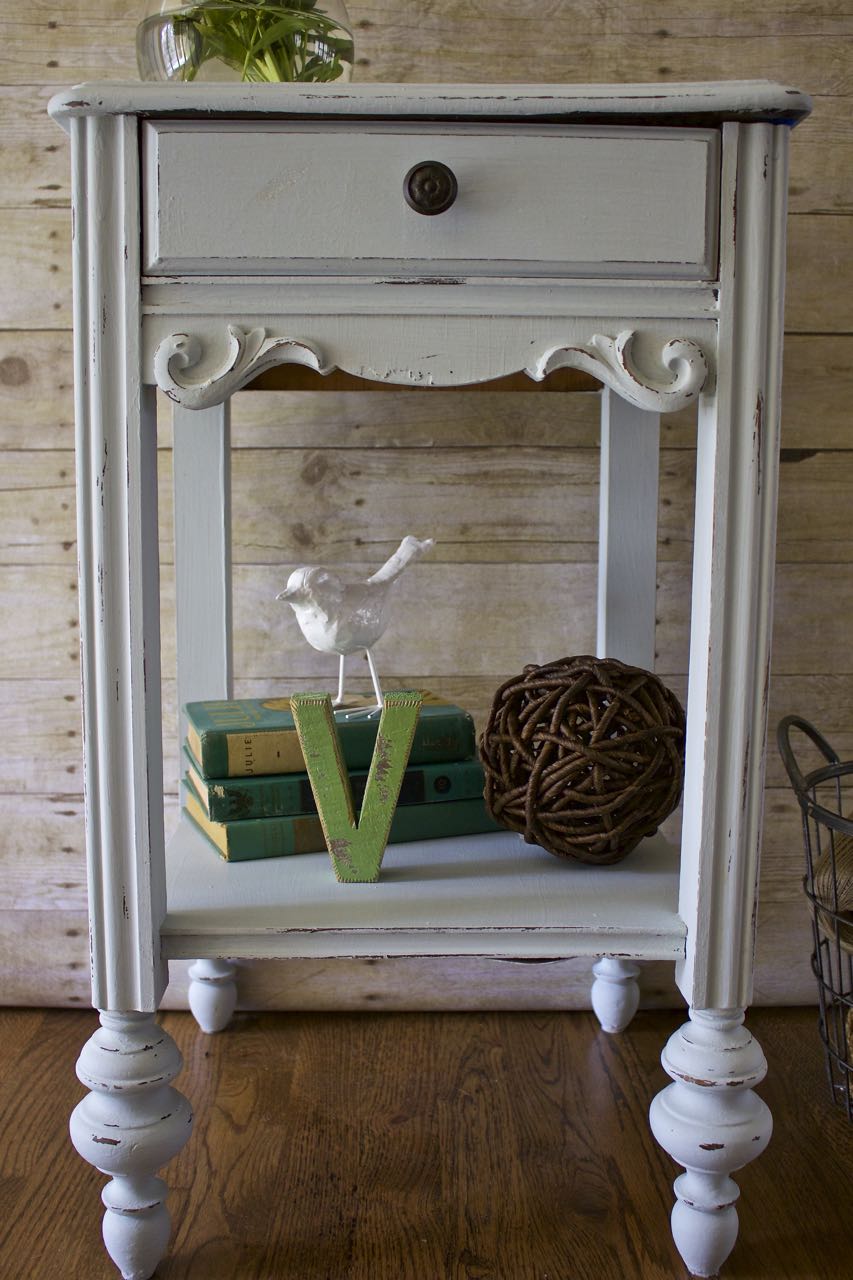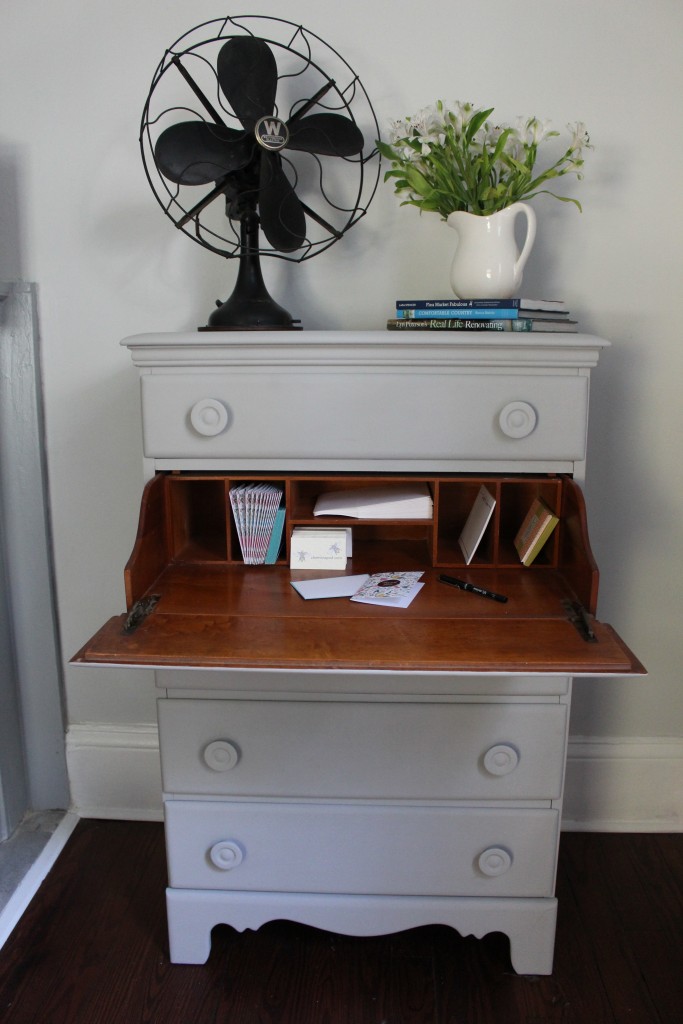 Don't Forget to Pin this your Favorite Pinterest board!