Please note that this post contains affiliate links. As an Amazon Associate, Rewards Style influencer and Jane Influencer, we earn from qualifying purchases and any sales made through such links will reward us a small commission – at no extra cost for you.
Hey y'all…I know you're probably sick and tired of hearing me talk about our fabulous peach season, but I can't help myself! They really are fantastically sweet and juicy. The other night we had friends coming over for dinner and I wanted to make a quick dessert that would use our sweet Georgia peaches. Here's my version of very easy peach turnovers.
Now, I pride myself on being a good cook and dessert maker…but I have a confession to make. I have never made a pie or a pastry in my life. I'm pretty sure the reason for this is that I don't particularly care for these types of desserts. Don't hate me. My desserts of choice are typically ice cream or cake with homemade cream cheese icing.
So, you can see why I needed an easy version for a peach turnover. I started with frozen puff pastry sheets.
I defrosted one square sheet. I then cut this square into 8 triangles.
These peaches were fresh picked the day I bought them. I peeled and cut three of them to fill the pastry.
They were so sweet that I didn't need to add any sugar.
I added two tablespoons of cut peaches on top of one pastry triangle. I added a second triangle on top and crimped the edges closed with a fork.
I then baked them in the oven for 20 minutes. Look at how golden and beautiful they are! Now, as I disclosed to you earlier…I didn't eat any of the turnovers. However, Honey Bee claimed them to be delicious!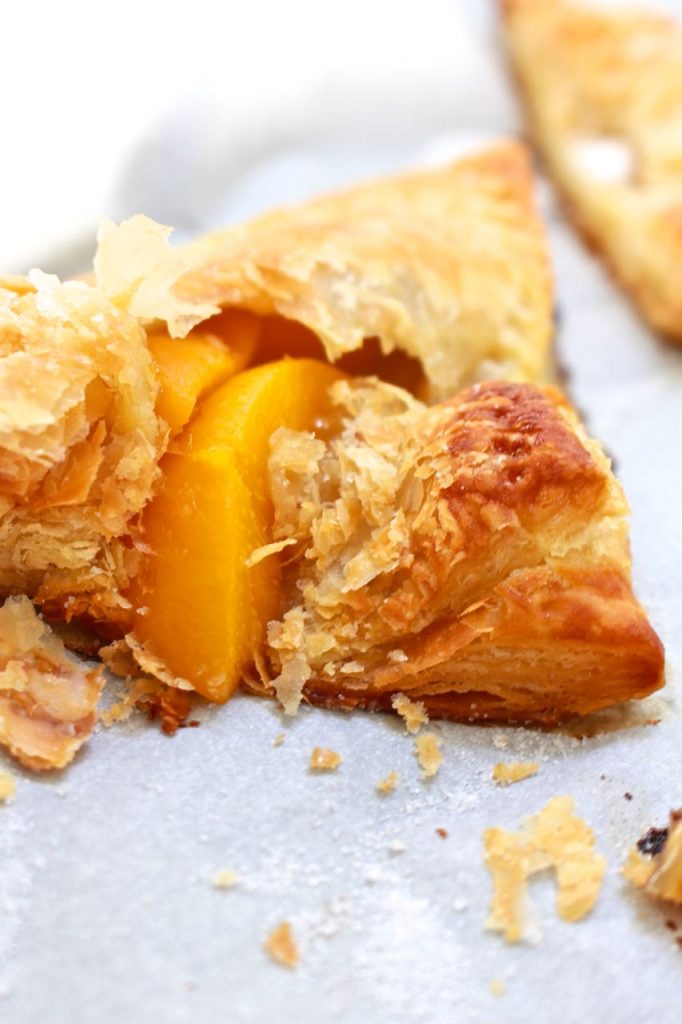 Hopefully our guests loved them too!
You can print out the recipe…or directions really, to make peach turnovers for yourself! I can't stress enough how easy this is.
Ingredients
Puff Pastry sheets from the freezer section of the grocery
Chopped fresh peaches
Instructions
Thaw puff pastry sheets.
Preheat oven to 350 degrees.
Cut each sheet into 8 triangles. I only used one sheet.
Add 2 tablespoons of fresh chopped peaches to 4 triangles.
Add another pastry triangle to the top of the peaches.
Crimp edges closed with a fork.
bake for 20 minutes or until golden brown.
https://2beesinapod.com/easy-peach-turnovers/
Don't forget to Pin this to your Favorite Pinterest board…
XO~Vicki