Please note that this post contains affiliate links. As an Amazon Associate, Rewards Style influencer and Jane Influencer, we earn from qualifying purchases and any sales made through such links will reward us a small commission – at no extra cost for you.
Hey y'all…Our friend Cat of Pocketful of Posies is celebrating a milestone birthday and she is throwing herself a virtual party! We never turn down a reason to party and we accepted her invitation! Jenn and I were put in charge of party favors and this is what we created…DIY scented bee soaps.
Timing couldn't have been more perfect as we had just found this bee and hive mold at our local Goodwill. (This post contains affiliate links.) 
Even better was this .99 cent price tag! Woo Hoo! You can purchase your own mold here
.
We have made soaps in the past and we think that goats milk soap is the best to start with. This package is from an online retailer, but you can find it in any large craft store. You can also purchase the Goats Milk Soap here
.
The soap starter breaks apart very easily. We broke apart half of the 2-pound package and placed it in a plastic container. Each microwave is different.  For us – we placed the container in the microwave for 40 seconds, rotated it a quarter of a turn and microwaved it for another 40 seconds. We did this another two times and this was sufficient time for the mixture to melt.
A paint stick stirrer was perfect to stir the melted mixture.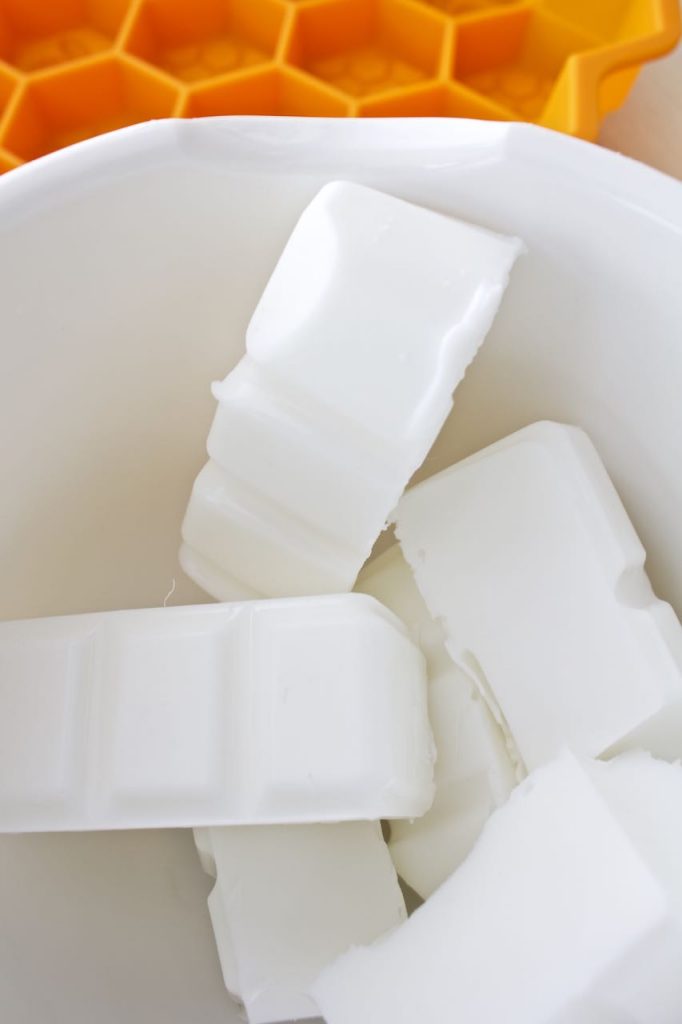 We immediately added 15 drops of orange essential oil and stirred again. Orange fragrance just seems so fresh and clean. Remember – you can add your own preference of essential oil fragrance. Wouldn't clove be fabulous for Fall? You can find essential oils here
.
The melted mixture looks just like milk. You need to pour it quickly because it starts to set right away. Let the mold sit for 40 minutes until the soaps are completely cooled and firm.
These popped out of the mold very easily. We were so happy with how they turned out. Look at how cute they are!
These match our style and personality perfectly. Use a mold that resonates with you. there are so many different designs and styles!
Being that our soaps are party favor gifts they needed to be wrapped. This makes it easy for each guest to pick one up as they leave the party.
We personalized each gift box with a tag and our signature bee stamp. You can get your own similar bee stamp here
.
We are big fans of bakers twine in place of ribbon. It's easy to tie boxes and comes in a variety of colors. You can purchase baker's twine here
.
We stamped each tag with a bee and added a note of thanks on the reverse side. You can find similar tags here
.
The tissue paper is in our signature colors of yellow, gray and white. The mini boxes came in a package of six and they are from the dollar store.
Each guest receives 2 handmade soaps to commemorate the day. Don't you just love a party where you get to take home a gift?
All wrapped up and ready to go!
We want to wish Cat a sincere Happy Birthday! You can click the link below to see what everyone else brought to this fun and creative virtual party!
House full of Handmade – Salsa and Margarita's Invitation

Little Bits of Home – Celebrate Birthday Banner
Simple Nature Decor Blog – Eco Friendly Birdseed Party Favors
Love Create Celebrate – Adult Tropical Slushie
2 Bees in a Pod – Scented Bee Soap Favors
Pocketful of Posies – Paper Floral Garland
Iris Nacole – Doughnut Hack, From Plain Jane to Party Ready
XO~Vicki and Jenn
Don't forget to Pin this to your favorite Pinterest board…