DIY Journal from a Composition Notebook
Please note that this post contains affiliate links. As an Amazon Associate, Rewards Style influencer and Jane Influencer, we earn from qualifying purchases and any sales made through such links will reward us a small commission – at no extra cost for you.
DIY Journal from a Composition Notebook
Happy Friday friends! Did this week fly by as quickly for you as it did for me? It is now my sincere wish that the weekend goes by at a snails pace. I want to bask in the sun, dip my toes in the lake and laugh with friends. Fingers crossed that the weather gods are listening!
This week when I was rummaging through one of my craft drawers I came across these composition notebooks. I purchased several of them at a back-to-school sale for just .25 cents each. Ever since I was a little girl I have loved composition notebooks. They made me feel so grown-up when I was in middle school, as typically only the high school kids carried them.
Anyway…they are a perfect size to jot down thoughts, ideas or to journal in. I like to make the covers look pretty and sophisticated and it so easy to do.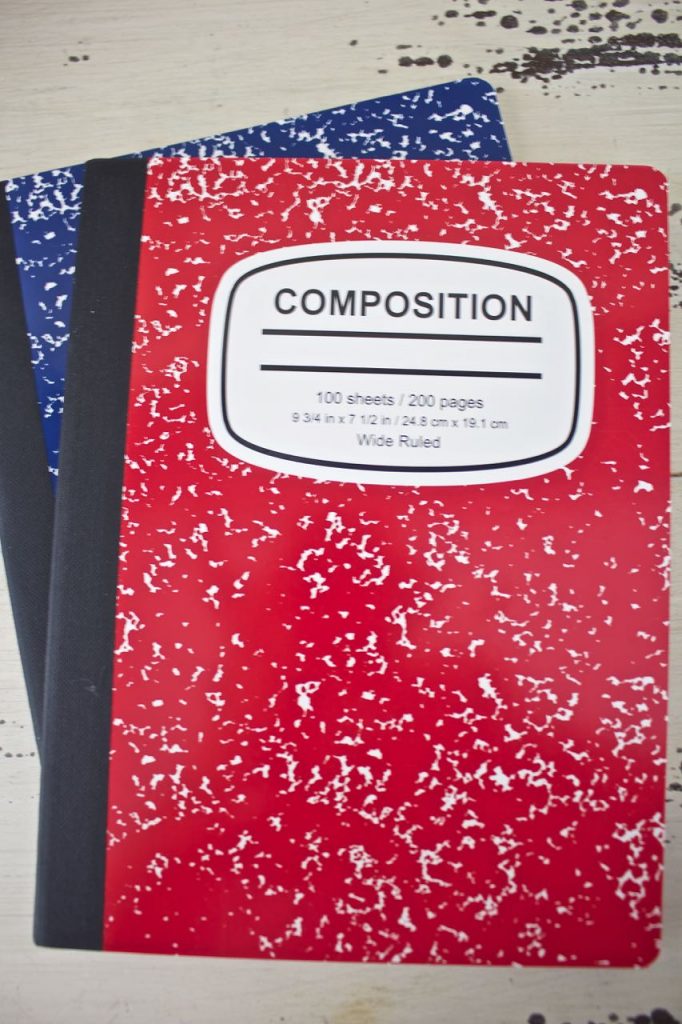 Supplies Needed…
Pencil
Scissors
Printer (optional)
Directions
Turn backside of scrapbook paper up.
Lay composition notebook on top of scrapbook paper as close to the edge as possible.
Using a pencil, trace the composition notebook on all four sides, minus the black binding.
Carefully use scissors and cut all four sides. Round corners where necessary.
Use a glue stick and apply a full, even layer onto the front of the composition notebook.
Carefully lay the scrapbook paper onto the glue. Smooth any bubbles.
Repeat the same steps for the back cover.
Optional…add a label to your notebook.
So cute, right. This is just scrapbook paper and glue.
There are endless possibilities with all of the paper patterns available at the craft store. I have never used wrapping paper but that might be a good idea. My fear is that it might be too thin – I will let you know.
Wanting to personalize these just a bit more, I used the leftover scrapbook paper as a label. I used colorful fun fonts and printed them out on my home printer.
The shapes were simply cut with scissors and glued down with the glue sticks.
Easy, peasy! I'm off to fill these pages with paint colors for furniture…and walls…fabric choices…design ideas…
Have a great weekend everyone!