DIY Etched Plant Water Bottle
Please note that this post contains affiliate links. As an Amazon Associate, Rewards Style influencer and Jane Influencer, we earn from qualifying purchases and any sales made through such links will reward us a small commission – at no extra cost for you.
Hey y'all…so excited to see you! Today promises to bring you some wonderful creativity and out-of-the-box imagination decor. Our sweet friend Kim of Hunt & Host is so clever. She came up with the idea of bringing items from Grocery Store to Gorgeous and she invited us and other blogging friends to play along! The idea is that we each take something that we have already purchased at the grocery store and have in our pantry. We then take this item to the next level with an upcycle and reuse in our home decor.
I was so excited and knew right away what I was going to make…DIY Etched Plant Water Bottles. These bottles are a perfect way to keep your plants watered while you are out of town OR if you're a lazy gardener like me and you might forget to water your thirsty plants.
Have you seen etched bottles or glassware before? Did you wonder "How'd they do that?" Me too! Today I will reveal the mystery and I must say this is a super easy project!
Start with glass bottles. I used these pretty green bottles but you can use any glass bottles. Think of the possibilities – vinegar, wine, sauces – you get the idea.
Remove the labels and clean the bottles inside and out thoroughly to remove any residue or oils. I ran my through the dishwasher.
I had all of the materials below except for the "magic powder".
Materials Used:
Armour Etch Glass Etching Cream – I purchased mine at Hobby Lobby. Their price is $9.99 minus 40% with store coupon.

Painters Tape

Paintbrush

Stencils
I secured stencils as tightly as possible to the bottles. I applied my design upside down on the bottles because they are going to be spout-down inside flower and plant pots. I want the design to show right side up.
*Follow safety instructions provided by manufacturer of Armour Etch*
Before I opened the jar I shook it a lot to be certain that it was mixed well. I then dipped my paintbrush into the cream and applied a thick coat to the stencils. As per directions the etching process takes literally one minute! Not kidding. I then rinsed the cream off under lukewarm water.
I filled the bottles up with water…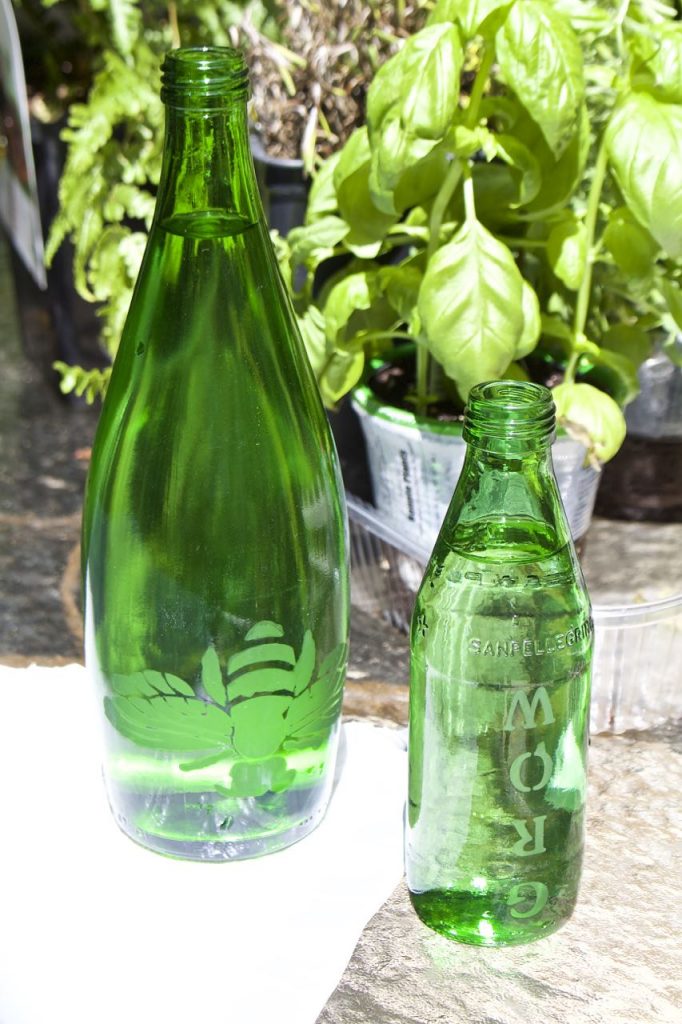 …and placed them in our outdoor and indoor plant pots.
I made two of these cute "grow" bottles.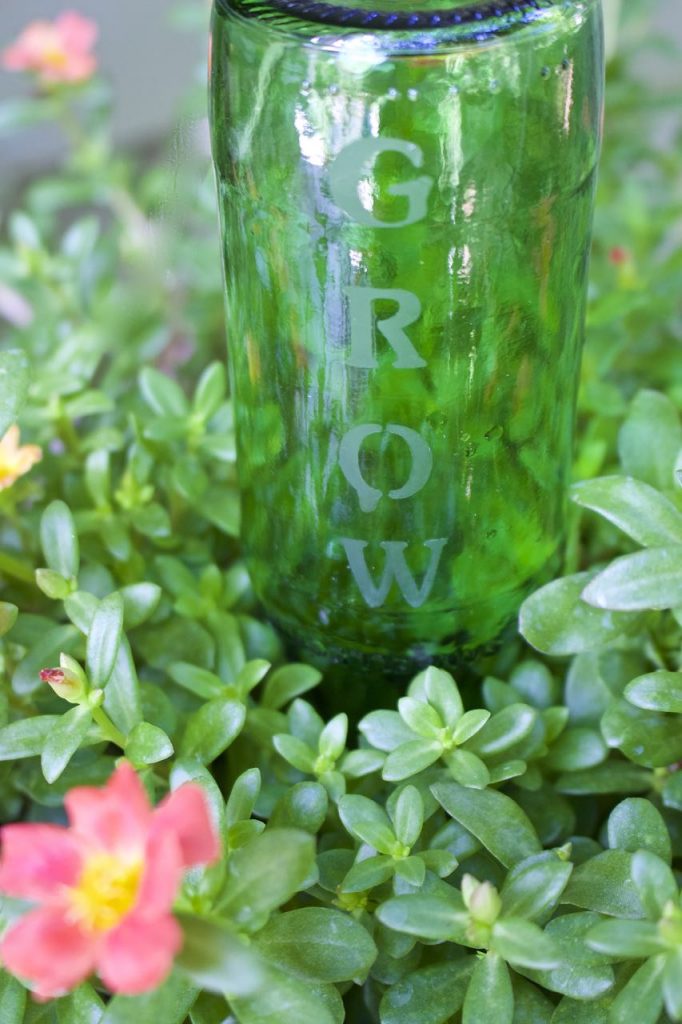 This was such a quick and easy project that I made another water bottle with an empty wine bottle.
You know we love our bees!
These will make perfect gifts for friends…I can't wait to make more! Plus it's a great way to upcycle bottles for a greener purpose 🙂
I hope you like my Grocery Store to Gorgeous project. Don't forget to click the links below to see the creative ideas our friends were inspired to make!
Don't forget to Pin this to your favorite Pinterest board!
Click each pic below:

XO~Vicki