DIY – Decorative Canvas Bag…
Please note that this post contains affiliate links. As an Amazon Associate, Rewards Style influencer and Jane Influencer, we earn from qualifying purchases and any sales made through such links will reward us a small commission – at no extra cost for you.
You may not know this about me but, I am not the neatest person. I'm very clean but I usually have little piles of stuff around the house. Typically, at my spot on the love seat I have a stack of stuff next to me…my calendar, magazines, blog planner, pens and my never-ending to-do-lists. I decided that instead of this pile being unsightly and out of control I would create something pretty to store everything.
My solution – a decorated canvas bag. I figured that not only is it pretty, it will keep everything corralled together and the bag makes it easy to grab and go.
I gathered together a canvas bag, fabric and some orange burlap…
The canvas totes came in a three-pack from Hobby Lobby. Sticker price $7.99 for all three, minus my 40% off coupon. So for $4.80 I got three canvas tote bags…awesome 🙂
I cut out a double square of fabric for the front of the bag…
…and sewed it to the front of the bag, leaving the top open for the pocket.
I then cut a strip of orange burlap to create a rose…
Folded in half…
…twisting and wrapping.
…until I had a rose.
I also cut a strip of cheap muslin fabric to create a smaller rose using the same method…
…and sewed into place.
I also attached a vintage button from my grandmother's collection to the pocket.  Isn't this cute? I am thrilled with how it turned out 🙂
Plenty of room inside for all of my blogging materials.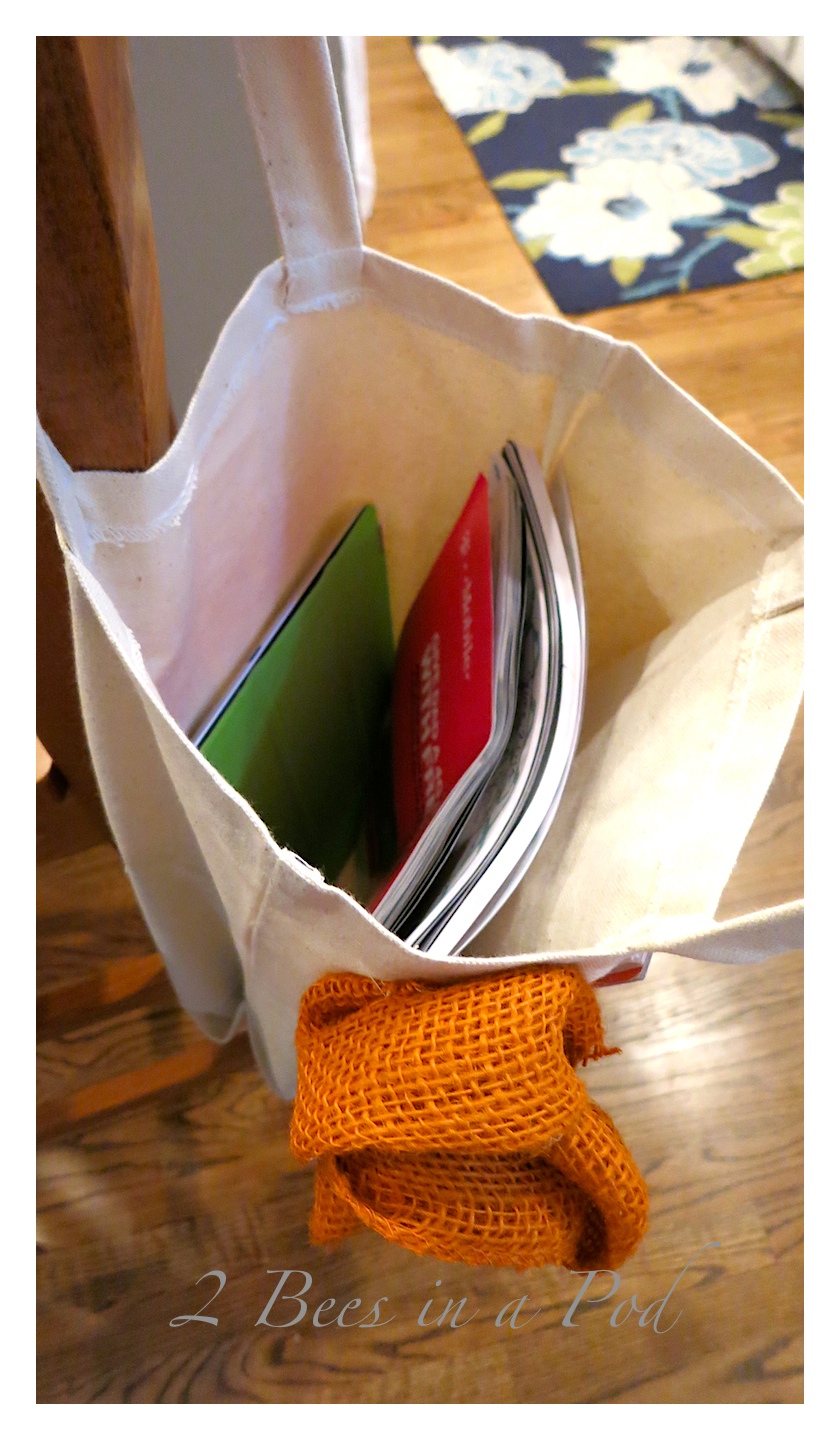 I really like how my "Creativity" notebook makes a statement.
Plenty more space to add more materials.
I can't wait to get started on the other two canvas bags. I was thinking of a reading bag or beach bag. What do y'all think?