DIY Bridal Shower Favors – Teacup Candles…
Please note that this post contains affiliate links. As an Amazon Associate, Rewards Style influencer and Jane Influencer, we earn from qualifying purchases and any sales made through such links will reward us a small commission – at no extra cost for you.
There has been a lot of excitement at our house this past weekend! I got to cohost a bridal shower for Jennifer 🙂 It was a bit nerve-wracking as I really wanted this to be a very memorable day for Jenn and her guests. As you may recall, I sprained my ankle a few weeks ago and it is slow to heal – therefore making it a tad diffficult to hobble around the house, but I was determined to make this a special day for my only child!
I will share more about the bridal shower with you in future posts – but today I wanted to share with y'all the teacup candle party favors that I made for the guests.
It's no secret that Jennifer and I love and admire all things vintage. It was important to me to be sure to incorporate vintage elements for Jennifer's bridal shower.
First, I amassed a collection of vintage teacups. I collected 20 teacups in a very short amount of time from thrift stores and antiques shops. With the exception of one cup – I didn't spend over $2 for any cup. Several were only .50 cents each.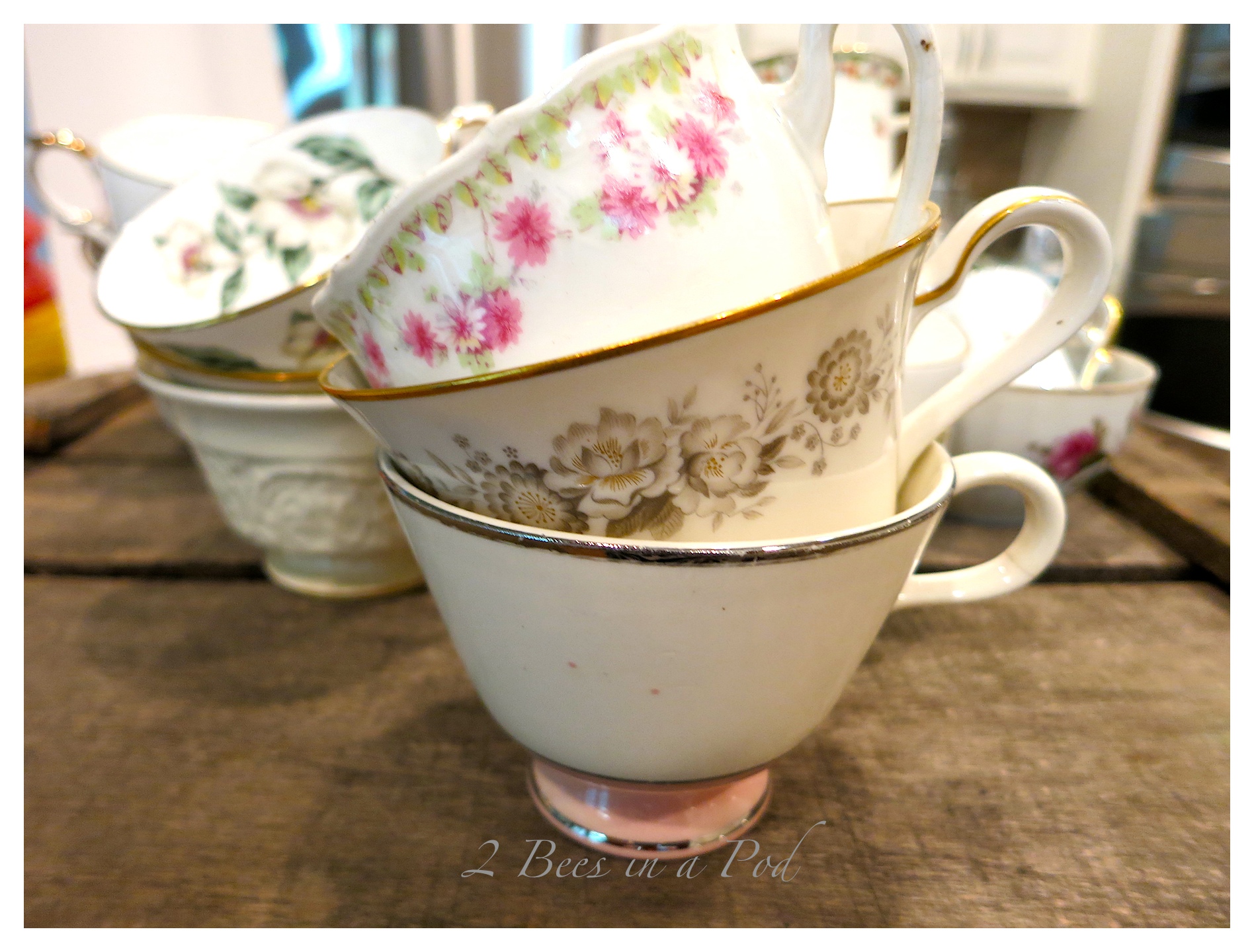 This beautiful blue and gold cup is my absolute favorite!
I purchased candlewick and weights at the craft store…
I inserted about a half inch of candlewick into the weight. There is no need to knot the end…
I found another use for cocktail stirrers 🙂 I placed the candlewick in the center of two stirrers and taped both ends to keep the wick in place.
This will hold the wick in place when you pour your melted wax.
I used this method on all 20 teacups…
I found this stovetop percolator at Goodwill for .25 cents.
I melted each wax brick separately. Each brick provided enough melted wax for four teacups. **Caution** Be very careful when melting and pouring wax. Do not let it boil. Don't leave the percolator unattended. Do not let melted wax get on your skin as it will burn.
I carefully poured the melted wax into the teacups…
…and set them aside until the wax was completely dry. Drying time varied by the cup size, but it took approximately two hours for drying time.
On display…
I showcased and displayed the teacups in one of my vintage suitcases…
It made for a cute decoration and easy selection for guests when they left the bridal shower 🙂
Even though I fretted a bit – the shower was lovely. Jennifer and all of her guests had a fun time and hopefully created a lifetime of memories for Jennifer 🙂