Dining Room Shelf Refresh
Please note that this post contains affiliate links. As an Amazon Associate, Rewards Style influencer and Jane Influencer, we earn from qualifying purchases and any sales made through such links will reward us a small commission – at no extra cost for you.
Hey y'all…So glad you are here!
The dining room shelves got a quick refresh as they were looking a little sad after the holidays. Can I just give another shoutout to my wonderful Honey Bee for painting the back wall of this dining area? It has made such a big difference in how everything looks once it is placed on a shelf. I can't express enough what a huge difference this has made and how happy it makes me!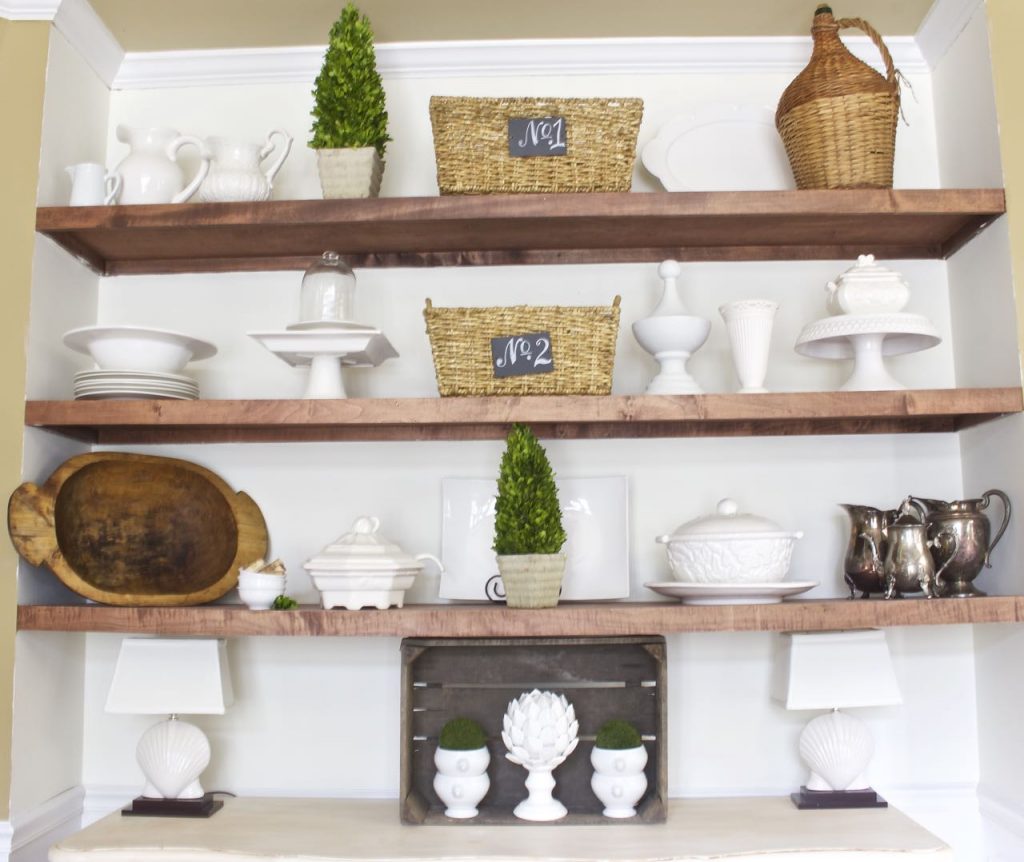 Now, you can actually see everything as opposed to before.
I typically keep all of the same decor, but I move it around until I'm happy with the final look.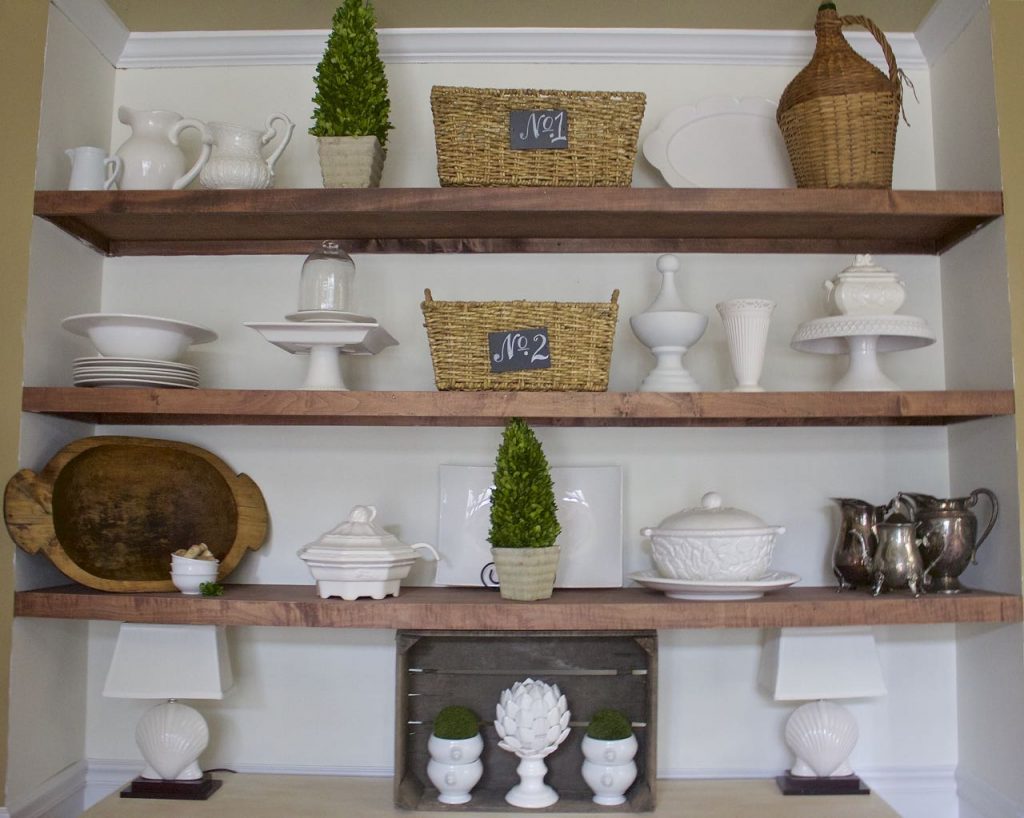 I only added a couple of new things, like the two boxwood topiaries. They were in my living room so I just borrowed them for the shelves. Don't forget to shop your own house for a quick and free way to decorate your home. I constantly change things around, room to room. It keeps decor fresh and you haven't spent any money.
I still keep everything white and bright with a few wooden elements and some greenery.
As I have said before, these baskets are always on the shelves and they don't get moved around too much. I don't know why…I just really love them here.
I brought my beloved antique dough bowl back into the dining room. And it can't be a surprise that I would have a few wine corks on hand 🙂
These silver pitchers were all purchased at thrift stores. I only spent between $2 to $4 a piece and they look great grouped together. I appreciate the pretty details and I prefer the tarnished finish.
This antique Dutch tulip crate is another favorite of mine. I turned it on its side and added white pottery and moss balls. The lions-head soup bowls were a great find and have gotten a lot of use this season.
My French demijohn is the real deal. I purchased this many years ago before they were a hot commodity. Have you seen the prices they fetch? I hate to brag tell you that this beautiful wicker-wrapped antique wine jug set me back a whopping $8 !!! It's not often that a deal like this comes around, so I fully celebrate when they do.
I hope y'all are inspired to move some things around your home today. Move family photos from the bedroom into the living room. Change out the artwork in the family room. Move your furniture around. You might be surprised by how good it makes you feel!
Until tomorrow…
XO~Vicki