Delicious Black Bean Salsa Recipe
Please note that this post contains affiliate links. As an Amazon Associate, Rewards Style influencer and Jane Influencer, we earn from qualifying purchases and any sales made through such links will reward us a small commission – at no extra cost for you.
Try making our delicious black bean salsa recipe for your next get-together.
It is safe to say that I love salsa! There are so many varieties – spicy, smoky, sweet, mild and more. You can never be bored with so many flavors to choose from. If you like a variety of salsas, you should try our Restaurant Style Salsa or Fresh Peach Salsa. Today's recipe is delicious black bean salsa.
I have been making this salsa recipe for at least three decades now. I'm not even sure where I originally obtained this recipe. Undoubtedly, it was from someone at a ladies club function or cocktail party. Every time I have served this, I am inevitably asked for the recipe.
Speaking of which…I originally shared this delicious black bean salsa with y'all about 8 years ago. You can see the original posting HERE. That version is chunky and super tasty.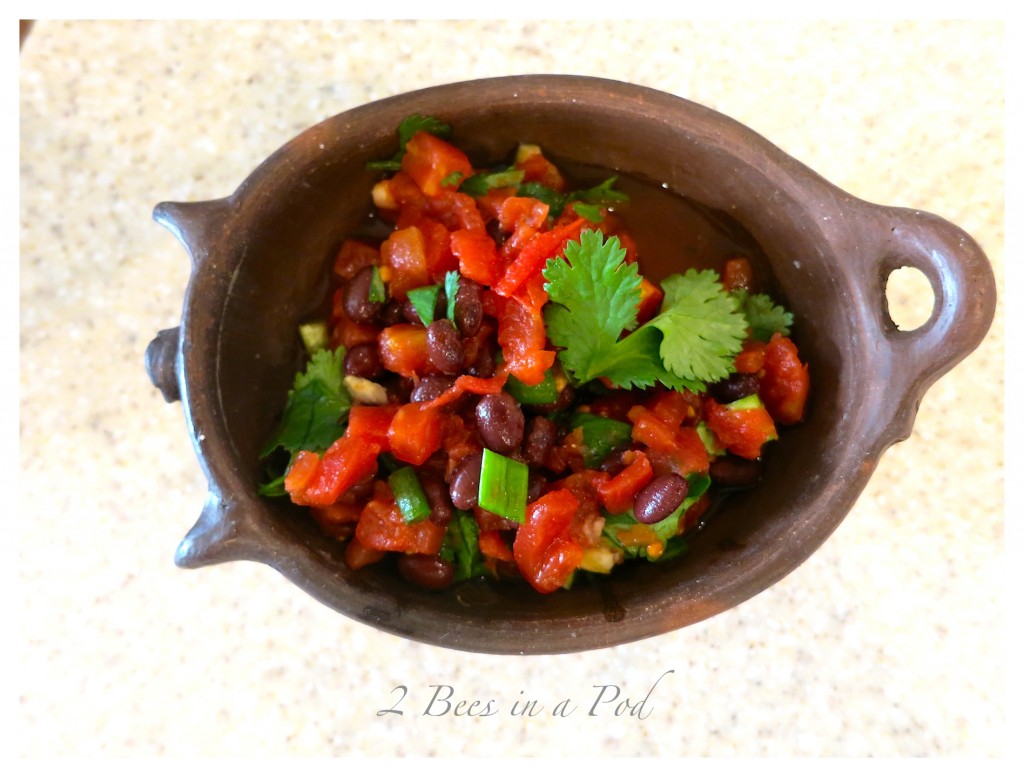 Recently, my bestie Bambi shared with me an alternate way to serve it, per her sons' suggestion. Everything, with the exception of the black beans, gets tossed in the blender for a smoother salsa. I tried it and loved this salsa even more! Plus, not need for chopping and dicing.
Put the salsa ingredients in the blender
Nothing could be easier than tossing everything in the blender.
Blend until smooth
It doesn't take long for the ingredients to blend smoothly. You want to be sure that there are no chunky bits.
Delicious Black Bean Salsa Recipe
Black bean salsa is incredibly easy to whip together Simple, fresh, colorful and delicious. It's especially perfect for snacks, tailgates or cocktail gatherings.
Additional Time
5 minutes
Ingredients
1 16 ounce can black beans - rinsed and very well drained
2 16 ounce cans petite diced tomatoes
4 green onions chopped
1 clove of garlic, crushed
1 cup fresh chopped cilantro
2 TBS fresh lime juice
1/2 tsp cumin
3 TBS red wine vinegar
salt and pepper to your taste
Instructions
Rinse and drain black beans very well. Set aside.

Combine all ingredients, except black beans.

Mix in a blender or food processor until smooth.

Pour mixture into a bowl.

Add the black beans and stir.

Cover and chill.

Garnish with cilantro *optional*

This is excellent made a day ahead.
After blending the salsa
Gently stir black beans into the blended mixture.
This salsa can be enjoyed right away, but it is even better once chilled for a few hours, or better yet, overnight. I love things that can be prepared ahead of time, especially when having friends over for football watching or a cocktail party!
Tips for making black bean salsa
Before you start, here are a few tips for making this black bean salsa recipe!
Drain and rinse the black beans to get rid of any excess liquid. You don't want a runny salsa, or one that is murky brown in color.
Gather all of the ingredients together. This makes prep so much easier.
Store salsa in airtight container.
Eat within 4 days. This black bean salsa recipe tastes better the longer it sits in your fridge, but it is best eaten within four days.
If hosting a large gathering, this recipe can easily be doubled. Feel free to double this recipe to feed a crowd, and play with the ingredients a bit to figure out how you like your salsa the best.
This Delicious Black Bean Salsa is perfect as an appetizer, dip, tailgate snack or taco topper. We love the healthy and simple ingredients, but most of all we love the flavor. Feel free to adjust the seasonings to your own taste.
What goes well with black bean salsa?
Crunchy tortilla chips are the obvious pairing. Scoop chips are even better because they serve as a miniature bowl of sorts. This recipe is very healthy, so feel free to serve with carrot or celery sticks. I have also used this black bean salsa on top of tacos and grilled chicken.
Do you love salsa as much as I do? I would love to hear what your favorite recipe is!
Don't forget to Pin this to your favorite Pinterest Board!