Decoupage Oyster Shell Trinket Dish
Please note that this post contains affiliate links. As an Amazon Associate, Rewards Style influencer and Jane Influencer, we earn from qualifying purchases and any sales made through such links will reward us a small commission – at no extra cost for you.
Decoupage Oyster Shell Trinket Dish
Way back at the beginning of March, Jenn and I had a shopping excursion. Little did I know that this would be our last shopping adventure for the foreseeable future. During that excursion I spotted some very pretty decoupage oyster shell trinket dishes. Unfortunately, I wasn't willing to pay the $30+ price tag. Since then I've seen even higher prices online. Recently, my sweet friend Linda gifted me this gorgeous oyster shell trinket dish.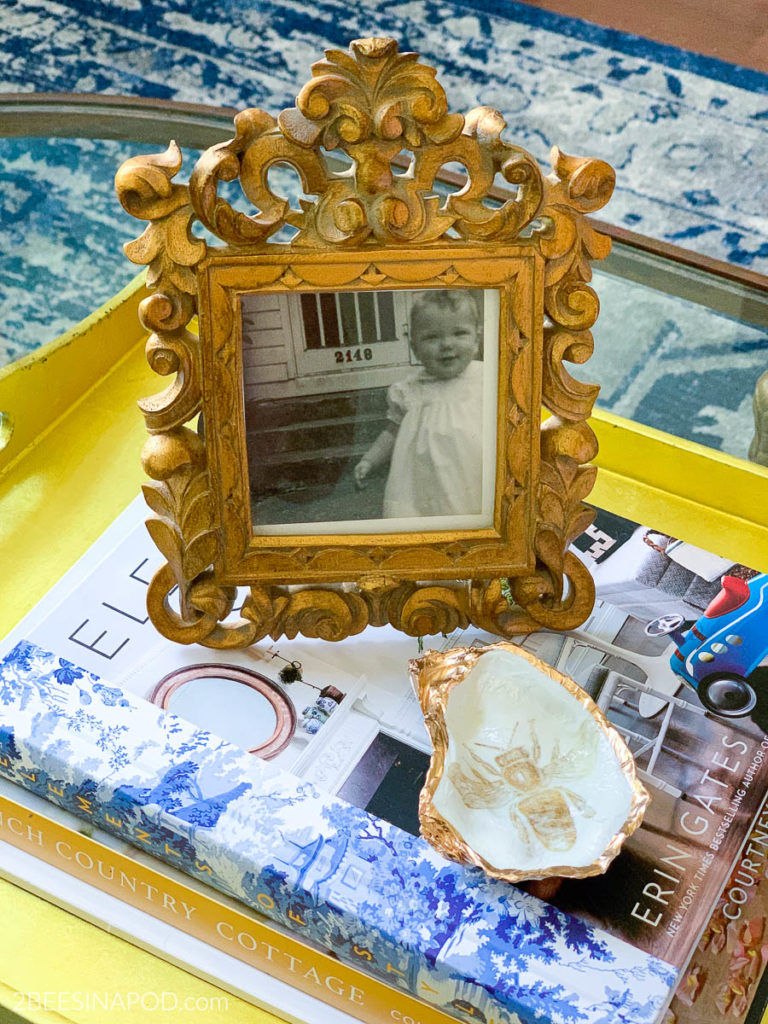 Is this perfect, or what? I felt like this was another nod for me to try and create oyster shell trinket dishes. Let's get started!
Shell collecting is a passion of mine. Anytime we have visited a beach, I inevitably bring home a tiny pile as mementos of our trip. These oyster shells are from my shell stash.
Tip
If you don't have any oyster shells, consider asking a local restaurant for some. Yes, I have done this before – and they have always been obliging.
Another option is purchasing some from an Etsy vendor, such as THIS one or THIS one.
Make sure you start this project with very clean oyster shells. You can read our post for How to Clean Seashells After Your Beach Trip.
Materials
clean oyster shells
white craft paint
small paint brush
Tutorial
Using white craft paint, paint the inside of the oyster shell. Make sure to especially cover dark spots.
Paper napkins are typically 3-ply. Carefully remove the decorative, outer layer of the napkin.
Roughly cut this napkin piece to fit inside the oyster shell. Take care to leave an outer border.
Once the white craft paint has dried, apply a good layer of ModPodge. This is the base adhesive for the napkin remnant.
Place the napkin piece on top of the ModPodge. Using the same brush add a little more ModPodge to the top of the napkin. Brush out any wrinkles or bubbles. Let dry completely – about 20 minutes.
Using gold paint, paint the outer rim and edges. Let dry completely.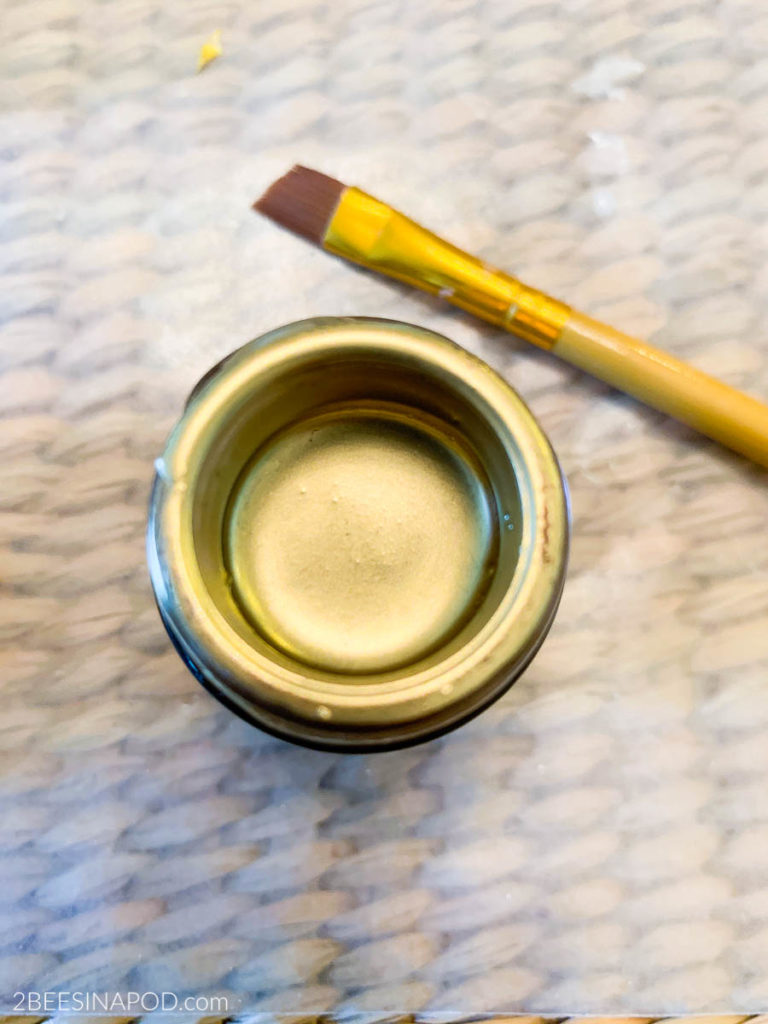 Feel free to use gold craft paint. I personally wanted a liquid gold look. This gold leaf paint was leftover from a previous project.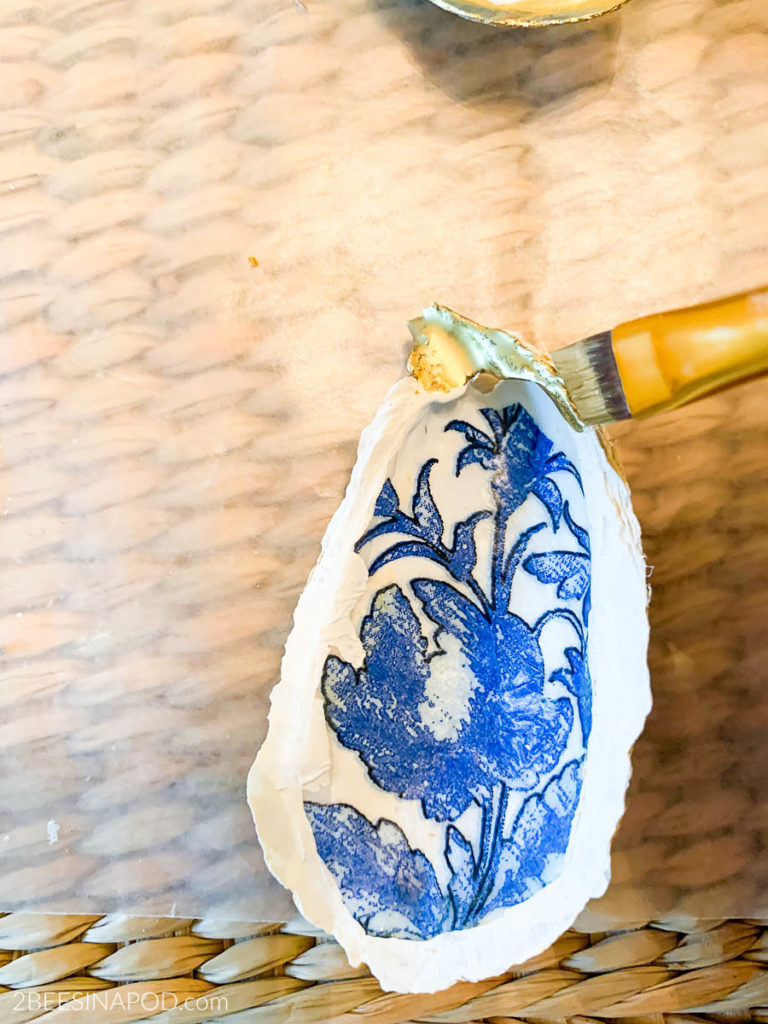 These trinket dishes will look so pretty in any home – coastal beach house, chinoiserie chic, cozy cottage, bohemian, rustic and more! They would also be a perfect gift for family and friends. I'm thinking of using some of these to make Christmas ornaments. Stay tuned!
I am super happy with how these turned out. The best part is that I already had everything that I needed. So, this was a free-to-me project. Love when that happens! You can see other decoupage inspiration with How to Decoupage with Paper Napkins and Make a Tray Look Fabulous ,Plastic Bucket Transformation with Decoupage Peonies , Chinoiserie Pumpkins with Blue and White Decoupage.
I hope that you have been inspired to make a Decoupage Oyster Shell Trinket Dish. Leave us a comment and let us know what you think!
Don't forget to Pin this to your favorite Pinterest Board!