Decorating with Vintage Suitcases
Please note that this post contains affiliate links. As an Amazon Associate, Rewards Style influencer and Jane Influencer, we earn from qualifying purchases and any sales made through such links will reward us a small commission – at no extra cost for you.
Hey y'all…do you like to use vintage collections in your home decor? Me too! My decorating style always seems to be evolving, but the one constant has been using vintage finds and collections throughout our home. I classify my personal home decor style as "Vintage Traditional". I sprinkle in some color, rustic wood, aged metal and antiques.
Today I want to share with you how I use my vintage suitcase collection in my house. I've curated these cases (and many more) over the past 15 years. I haven't spent very much money at all on these. I got one entire set for only $10. Below, you will even see a large trunk that was picked up off the curbside!
Travel used to be so much more luxurious in days-gone-by. Most of these cases are monogrammed with brass initials or hand-painted letters. So much better than the luggage tags we use today.
I like to imagine who these people were, the places they travelled to and what their lives must have been like. Yes, I have a vivid imagination! I keep a subtle travel theme going…I have saved leftover money and coins from trips of importance to us in this antique wooden bowl.
Upstairs in the spare bedroom I have incorporated a cosmetic case and an overnight case on the bookshelf. I feel they add interest and instant character to the space.
The globes add color and travel interest…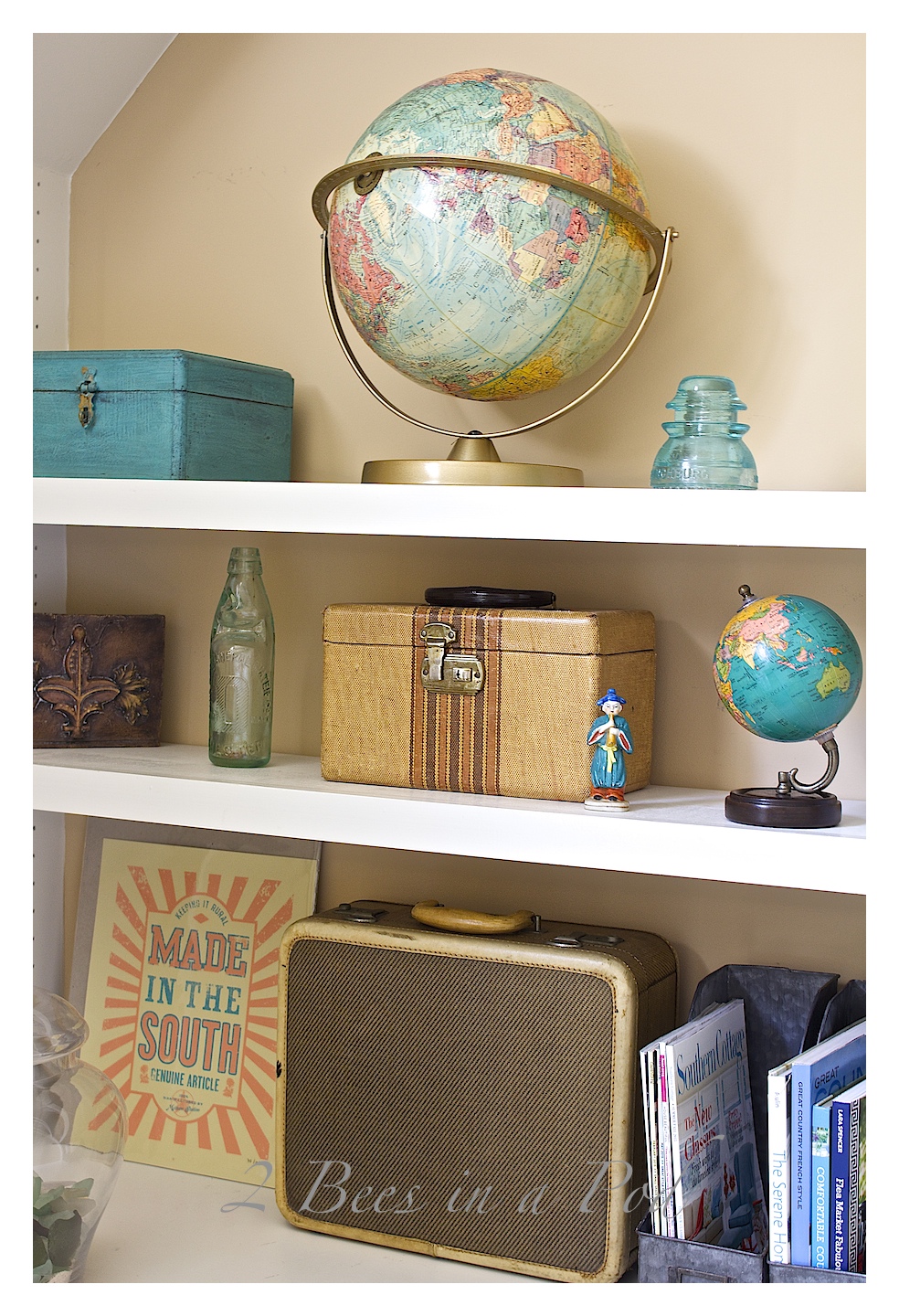 In this same guest room, I stacked larger cases to create a bedside night table. See that trunk on the bottom…
…someone in my neighborhood threw this out on their trash pile. Can you believe it? And I made Jennifer go down the street, in the dark and pick it up for me LOL. This was several years ago and she was home on break from college. She was thrilled to say the least!
Isn't it gorgeous? This trunk is approximately 100 years old…
We even used vintage suitcases last year for Jenn's bridal shower…
…and wedding
Here are a couple of tips to keep in mind if you are going start a vintage suitcase collection of your own:
Make sure the closures and latches work
Make sure the interior is in good condition.
Check for any gross odors. There will be slight musty odor due to age. I always add a couple of dryer sheets to the inside of the cases as soon as I get them home.
Make sure there is no water damage. This is practically impossible to repair.
Thank you for allowing me to show you a bit of my vintage decor obsession! We would love to see what vintage items you collect and decorate with!
Until tomorrow,
XO~Vicki