Please note that this post contains affiliate links. As an Amazon Associate, Rewards Style influencer and Jane Influencer, we earn from qualifying purchases and any sales made through such links will reward us a small commission – at no extra cost for you.
Hey y'all…Are you ever at a loss as to what to make for breakfast? Admittedly, I am not much of a breakfast eater – a bad habit, I know. Honey Bee is a big believer in a good breakfast first thing in the morning, while I much prefer brunch. We get bored with the same-ole-same-ole breakfast routine and we like food that is quick and easy.
Many years ago we were at a dear friends home for brunch and she served the tastiest bite-sized frittatas. They are like miniature omelets. You can change them up and add any of your favorite ingredients. She gladly obliged when I asked her to share her recipe.
The best part is that these can be made ahead and kept in the refrigerator for a couple of days. You can reheat however many you want each day. Served with a side of fruit and this is the perfect breakfast.
Ingredients
Nonstick cooking spray
8 large eggs
1/2 cup milk
1/2 teaspoon black pepper
1/4 teaspoon salt
4 ounces diced ham
1/3 cup Parmesan cheese
2 tablespoons chopped fresh cilantro
Instructions
Preheat oven to 375 degrees
Spray 2 mini muffin tins (each with 24 cups) with nonstick spray. Whisk the eggs, milk, pepper and salt in a large bowl. Blend well. Stir in the hame, cheese and cilantro. Fill prepared mini muffin cups almost to the top with the egg mixture. Bake until the egg mixture puffs and is set in the center - about 8-10 minutes. Loosen the frittatas from the tin and place on a platter. Serve immediately.
You may save the leftover frittatas for two days. Reheat in a microwave or in the oven.
https://2beesinapod.com/mini-frittatas/
Another favorite version is to add basil, bacon and mozzarella cheese.
These puff up beautifully…
They are delicious and make for an easy breakfast…or brunch.
We ate these with fresh Georgia peaches. They are so good this year! We hate that the peach season is just about over.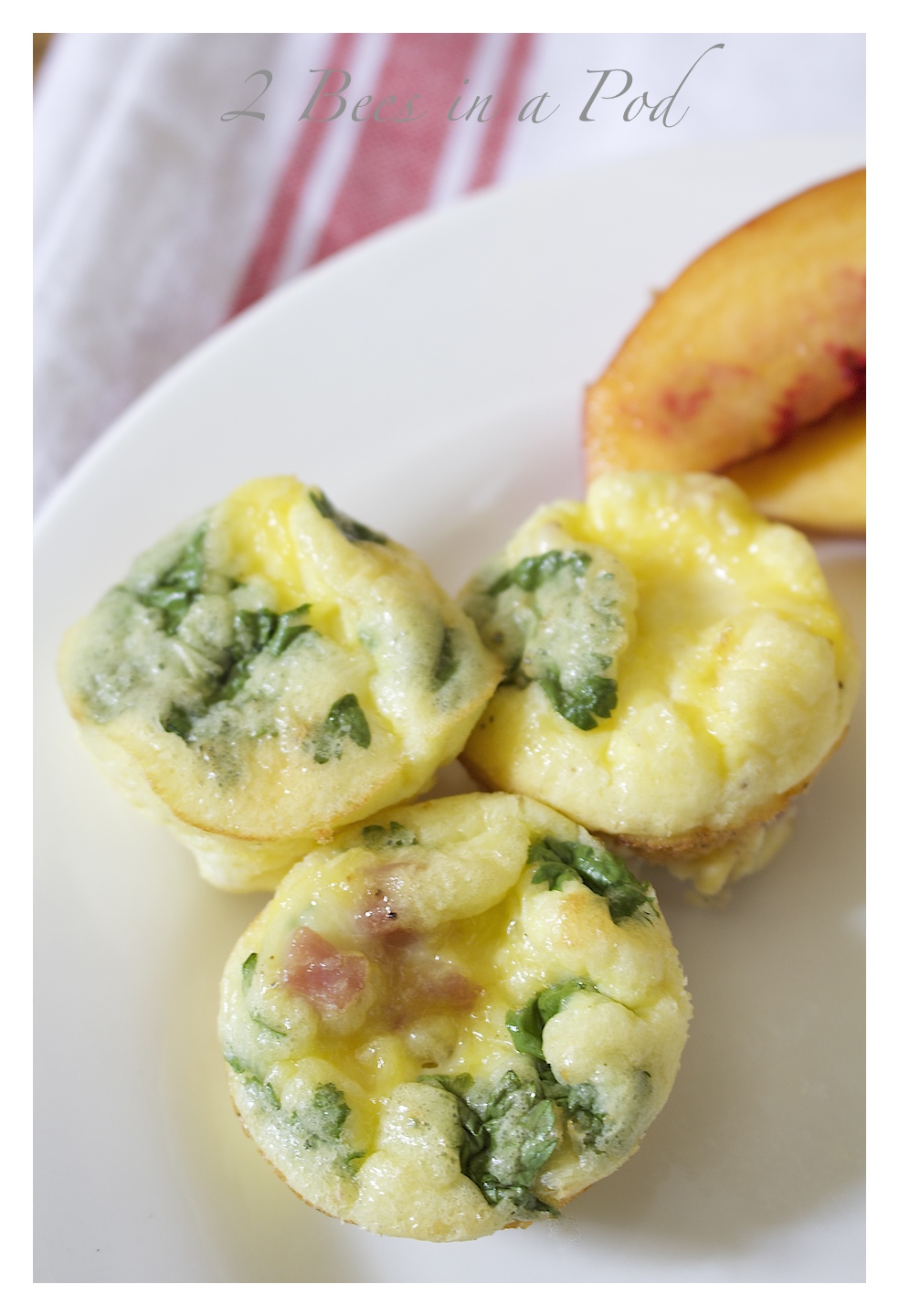 Good to the last bite!
We hope you give this recipe a try.  It will be a timesaver in the morning when everybody is trying to get out the door at the same time. Let us know what you think!
Until tomorrow,
XO~Vicki