Coffee Table Makeover in Napoleonic Blue Chalk Paint
Please note that this post contains affiliate links. As an Amazon Associate, Rewards Style influencer and Jane Influencer, we earn from qualifying purchases and any sales made through such links will reward us a small commission – at no extra cost for you.
One of the first things we need for the inside of the She Shed is a coffee table. Our budget is very limited so we tried to be creative and shop our own homes first. We hoped to find something that would work as a coffee table for the space. Well…that didn't pan out. Everything was either too big, too small or not functional. So, being the ever perfect mother 🙂 I volunteered to hit the thrifting trail in search of a proper coffee table. Sometimes the thrift stores have depleted inventory or the prices are outside of our budget, but I remained hopeful. We already knew that whatever the table ended up being, we wanted to paint it in Annie Sloan Chalk Paint in Napoleonic Blue.
I was super excited when I found this table at the first thrift store…
And even more excited when I discovered that it was $10.00! The table was a tad beat-up and had definite damage from wear and neglect.
Doesn't it make you wonder what this poor table had been through? I wasn't afraid of this challenge – especially at this price. The table is sturdy, heavy and has beautiful curved legs. I loaded it up in my SUV and started working on it as soon as I got home.
First order of business was giving the table a good overall cleaning. I tried using Goo Gone on the tape and the glue. The tape came off right away but the glue wouldn't budge – it was still rock hard. The table top needed to be lightly sanded because of the red ink and I wanted to avoid bleed-through with my chalk paint.
My hope was that the glue would come off in the sanding process. Imagine my surprise to discover that this spot wasn't glue at all…it was chewing gum!!! Yeah, I threw up in my mouth a little too. The heat of the sanding pad loosened up the gum and it eventually came off. YUCK!
If you follow us on Instagram, you had a sneak peek of our paint color…Annie Sloan Chalk Paint in Napoleonic Blue. Isn't it pretty?
I know that it seems really bright, but when it dries it definitely darkens. Jenn and I have used Napoleonic Blue for this end table and this modern buffet and we love the color. This is a shot of the table drying after one light coat of chalk paint. You can see the variations of color in the areas that are dry versus the areas that are wet.
Here you can see the difference in color between coats of chalk paint. The bottom portion of the table is dry after one coat. The top portion is a second application of wet chalk paint. Big difference, right?
One of the things that I love most about chalk paint are the different finishes you can achieve in your overall look. Here you can see the application of clear paste wax  and how it darkens the chalk paint.I also added a light coat of dark wax on top of the clear wax.
Just for fun, I put the freshly painted coffee table in my sunroom.
And it looked so good, I started staging decor. You really need to wait after waxing a piece of furniture. the paste wax is typically dry after 48 hours and totally cured in 30 days.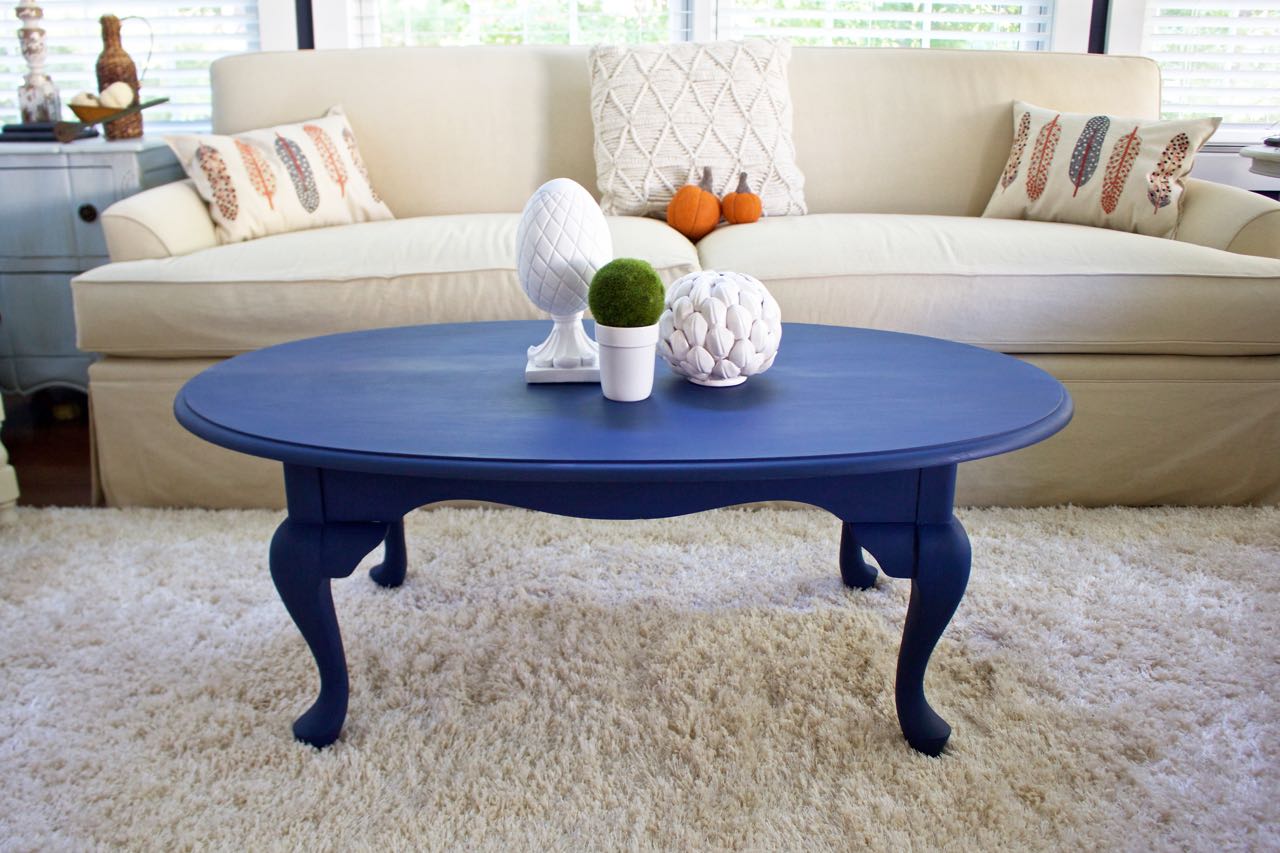 Love these curvy legs!
This coffee table is going to look fabulous in the She Shed!
Although a small part of me wants to say to Jenn "Mama's got a new coffee table" LOL!
I had leftover materials on-hand for this project, so my only investment was the table purchase and my time. Not too bad for an afternoon! Have you painted anything lately?
Untill tomorrow…
XO~Vicki
Let's be Pin Pals…pin this to your favorite Pinterest board.