10 Thrifty Decorating Ideas for Spring
Please note that this post contains affiliate links. As an Amazon Associate, Rewards Style influencer and Jane Influencer, we earn from qualifying purchases and any sales made through such links will reward us a small commission – at no extra cost for you.
10 Thrifty Decorating Ideas for Spring
Even though Easter is behind us, we still have a lot left to the Spring season. Actually, almost three months worth. Jenn and I have been so busy with the move to her new home and little Baby Bee – we feel like we are just get started with our Spring decor! Here are our simple, 10 Thrifty Decorating Ideas for Spring.
Welcome to our monthly installment of Thrifty Style Team! This is the place where we get together with our talented and creative blogger friends every month. We each makeover, repurpose or transform something from our homes or thrift stores. Let's get started!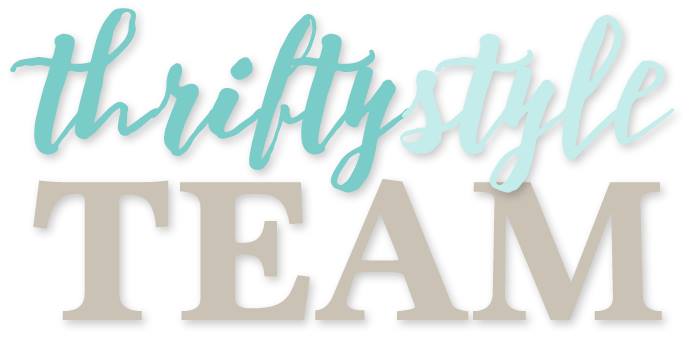 We are firm believers in using what we already have. There is nothing I enjoy more in home decorating than pulling items out of closets and cupboards to use in my home.
Teacups
When wandering the aisles of thrift stores, we've all seen piles of ceramic teacups. I scored this blue and white beauty for just .15¢. There was no saucer or accompanying cups. By simply adding green moss and a sweet plaster bird, it became an instant spring vignette. If you need another teacup idea, Jenn and I created teacup candles as bridal shower party favors!
Soup Tureens
Recently, I purged part of my soup tureen collection. It truly pained me to do so, but space is at a premium in my home. Some were donated and one was gifted to a friend. The few that I kept are my absolute favorites. I decided to start using them in a different way – as home decor. Look at how pretty this tureen is with the addition of moss balls. You could even add a plant or flowers.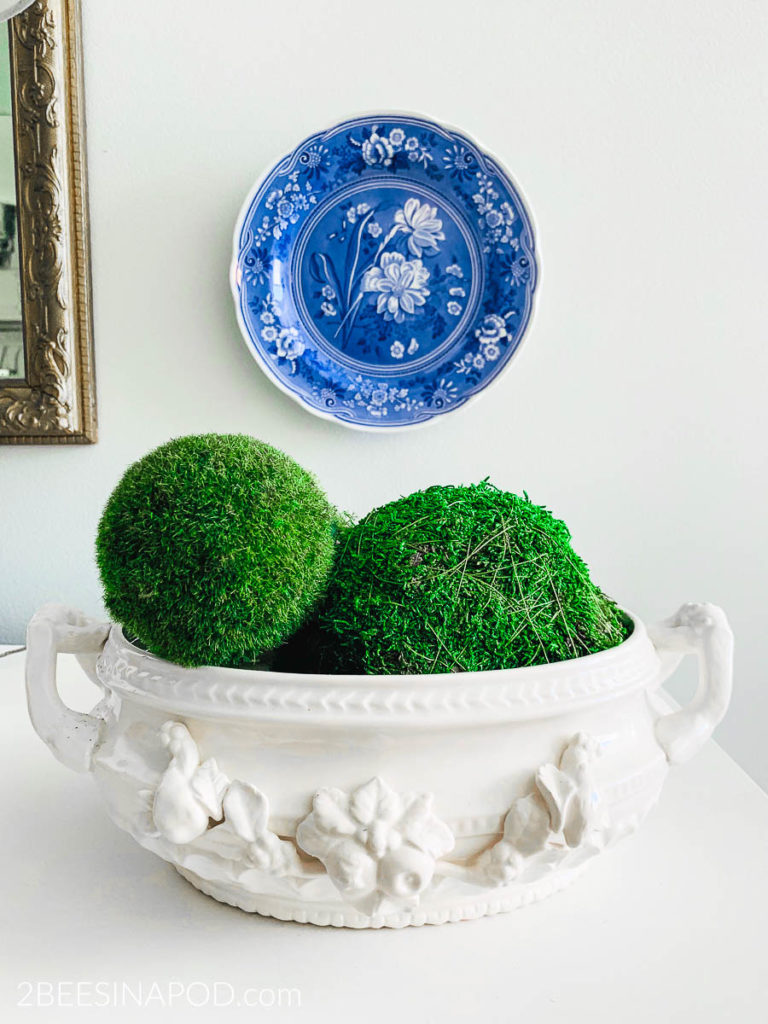 Birds
Whenever I spot a cute bird at the thrift store, it usually finds its way into my shopping basket. Birds can be added to any tabletop vignette.
Milk Glass
Oh, how I love milk glass. It reminds me of being at grandma and grandpa's house. My grandma would cut clippings from her own garden and place them in multiple milk glass vases throughout the house. Somewhere along the way, it seems that milk glass fell off the popularity train.
Lucky for us as I've been able to score most of my pieces for .50¢ to $3.00 each.
Nests
I'm not sure about your experiences, but in most thrift stores that I visit, the holiday aisle is a hot mess! I don't know if it's because of the explosion of color, or because this aisle looks like our attics. LOL Christmas, Fall, Easter, Americana and more – all on one aisle. I sometimes have to dig through the shelves a bit to find nests and birds, but the payoff is worthwhile.
Dishes
I love doing seasonal and holiday tablescapes. One of my most favorite creations was this Pretty in Pink Spring Tablescape. Everything on the table was thrifted, free, antiqued or from the Dollar Tree. The beautiful rose dishes were just $1.00 each from an antique shop. How could I pass them by?
Accessories
Clear vases on the table are really Oui yogurt jars. The butter plates, parfait dishes and wine glasses were all from the Dollar Spot at Target.
Urns and Trophy Cups
Height is important when creating vignettes or tabletop displays. Ginger jars, ceramic pieces, urns and trophy cups are always on the list.
Coffee Table Books
Most of these books came from thrift stores. Coffee table books are wonderful for reference, but they look great displayed. If you're really fortunate, the book spines match your home decor. Try curating a collection of books around your own interests. Home decor, gardening, crafting, cooking, shells, travel and more.
Interesting display objects
I'm not even sure what to call it…artichoke, acorn, obelisk, objet d'art? I'm sticking with acorn. This piece started out with a blue/gray/green finish. After moving it all around my house – it just didn't fit in anywhere. White chalky spray paint to the rescue! You can see the complete makeover HERE. An object like this is perfect for a shelf, tabletop or centerpiece.
I truly hope that you have been inspired in some small way today. What is your most favorite thrift store purchase? Leave us a comment – we really want to know!
Don't forget to pin this to your favorite Pinterest Board!
Now, let's see what our Thrifty Style Team has created this month!