Decorating with Hydrangeas
Please note that this post contains affiliate links. As an Amazon Associate, Rewards Style influencer and Jane Influencer, we earn from qualifying purchases and any sales made through such links will reward us a small commission – at no extra cost for you.
Decorating with Hydrangeas
One of my favorite seasons is right around the corner – hydrangea flowering season. Depending on where you live, hydrangeas can bloom as early as April and as late as August. The blooms from my shrubs are large, blue, puffy balls. I use cuttings in my house throughout the blooming season – which for me is about 4 months long. Decorating with hydrangeas is definitely "a thing". This is how I use them in my house.
Dining Room Centerpiece
These particular blooms were clipped as soon as they fully blossomed. I swoon for this deep blue color.
Vintage Bottles as Vases
As these photos progress, you will notice the varying shades of the blooms. I pinky-swear promise that all of these beauties are off of the same bushes.
Antique Watering Can
Colors can vary due to weather conditions. Too much, or too little of water, sunshine, heat, cold and soil can alter the color. I purchased this antique watering can at an auction for just .10¢! It makes for a perfect outdoor display, when not being used to water plants.
Milk glass Display
Crisp blue and white pair perfectly together. I love being able to use some of my vintage milk glass pieces for floral displays.
Wicker Bottle
Wicker wrapped bottles are another favorite of mine. To me they represent Spring and Summer.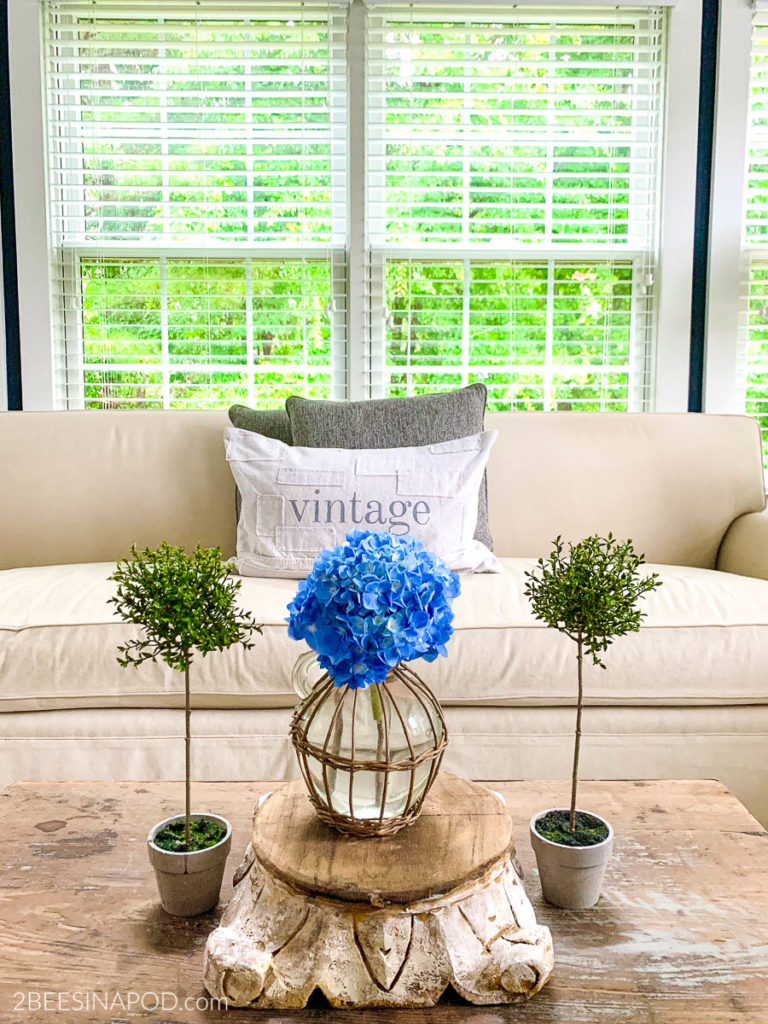 Vintage Minnow Bucket
These are what my hydrangea blooms look like in late Summer. Can you believe the difference in the color? I live in a lake community and love to decorate with this vintage minnow bucket. It's perfect because it is water-tight and has blue graphics.
English Blue and White
Remember: blue+white=dynamite! LOL
White Hydrangea
This bloom is not from my plants. I went to a luncheon and these beauties were on each table as a centerpiece.
Painted Jars
In Fall or Winter, I sometimes purchase grocery store hydrangeas. They offer a great pick-me-up with their puffy white blooms. They look beautiful in my chalk painted mason jars. Yes, I will paint practically anything LOL.
Mason Jar
Blooms are equally beautiful in clear mason jars.
I truly hope that you have been inspired in some small way today. Do you decorate with hydrangeas?
Don't forget to Pin this to your favorite Pinterest board!