Vintage Garden Tool Wreath
Please note that this post contains affiliate links. As an Amazon Associate, Rewards Style influencer and Jane Influencer, we earn from qualifying purchases and any sales made through such links will reward us a small commission – at no extra cost for you.
Vintage Garden Tool Wreath
There's nothing like a free box of thrift store items to spark creativity. Admittedly, free items are a rare occurrence anywhere, let alone from a thrift store. I have discovered that thrift stores can't always sell everything. Items that are broken, items worn beyond their time and books that have sat on the shelf for too long eventually get booted to a dumpster. On a couple of rare occasions, I've scored some items that I've been able to repurpose. Like today's vintage garden tool wreath!
Here's the loot
These vintage garden tools definitely had too much use and age on them. In fact, the metal tip of the spade on the left kept disintegrating.
I narrowed down my choices of using these three tools.
I had a vision of creating a fun and colorful wreath. Painting the handles was an inexpensive way to add personality. I used Apple Barrel craft paint in the colors of Aquamarine, Pink Eraser and True Green. Each handle took two good coats of paint.
A grapevine wreath is the perfect, sturdy base to hold the weight of the vintage garden tools.
Paper-wrapped wire holds each tool in place.
I wrapped each tool with a piece until they were securely in place.
When I was at the Dollar Tree, I spotted this fern garland. I am now kicking myself that I didn't buy more of this!
The fern looks very authentic – not shiny at all.
In my mind, I thought the fern would visually look like how these neglected garden tools might have been found. Wound and wrapped around the tools outside of an old garden shed.
I cut off individual pieces of the fern and attached them to the wreath, again using the paper wrapped wire.
Greetings
This is such a colorful springtime, front door greeting.
I love that these vintage garden tools were kept from a dumpster and given new life.
Don't you just love repurposed items?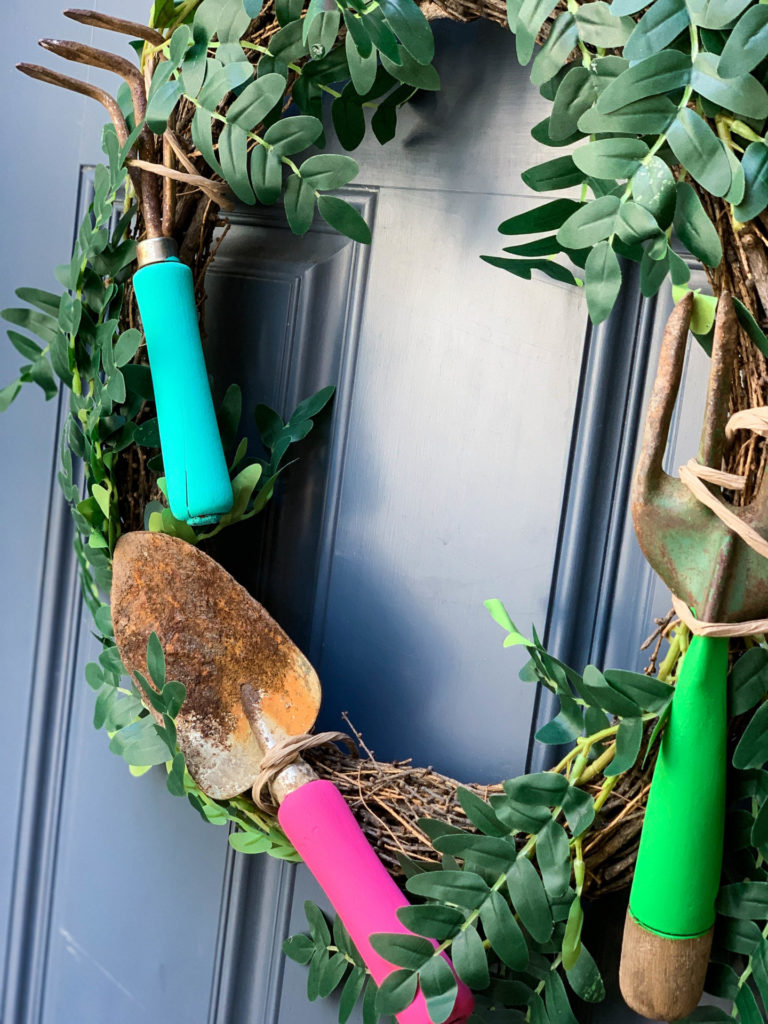 The colorful, painted handles really make the wreath pop.
Initially, I wasn't going to paint the green cultivator. After putting the painted pieces beside this one, it just looked super drab and boring. Bright Kelly green did the trick.
The paper wrapped wire looks like cloying vines, lending a very organic look.
Have you ever gotten a free thrift store item? We'd love to hear about it!
Don't forget to Pin this to your favorite Pinterest Board!
Other Spring Wreaths