Ultimate Summer Bucket List – 2021
Please note that this post contains affiliate links. As an Amazon Associate, Rewards Style influencer and Jane Influencer, we earn from qualifying purchases and any sales made through such links will reward us a small commission – at no extra cost for you.
Ultimate Summer Bucket List – 2021
We are kicking off the season with our ultimate summer bucket list – 2021.
Each year we create a bucket list of summer activities and things we would like to accomplish. Do you do this too? Summer flies by so quickly, we don't want to miss any opportunities. We have created a free printable for you. All you need to do is click the link or the list and print it out on your home computer. We like to use thick paper or card stock for printables.
Ultimate Summer Bucket List 2021 Final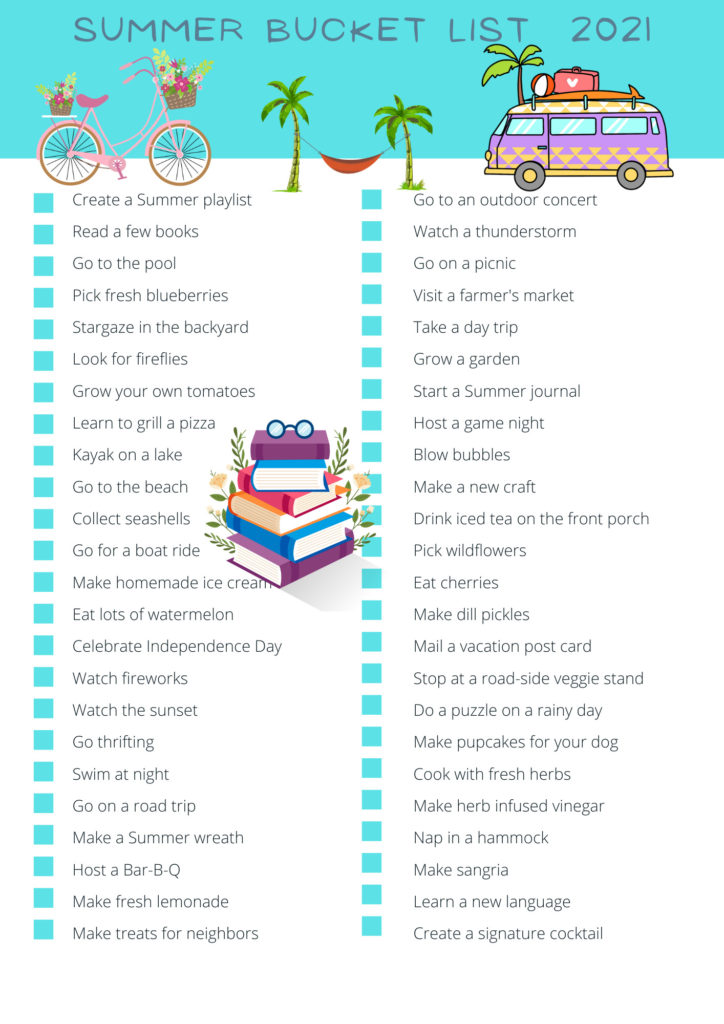 These are all easy, breezy and fun ideas. You can use our list, or sit down with your family and friends to create your own.
Why create a list?
Summer flies-by in the blink of an eye. A summer bucket list is important in a few ways. Simply creating the list can be fun. Sitting down with your family and friends and brainstorming ideas is a lot of fun too! Sharing your list with others, revisiting your list over time, and checking off your experiences can all be ways to enjoy life more, and share the fun.
Also, a bucket list keeps us on track for all that we want to accomplish. It's like a reminder to remember to have fun. Yes, this seems simplistic – but haven't we all gotten to the end of a summer season and said "where did it go"? A bucket list is just a gentle reminder to slow down and enjoy the lazy days of summer. It's also important to take advantage of things only available or offered this season. Fresh veggies and fruit, outdoor concerts, water activities, 4th of July and more.
How to display your summer bucket list
Recently, I visited my local Dollar Tree. I picked up a couple of these plastic 8×10 photo frames, not knowing what I would use them for.
Fast forward a couple of weeks – and my creative lightbulb went off. One frame now showcases our summer bucket list, and will be a dry erase board!
I trimmed down the edges of my printable. It is printed on 8½ x 11 card stock. Three edges were cut to fit the 8×10 frame.
I borrowed Honey Bee's dry erase marker. You can find them at office supply stores, grocery stores or online.
After an activity, you and your family can mark off the check box.
Think of how much fun it will be as the summer progresses to see how much you have accomplished! Kids will love doing this too.
You can also just hang your list on the side of the refrigerator for easy access.
We hope that you have been inspired in some small way today. If you create a summer bucket list – we would love to hear about it!
Don't forget to Pin this to your favorite Pinterest Board!