Things to do on a Quick Trip to Los Angeles
Please note that this post contains affiliate links. As an Amazon Associate, Rewards Style influencer and Jane Influencer, we earn from qualifying purchases and any sales made through such links will reward us a small commission – at no extra cost for you.
Recently I went to a conference in California, but I managed to squeeze in some fun time too. Here are some great things to do on a quick trip to Los Angeles.
Hello friends! Did you think that I had quit blogging? Even though there weren't any blog posts going out there was still a lot of work happening behind the scenes. And I did decided to take one complete week off during the 4th of July to celebrate with family and friends – it felt so good! Hopefully you did too. Honey Bee and I attended a marketing conference in California for a couple of days. We wanted to explore LA because it was our first visit. I thought I would share things to do on a quick trip to Los Angeles.
We only had a day and a half before the conference to explore.
Welcome to LAX – Partial Day
This photo was taken from the backseat of our Lyft vehicle. We left Atlanta on a Thursday and arrived in LA at about 2:00 PM local time – and hit the ground running. We checked into our hotel and left for Santa Monica at approximately 3:00 PM.
The weather was unbelievably fabulous! The highest temp during our visit was 72° and the evenings were low 60's. After leaving Atlanta with 95/82 and high humidity, this weather felt heaven sent.
Santa Monica
After doing a bit of research before I left home, I knew that Santa Monica was only about 15 miles from our hotel. I just wanted to see the ocean as soon as possible. Santa Monica is very flat and walkable.
Honey Bee and I thought that this hotel was funny and we immediately thought of The Eagles song.
The Lobster was literally right next to the Santa Monica Pier sign. I loved the woodwork interior of the bar as it reminded me of a ship.
After a long day of travel it felt good to sit down, relax with a special bev overlooking the ocean.
How about this gorgeous Art Deco hotel?
We ended our day with a casual meal of wood fired pizza and chianti.
Then, we walked back to the pier just as the sun was starting to set. You can just see the iconic ferris wheel in the background.
Route 66 ended in Santa Monica.
Venice Beach – Day 2
We discovered the Venice Canals totally by accident, and I am so glad that we did. When we were walking down to the beach area I spotted this canal. After doing a quick Google search I discovered that these canals were man-made in 1905 by a developer wanting to recreate Venice, Italy in California. You can read more about it HERE.
Succulents practically grew wild in every single area we visited. There were so many colors, varieties and sizes that I had never seen before.
I was amazed that they could grow in place of shrubbery and bushes.
Whenever I travel I make sure to do my homework ahead of time and research the best places to eat, drink, shop and explore. Typically I confirm my information with the local Lyft drivers, hotel personnel and random people that I strike up a conversation with LOL. Thankfully my choices were perfect for this trip (as they usually are LOL) and our brunch in Venice Beach was fabulous.
Gjusta Bakery was nothing like we have ever seen. Think of the best deli or bakery that you have ever been to and then multiply that by ten! Gjusta bakes all of their own breads, pastries, pizzas, etc. – and not just a few types of breads. I'm talking loaves of French, Italian, Cuban. Sliced rye, pumpernickel, and every specialty bread you can think of. They make sandwiches and more with the freshest ingredients.
If you follow us on Instagram – which you should be 🙂 – you probably already saw this beautiful bee painted on the side of this gallery.
TOMS™ Shoes flagship store is located in Venice Beach. Honestly we had a lot fun shopping here. They obviously have the largest variety of TOMS™ shoes and sunglasses available. There was also a great coffee shop, outdoor grassy area for sitting, reading and working.
Needless to say we couldn't resist doing a little bit of shopping. I purchased two pair of shoes and Honey Bee purchased one. These super cute Venice pair are only available at the flagship store.
Burro Goods is my kind of place to get lost in while shopping. Cute cards, books, gifts and more.
Marina Del Rey
After a full day in Venice we went back to our hotel to rest and freshen-up. We wanted to have a nice evening out with dinner on the water. Cafe Del Rey fit the bill perfectly. Arriving early for our reservation we were pleasantly surprised to find that they had a wonderful happy hour with live music. As I mentioned before the evenings were cool, so it was nice to see the fireplace lit.
Honey Bee and I love raw oysters and we were excited to try new-to-us varieties. They did not disappoint. I can't believe that I didn't snap a photo of my entree – a delicious lobster pasta!
Other Meals after the Conference
Ayara Thai was close to our hotel and boy were we glad that it was. This restaurant had just recently reopened after being remodeled and it was perfect. When we arrived we were hungry and started ordering more than we intended from the menu.
One dish was just as delicious as the next filled with flavor, herbs and spices. I secretly wish we could have gone back here at least one more time.
Baja Cantina served a delicious meal and even more important…fresh margaritas!
Manhattan Beach – The Day I Was Going Home
One of our Lyft drivers told us about this breakfast place – The Kettle. Now, truth be told I'm not much of a breakfast but she insisted that I would love it. She was absolutely correct. Everything we ordered was fantastic.
As a bonus these beautiful fresh flowers were displayed outside. Yes, those hydrangeas are REAL!
Just down the street was this adorable shop.
Outside they were growing succulents in a shoe bag. Can you believe it?
As we made our way down the beach I spotted this lovely Victorian. She is right on the beach.
This was really the most beautiful day of our trip – and sadly our last.
I couldn't resist taking this photo because it reminds me of Baywatch LOL.
Don't you wish all piers looked like this?
No matter what beach I visit, I always collect shells. Imagine my surprise to spot these blue beauties on the shoreline. I'll be sharing more on these shells later next week.
Honey Bee snapped this photo of me and I have to say I loved that he captured the moment. I was loving the beach, cool weather and having a bit of time-off even though it was a work trip. We managed to squeeze in as much fun (and food) as possible.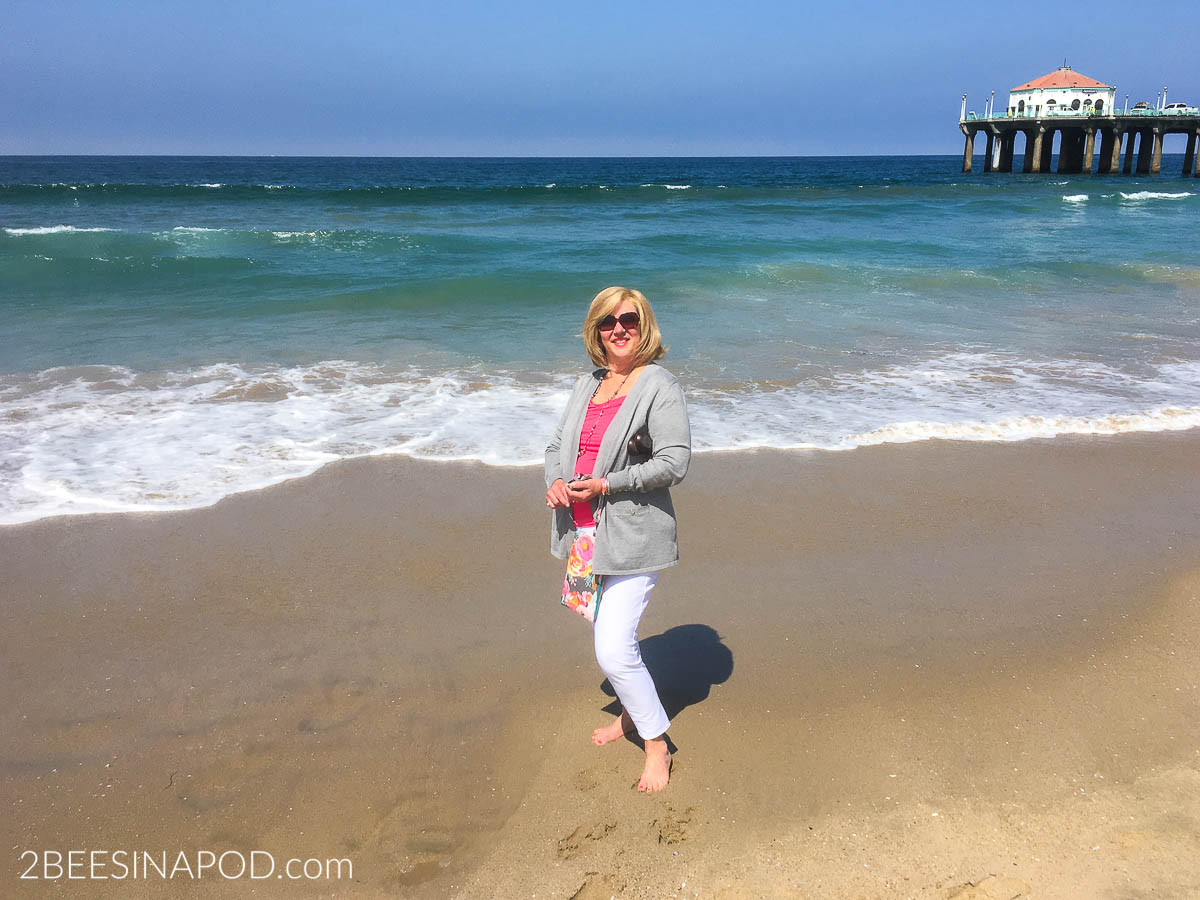 Sadly, the clock struck noon and it was time to head back to the hotel and get ready for the airport. All good things must come to an end, but I loved my time in LA. The conference was great too!
Don't forget to Pin this to your favorite Pinterest Board!