Take a Seat – Dining Furniture Makeover
Please note that this post contains affiliate links. As an Amazon Associate, Rewards Style influencer and Jane Influencer, we earn from qualifying purchases and any sales made through such links will reward us a small commission – at no extra cost for you.
Hey y'all, we're so excited to show you our dining furniture makeover! I'll admit it's one of the projects I've been putting off since moving into the new home.  The dining room kind of became the overflow room of unopened boxes, random pieces of furniture, crafts…you know the drill.  And because of this, I was feeling uninspired to get much of anything done. You know the feeling when you keep shoving things into one area and then the task of organizing it all just seems too daunting? Well that's how I was feeling until I decided that I would eventually like to use my dining room.
Before I had even closed on the new house, Mom knew I was looking for some missing pieces and she was keeping her eyes open. On a trip she took to Florida visiting friends, they went shopping, naturally, and she found this awesome dining room table and chairs for an amazing price.  And she was able to negotiate the price even lower…she's the best 🙂 (This post contains affiliate links)
We knew it just needed some fresh paint and new fabric to recover the chairs…
So when it was time for me to finally get the dining room decorated, I truly lucked out!  We are a part of a group called the Fab Furniture Flippin Contest and they announced that this month's sponsor would be Minted. At first I thought it would be for Christmas Cards because that's what I knew them for, but we learned that they also do fabric. And I have to say, they have some absolutely beautiful patterns. It was honestly so hard to make my decision, but I decided on the imperfectly perfect ikat pattern.  When I opened it out of the box I was in love!
I got to work with painting the set in Old White so that I could really feature the fabric and make it pop.  I absolutely am in love with my "new" dining room set and what a transformation! It doesn't even look like the same piece of furniture.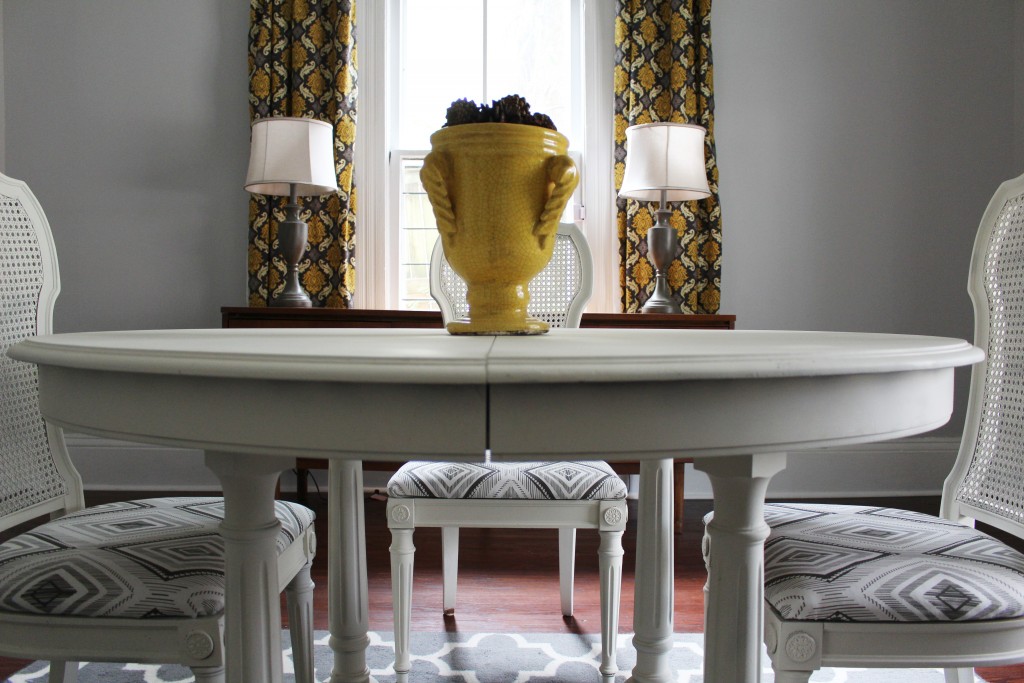 The paint color really was the best choice…I had toyed around with painting it gray, because y'all know that's my go to paint color, but I am really happy with the white.
It's amazing to see the before and after images side by side.  The imperfectly perfect ikat truly was the perfect pattern for my dining room furniture makeover and I could not be happier with the outcome!  Now I can finally take a seat in my dining room and maybe even have guests over for dinner 🙂
Be sure to check out the co-host's of this contest, Anastasia Vintage and 58 Water Street, to see what awesome things they created with their Minted fabric.  And if you're interested in participating at all in future contests, be sure to email [email protected].
XO – Jenn & Vicki