Succulents in Vintage Silver Sugar Bowls
Please note that this post contains affiliate links. As an Amazon Associate, Rewards Style influencer and Jane Influencer, we earn from qualifying purchases and any sales made through such links will reward us a small commission – at no extra cost for you.
Jenn and I have had a love affair with succulents for a long time. Whether they are live plants or of the faux variety, succulents are beautiful and can be planted in virtually any container. Today I'm showing you how to plant faux succulents in vintage silver sugar bowls.
By the way, here's a photo of Jenn with her beautiful live succulent wedding bouquet.
When I'm out thrifting, my eyes are always drawn to the vintage silver on the shelves. It's like I'm hooked up to a honing device – silver platters, trays, sugar bowls and creamers always find there way into my cart. Typically these pieces are from the 1940-1950's and they are very inexpensive. They have gorgeous lines and engravings. I only paid $1 each for these vintage silver sugar bowls. Crazy, right?
Personally, I prefer the tarnished look. This finish adds to the vintage charm.
Supplies:
3 vintage silver sugar bowls
faux succulents of your choosing
gravel
moss
scissors
How to put it together
Follow the photo grid above:
vintage silver sugar bowls
succulents and moss
pebbles
MONEY SAVING TIP: Purchase faux succulents that have more than one bud or growth on them.
Cut apart succulents
Take one long tendril succulent and bend the wire stem over the sugar bowl rim.
Pour pebbles into the sugar bowl.
Bend the stem of a succulent bud and place down into the center of the bowl through the pebbles.
Tuck small pieces of moss on top of the pebbles.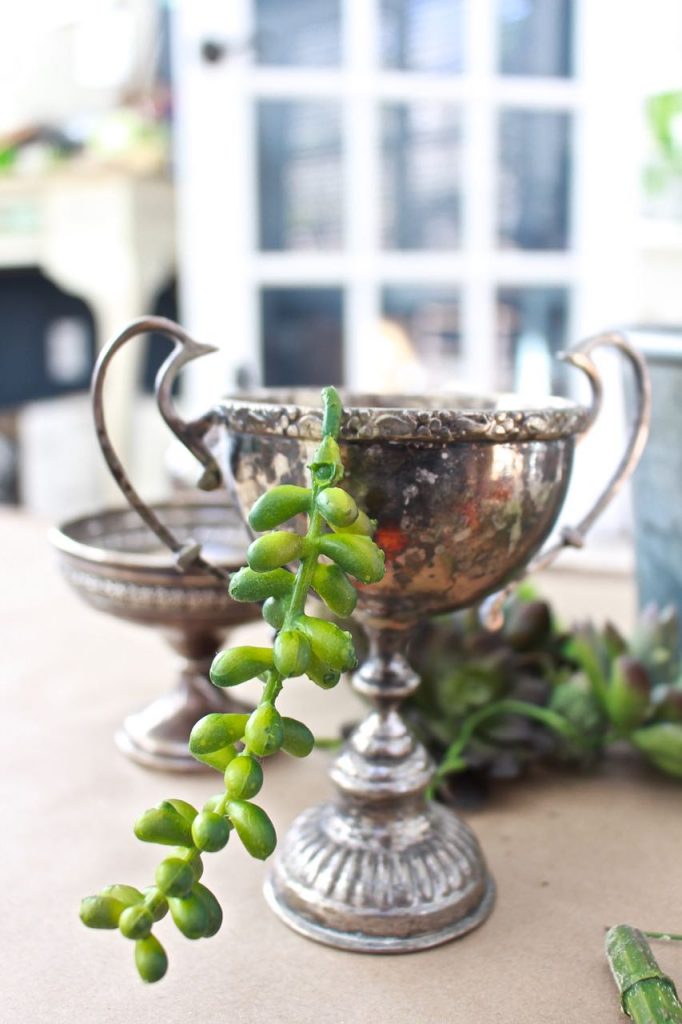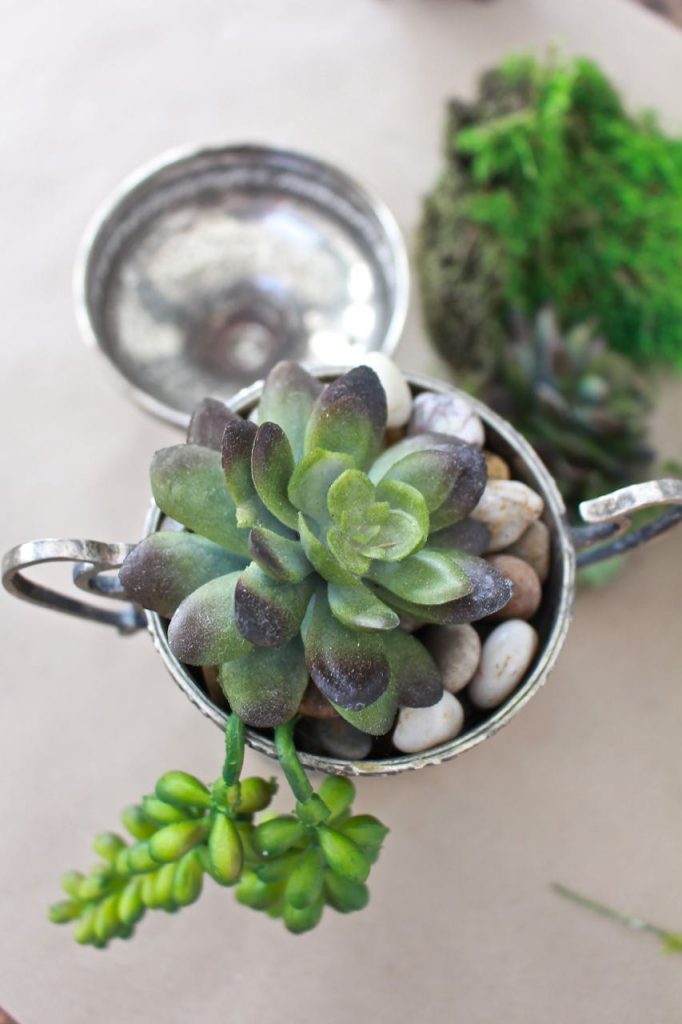 Stand back and admire your work 🙂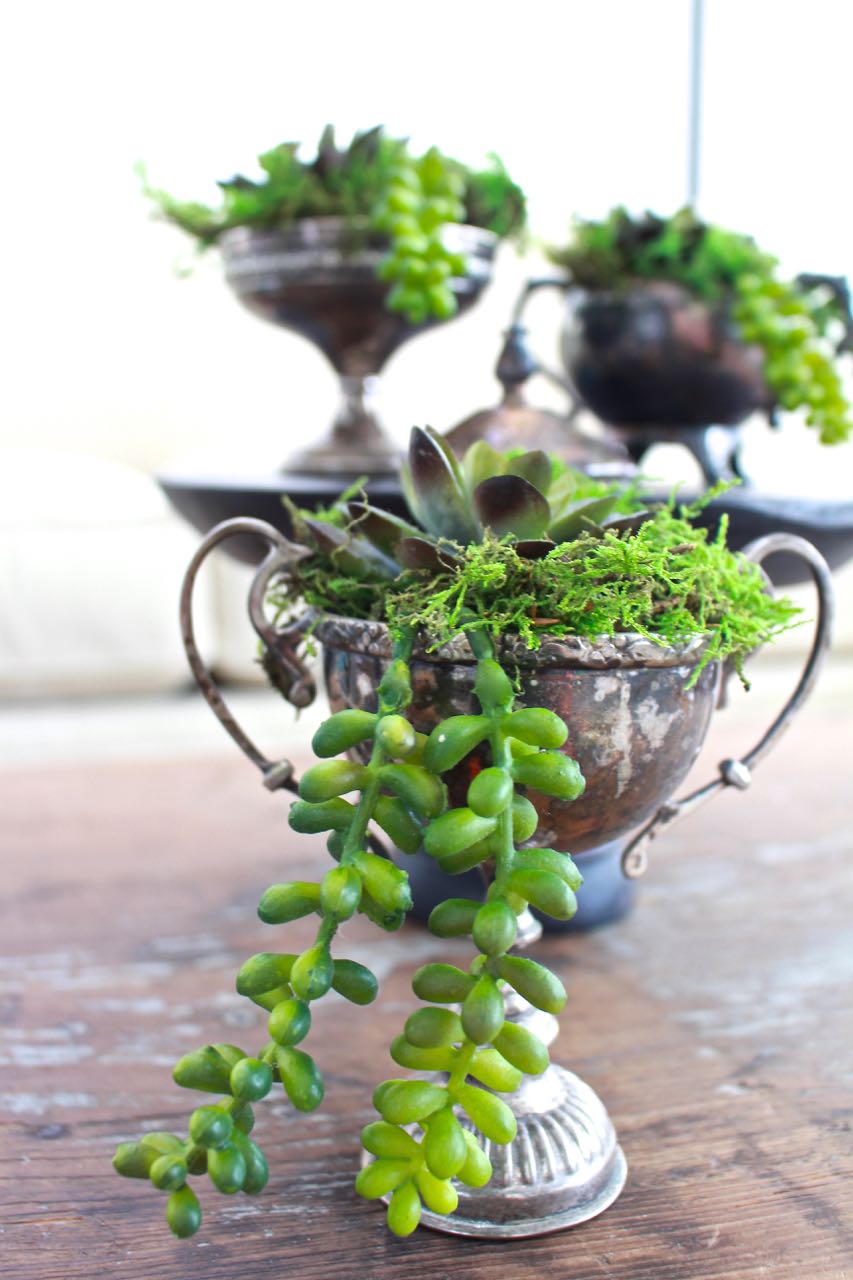 In my opinion you can't go wrong with faux succulents. They look super authentic and you don't have to worry about watering them! I can't stress enough how easy this project is – it takes literally minutes to create three displays.
Isn't this sugar bowl lid gorgeous?
The varying heights of the bowls adds interest.
This black wooden pedestal is a thrifted find too.
So…that's how you plant faux succulents in vintage silver sugar bowls. Think of other creative containers – pretty cans, pottery bowls or glassware.
Here are other ways that we have used succulents: DIY Succulent Terrarium  Coastal Inspired Succulent Garden  Summer Mantel Refresh with Succulents  Just click the links!