Spice Cupcakes with Cream Cheese Frosting
Please note that this post contains affiliate links. As an Amazon Associate, Rewards Style influencer and Jane Influencer, we earn from qualifying purchases and any sales made through such links will reward us a small commission – at no extra cost for you.
Delicious spice cupcakes with cream cheese frosting, a tasty treat!
Have you seen me around town lately? I'm the one with the big smile on my face. Smiling because Fall is in full bloom. Also, I had an excuse to make these delicious spice cupcakes with cream cheese frosting.
Not only is the weather much cooler, but I'm also filled with boundless energy. It is no secret that this is my favorite season of year. Whenever Fall finally arrives I want to entertain, cook lots of soups and tasty treats.I also feel like my creativity intensifies. This means I'm cranking out projects and changing up my home decor.
Warm and Cozy
Just last week I hosted book club, an impromptu cocktail party and a dinner with friends. I was glad that I baked a double-batch of cupcakes because they were enjoyed during all three occasions.
I baked traditional cupcakes as well as miniature Bundt cakes. Did you happen to see our recipe for Baked Pumpkin Spice Donut Muffins? We used the mini Bundt pan for these too.
The Bundt cakes just got a sprinkling of confectioner's sugar.
It's all about the frosting!
Meanwhile, the cupcakes were slathered with delicious cream cheese frosting. 😋
Yield: 12-14 cupcakes
Spice Cupcakes and Cream Cheese Frosting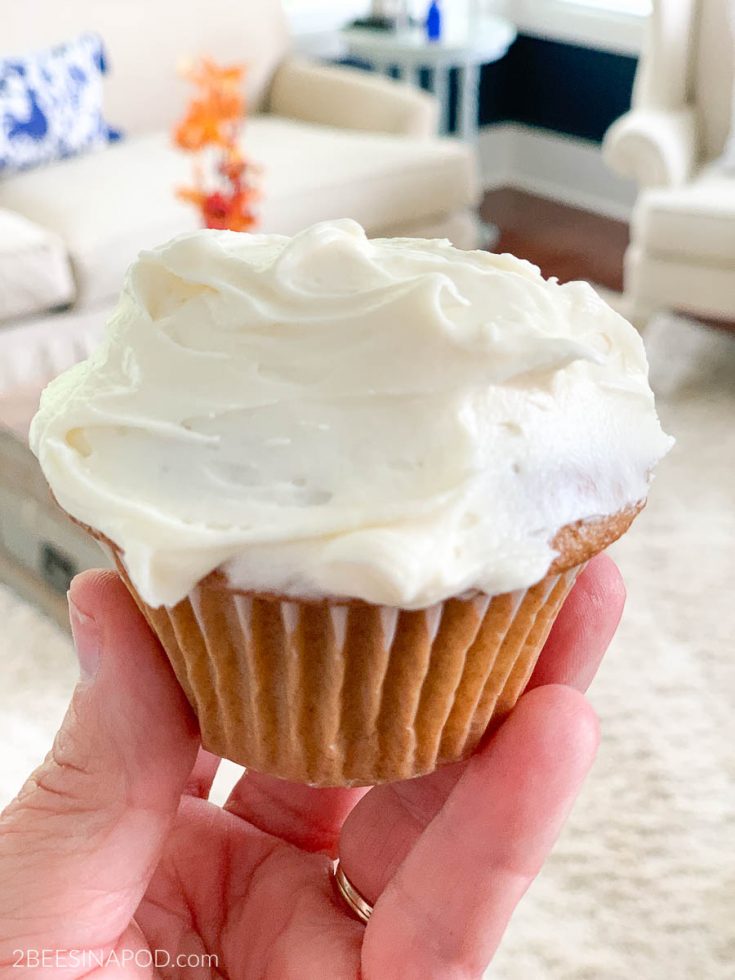 Delicious dessert and treat. Wonderful spice cake with cinnamon, ginger and clove.
Ingredients
FOR THE CAKE
1 3/4 cups cake flour
3/4 teaspoon baking powder
1/4 teaspoon baking soda
1 1/2 teaspoons ground cinnamon
1 teaspoon ground allspice
1/2 teaspoon ground ginger
1/2 teaspoon nutmeg
1/4 teaspoon salt
1/2 cup (1 stick) unsalted butter, softened to room temperature
1 cup packed light brown sugar
2 large eggs
2 teaspoons pure vanilla extract
1/3 cup sour cream
1/2 cup whole milk
FOR THE FROSTING
1/2 cup of butter, room temperature
8 oz of Philadelphia cream cheese, room temperature
3 cups confectioners sugar
1 1/2 teaspoon of vanilla extract
Instructions
FOR THE CUPCAKES, preheat oven to 350°F. Mix cake flour, baking powder, baking soda, cinnamon, allspice, ginger, nutmeg and salt in medium bowl. Set aside.

Beat butter in large bowl on high speed with handheld or stand mixer fitted with a paddle attachment until smooth and creamy, about 1 minute. Add brown sugar; beat on high speed 2 minutes or until blended, scraping sides and bottom of bowl as needed. Add eggs and vanilla; beat on medium-high speed until blended. Then beat in sour cream. Gradually beat in flour mixture on low speed until just blended. Then gradually beat in milk on low speed until just blended. (Do not over-beat. You may need to whisk the batter by hand to make sure there are no lumps at the bottom of the bowl. The batter will be slightly thick.)

Spoon batter into 14 paper-lined muffin cups, filling each cup 2/3 full.

Bake 19 to 22 minutes or until toothpick inserted into center of cupcake comes out clean. Cool in pans on wire rack 10 minutes. Remove from pans; cool completely.

FOR THE FROSTING, beat softened butter and cream cheese until well blended.

Add confectioners sugar and vanilla. Beat until creamy.

Frost each cupcake.
Notes
FEEL FREE TO USE A BOXED SPICE CAKE AND ADD THE HOMEMADE CREAM CHEESE FROSTING.
These were enjoyed by all of our guests.
Several people contacted me about the recipe, so I decided to create this blog post.
Tip for easier cupcakes
Feel free to use a boxed spice cake recipe. For a homemade taste, exchange milk for water.
There is a slight possibility that one of these delectables was substituted as breakfast.
Let me know if you give these a try.
Don't forget to Pin this to your favorite Pinterest board!