Small Laundry Room Ideas – Room by Room Summer Series
Please note that this post contains affiliate links. As an Amazon Associate, Rewards Style influencer and Jane Influencer, we earn from qualifying purchases and any sales made through such links will reward us a small commission – at no extra cost for you.
Out of all of the room makeovers and projects that Jenn and I have done over the years, there is one in particular that we are very proud of. Her former home was an adorable 1930's cottage loaded with vintage charm. So vintage in fact the house didn't have an indoor laundry space. All previous owners took their laundry out the front door, down a little hill by the driveway to a dark and dank crawl space. Can you imagine? You can see what that space looked like HERE. There was no designated room or extra space in the house so we knew that we were going to have to get creative. We brainstormed small laundry room ideas until we came up with the only solution for her 990 square foot home.
This week our Room by Room Summer Series focus is all about laundry room spaces. Don't forget to vist the other designer spaces at the bottom of this post.
Here's a photo of the cute cottage that Jenn used to live in.
Small Laundry Room Ideas
Think outside of the box. We didn't have an extra room, but we did have a tiny closet. The closet was bumped out a little bit in order to add plumbing.
To optimize every bit of space, shelves were added along the wall deep into the closet. Seasonal items were stored in the back.
Full sized washer and dryers are stackable. No need to skimp on apartment sized appliances.
Put supplies in bottles and baskets to easily see when supplies are low.
Dryer sheets area added to a cute napkin holder.
A laundry closet can still be cute. Add your own personality with artwork, signage and color.
Add a wastebasket for used dryer sheets and dryer lint. Ours is a galvanized bucket.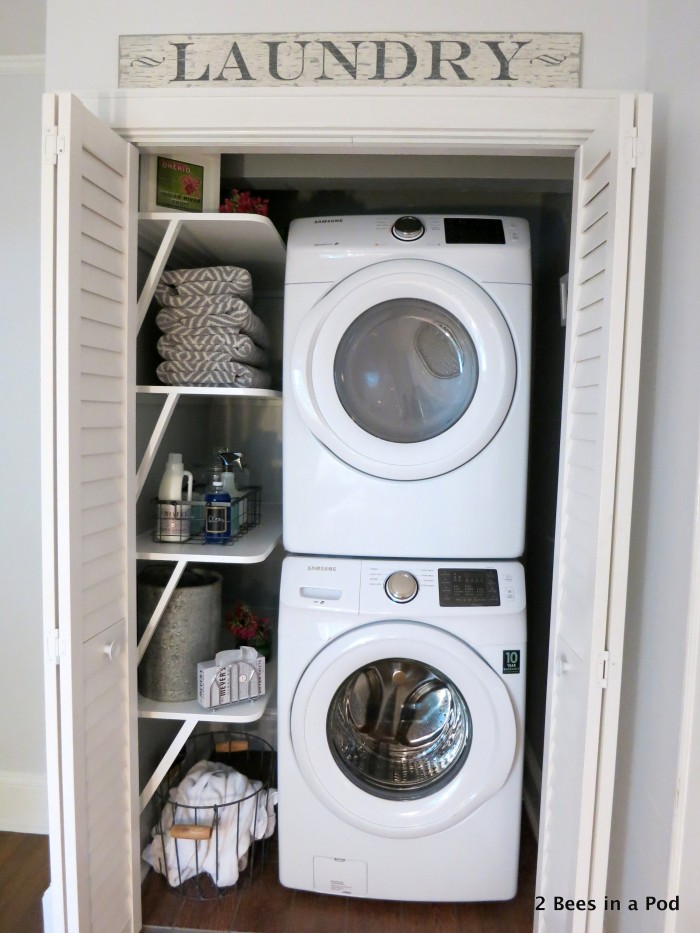 You can see the closet before and during the makeover HERE.
Cute containers for cleaning products
Love this chalkboard label bottle.
Laundry soap at the ready.
Dryer sheets are tucked into a napkin holder.
We absolutely love this galvanized wire basket. Perfect for holding towels.
Showcase your personality with favorite artwork. This is a vintage label from a cherry crate.
Who can resist a cute laundry sign? Not us!

We hope that we have given you some good ideas for small laundry spaces. Don't forget to see the other great laundry rooms below!