Slow Cooker Bacon Corn Chowder
Please note that this post contains affiliate links. As an Amazon Associate, Rewards Style influencer and Jane Influencer, we earn from qualifying purchases and any sales made through such links will reward us a small commission – at no extra cost for you.
Cool weather has finally graced its presence in our part of the world and we are ecstatic! For us this means it's time for cozy sweaters, soft scarves and cute boots. It also signals the beginning of soup, chili and chowder season. A couple of weeks ago while perusing Facebook I came across a recipe and it reminded me of my mom's slow cooker bacon corn chowder recipe. I dug through my recipe basket and sure enough – the recipes were almost exact!
I already had all of the ingredients so I didn't hesitate to get started.
Slow Cooker Bacon Corn Chowder
Ingredients
1 12 ounce bag of frozen corn
2 16 ounce cans of creamed corn
1 pound of smoky bacon - cooked and crumbled
4 potatoes chopped - no need to peel
1 large onion diced
2 carrots chopped
5 cups chicken broth
1 tsp sugar
1 tsp dried parsley
1 tsp dried thyme
1/2 tsp dried garlic (I add more)
salt and pepper to taste
1 12 ounce can evaporated milk
2 TBS cornstarch
4 TBS BUTTER
Instructions
Place all ingredients into the slow cooker EXCEPT the evaporated milk, cornstarch and butter.
Make sure the chicken broth covers the ingredients. If not - add a bit more.
Cook on high for 5 hours or low for 7 hours until potatoes are fork tender.
In a bowl, combine cornstarch, evaporated milk. Stir completely and add to the chowder with the butter - 30 minutes before serving.
Taste and add more salt and pepper if desired.
https://2beesinapod.com/slow-cooker-bacon-corn-chowder/
This bacon corn chowder is delicious. It's a hearty meal all on its own. Sometimes I serve it with cheddar biscuits.
This is comfort in a bowl…smoky, sweet and creamy. Our family loves bacon and honestly that is what really makes this chowder so good.
I especially love that this is a slow cooker recipe. The ease of cooking is a winner for me. I'm a big fan of using my slow cooker…I can put a meal together at the beginning of the day and have a delicious meal ready at suppertime. We are all so very busy, especially at this time of year. Bookmark this recipe for your Fall and Winter must-have repertoire. You'll than me later.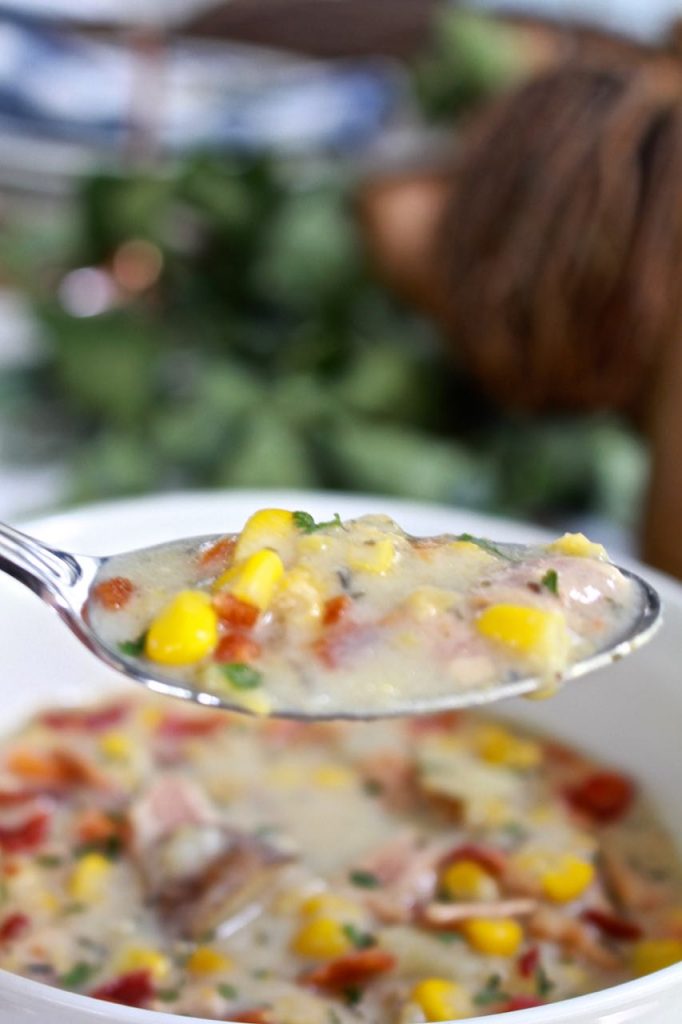 What are your favorite fall and winter recipes? We would love to know.
Let's be Pin Pals…Pin this to your favorite Pinterest recipe board:
Until tomorrow,
XO~Vicki