Holiday Ornament Display – Home Depot Virtual Party
Please note that this post contains affiliate links. As an Amazon Associate, Rewards Style influencer and Jane Influencer, we earn from qualifying purchases and any sales made through such links will reward us a small commission – at no extra cost for you.
*This post for the Holiday Ornament Display is sponsored by The Home Depot*
Hey y'all, last week we shared with you how excited we are to participate in The Home Depot Virtual Party by making a Holiday Ornament Display. This is part of Home Depot's DIH – Do it Herself – workshops. This holiday ornament display is beautiful and very easy to make – we can't wait for you to see what we created! As an added bonus you will also get to view our blogger friends projects too! They are listed at the bottom of this post.
We hope that you have signed up for the DIH workshop at your local Home Depot! If not, don't fret…just sign up HERE.  The Home Depot offers three types of Workshops: Do-It-Yourself (DIY), Do-It-Herself (DIH) and Kids.
Don't think you need to be a professional carpenter! The Home Depot offers Workshops at all of their locations for do-it-yourselfers of all ages and experience levels. Customers can learn how to build decor projects, how to make easy home repairs and how to operate tools through demonstrations and step-by-step instructions. How fun is that? To learn more you can visit http://workshops.homedepot.com .
Here's how we created our beautiful holiday ornament display. Home Depot makes it so easy with their easy-to-follow directions.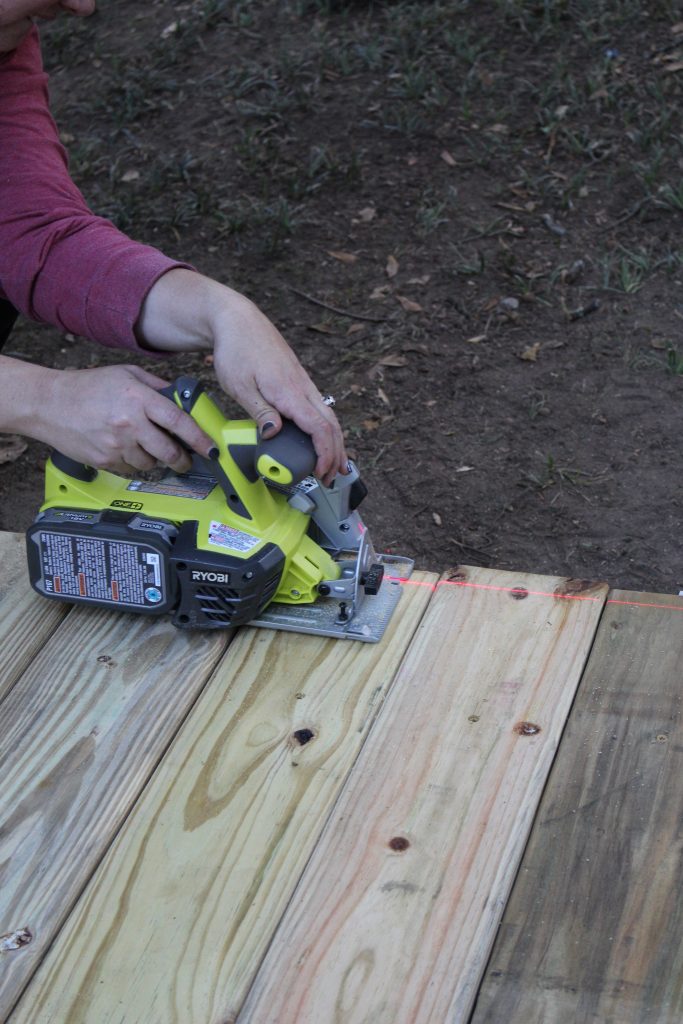 Materials:
 1 – 1˝ x 8˝ x 12´ Common Board

 1 – 1˝ x 6˝ x 8´ Common Board

 1 – 1˝ x 4˝ x 6´ Common Board

 1 – Box #8 x 11⁄4″

Phillips Square Drive Flat-Head Full 

Thread Zinc Coated Multi-Material Screw

 1 – 27 Count Multi Pack Ornaments
Optional Materials:
Two Paint Sticks

Paint or Stain
Tools:
 Circular Saw
 Drill
 Glue Gun with Glue Sticks
 Measuring Tape or Carpenters Square
 Pencil • Safety Goggles
 Sanding Block
MEASURE AND MARK
Measure and mark (3) 48˝ sections from the 1˝ x 8˝ x 12´ Common Board. (2) 48˝ sections from the 1˝ x 6˝ x 8´ Common Board. (2) 30˝ sections from the 1˝x 4˝ x 6´ Common Board.
CUT
Using a circular saw cut the three (3) 48˝ sections from the 1˝x 8˝ x 12´ Common Board, the two (2) 48˝ sections from the 1˝ x 6˝ x 8´ Common Board and the two (2) 30˝ sections from the 1˝ x 4˝ x 6´ CommonBoard.
TIP: Use a sanding block to smooth any rough edges.
ASSEMBLE BOARDS
Lay all five of the 48˝ boards flat on a table interchanging between the 8˝ wide boards and 6˝ wide boards.
Leave a 1⁄4˝ gap between all of the boards.
TIP: To help keep spacing even between the five boards, use two paint sticks side by side in between each board to give a uniform gap. (2 paint sticks = 1⁄4˝ gap between boards.)
ATTACH BRACING
Center one 30˝ board horizontally across the five 48˝ boards about 3 1⁄ 2˝ down from the top, and secure using two wood screws in each board. Repeat on the bottom with the remaining 30˝ board.
PAINT OR STAIN AND FINISH
(OPTIONAL)
Painter's tape to mark out the shape of the tree
Roof flashing for the silver star and tree base planter
We chose Americana Decor Chalky Finish paints – Everlasting (white) and Carbon (black). These little pots are located in the Home Depot Paint department on the countertop.
We painted two coats of paint on the entire front of the piece with Everlasting. Using painter's tape we marked off three stripes, a 12″ space at the top and bottom and a 4″ inch stripe in the middle. We painted two coats of Carbon on these taped off spaces.
We have used flashing in the past on other projects. It is silver, shiny and easy to cut. This was used to make a star for the top of the tree and a planter for the base. Be sure to wear gloves to protect your hands…saftey first!
Using a star pattern, we traced it onto the flashing with a Sharpie pen. At the same time, we cut the base planter for the bottom of our tree.
Here's where the fun really begins! We fired up our glue gun and got ready to hot-glue all of the ornaments and the star and base.
We wanted our tree to be bright red and full. We chose this container of ornaments from The Home Depot. The color is perfect and we loved that there were a variety of designs and variation. We knew this would add some depth and interest to our tree.
Using the hot glue gun we added the star and base first.
To maintain a tree shape we added two strips of painters tape to the board. This provided a guide as to where to glue the ornaments.
We love how it turned out! Isn't it pretty?
We love the shimmer and shine of the ornaments and the flashing.
We couldn't resist purchasing a couple of rosemary topiaries at Home Depot too! They are so fragrant in the house!
There's already a tug-of-war for ownership of this beauty! We just might be making another one very    soon 🙂
We hope that you love our display as much as we do! Don't forget to register for this workshop at your local Home Depot store. You can click any links in this post or the photo below for easy sign-up! We pinky-swear-promise that this is easy to do!
Domestically Speaking  / 2 Bees In A Pod  / My Uncommon Slice of Suburbia  / Virginia Sweet Pea  / Designed Decor
…and MORE!