Shades of Blue Summer Tablescape – Back to Basics
Please note that this post contains affiliate links. As an Amazon Associate, Rewards Style influencer and Jane Influencer, we earn from qualifying purchases and any sales made through such links will reward us a small commission – at no extra cost for you.
We are so excited to announce that 2 Bees in a Pod are co-hosting a new monthly series, Back to Basics. Each month we will introduce a new decor topic and offer our best tips, ideas and solutions. The best part is that you will also get to see lots of other expert designers such as our co-host The Crowned Goat and seven other fabulous team members. Our first topic is summer tablescapes. Jennifer and I offer you our Shades of Blue Summer Tablescape.
When summer arrives we typically find ourselves entertaining a lot. We want our friends to feel special when they come to our house – whether it's for an impromptu happy hour or a mid-week dinner invitation. It only takes a few minutes to set a pretty table. There isn't really much extra effort following our steps:
Choose a theme
Easy, breezy and casual is our theme. Your inspiration might be coastal cookout, wine with friends, Italian night or party on the porch.
Use what you already have
These aqua paint-dipped glass jars were the only new purchases, and they were purchased on clearance several weeks ago. We could not have made these pretty jars for this fab price. Other than that everything else on the table was already in our kitchen or garden.
Color 
Shades of blue. Choosing a color theme for your tablescape is kind of like choosing a color for your home decor. Once you do that everything else falls into place. We happen to love blue and it is perfect for summertime tables.
Plates
Stack a dinner plate with a luncheon plate. Look in your cupboard for different color combinations. If you don't have enough plates – mix-and-match! Have fun with colors and patterns.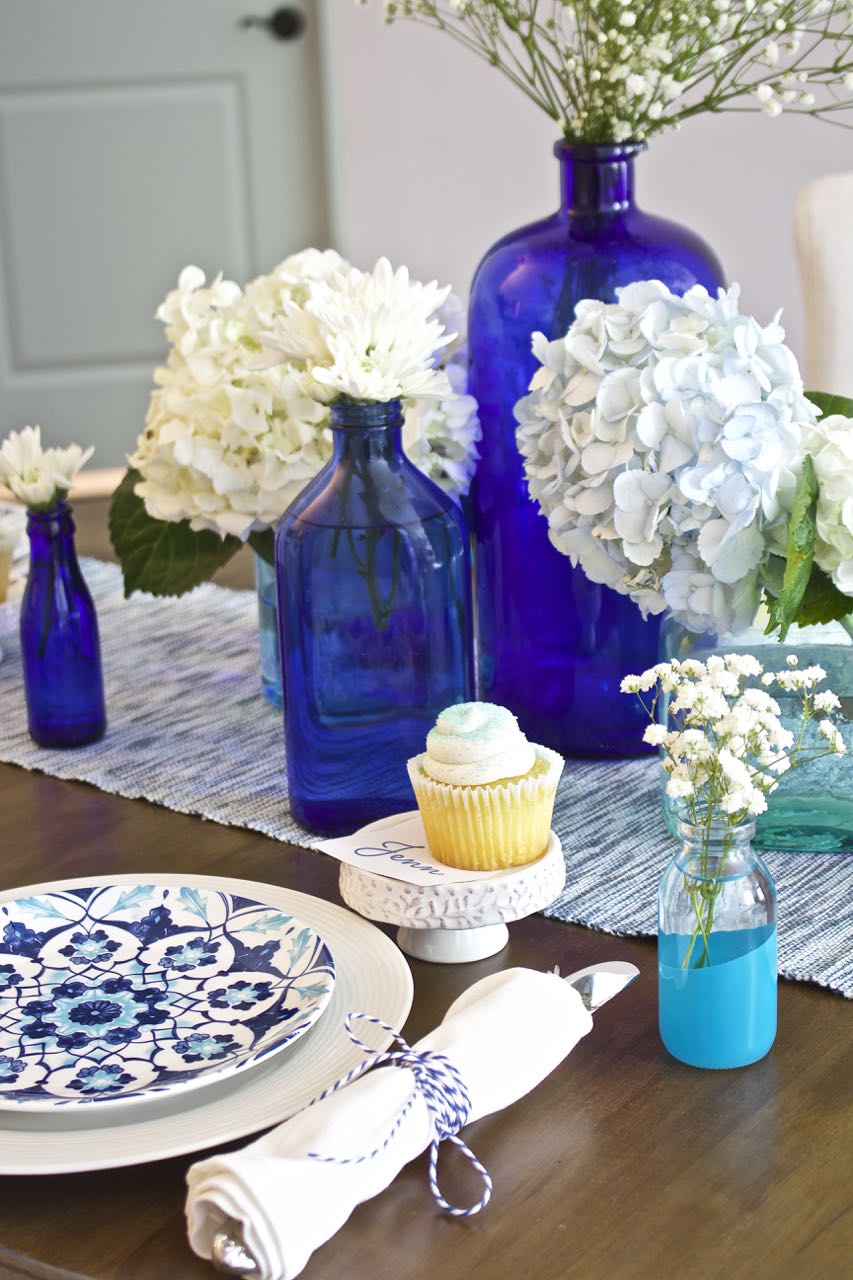 Flowers
Flowers offer an easy centerpiece for the table. Even better is when the flowers are free from our own gardens. We each are fortunate to have hydrangea bushes which bloom throughout the summer. For our shades of blue tablescape we were lucky that a friend gifted us flowers during a visit. All of this became part of the tablescape. Another important factor is that your floral arrangements should be non-fragrant. You do no want the floral scents to compete with food and wine.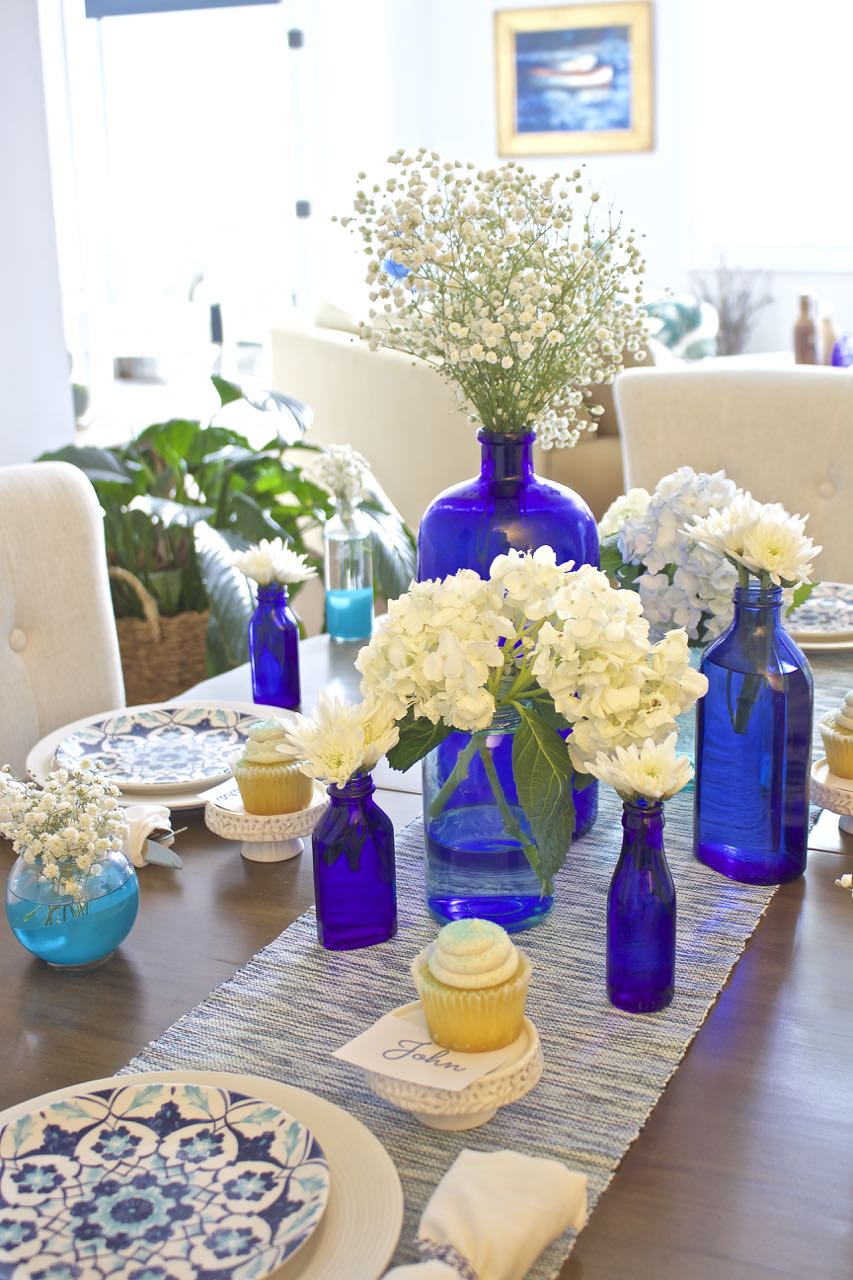 Place Cards
Even casual dinners deserve place cards. They don't need to be fancy or professional. Use your home printer with a pretty font and your theme color. Easy, breezy and guests love them.
Napkins
We typically prefer white cloth dinner napkins. When out shopping we find them on clearance in packages of six for about $3-$4. The best part? After dinner the napkins can be easily cleaned of stains with club soda, oxi or bleach.
By the way, while we are discussing the dinner napkins. We like to place silverware inside the napkin and then secure it with bakers twine. It looks pretty, it keeps with our casual theme and there's no need to set the table.
These cute mini-cake stands are perfect for cupcakes. When we have casual dinners with friends we tend to linger at the dining table for hours. With dessert already placed on the table, guests can eat it whenever they are ready.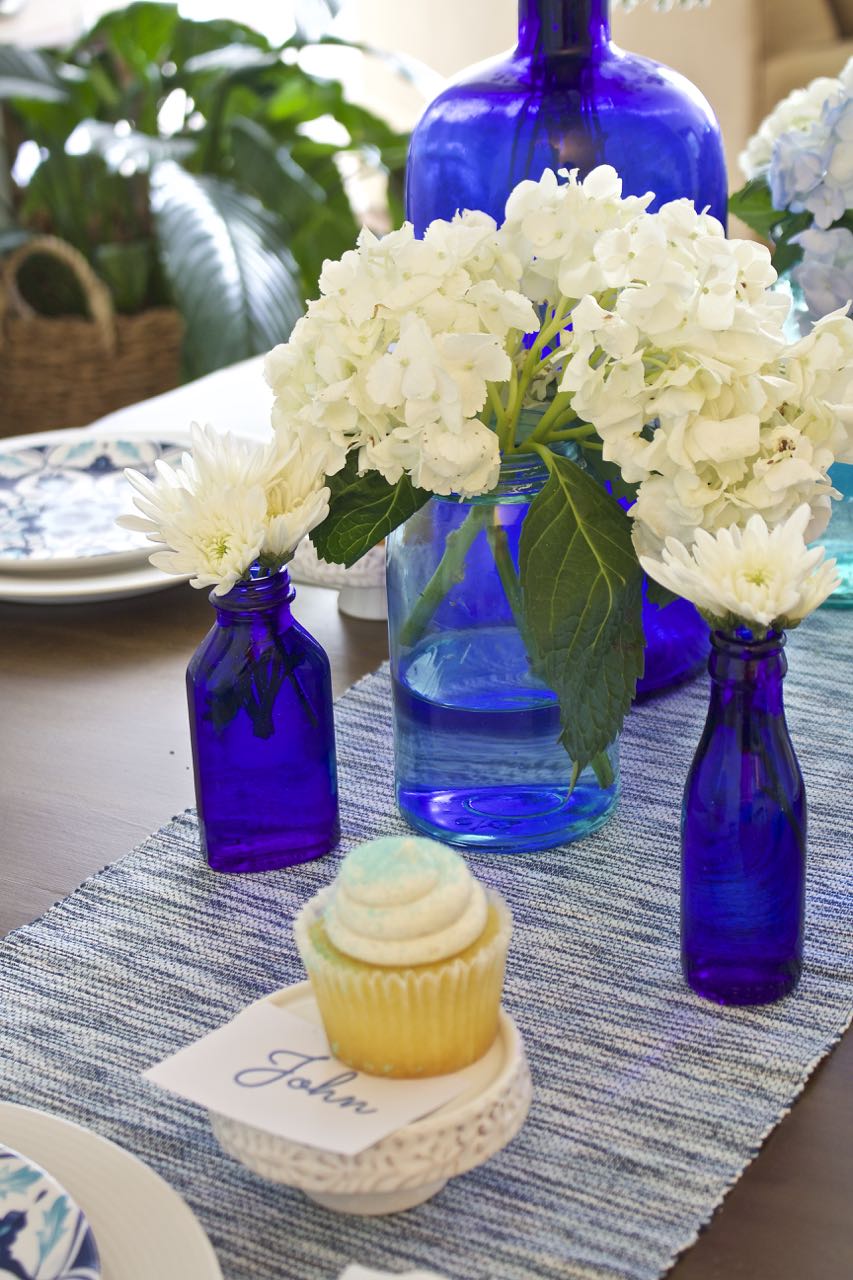 Tablecloths and Table Runners 
For this table we chose a simple blue woven runner. Cloths and runners are another great way to express your personality with color and textiles. In a pinch we have used a shower curtain and a sheet as tablecloths – they looked great!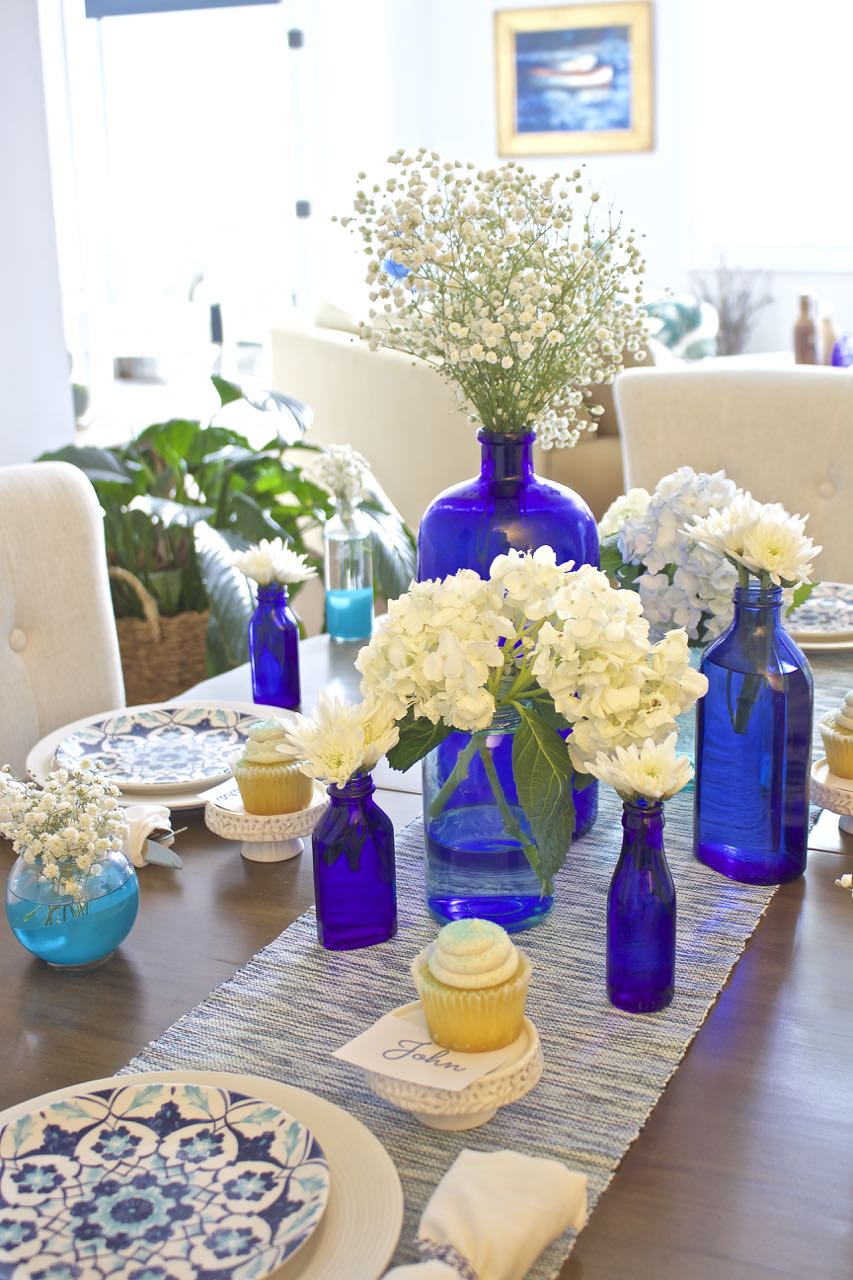 We hope that you have enjoyed our tips and ideas. Please be sure to click the links below for more fabulous tablescape ideas!
We would love to hear how you set a table!