Dining Room Table Makeover
Please note that this post contains affiliate links. As an Amazon Associate, Rewards Style influencer and Jane Influencer, we earn from qualifying purchases and any sales made through such links will reward us a small commission – at no extra cost for you.
Do you remember a couple of weeks ago I shared with you that I purchased new dining room chairs? In that post I also let you know that I had sold my dining room table and chairs. Well, the dining room table makeover that I also told you about is complete! I am so excited because it turned out just like the vision in my head. Admittedly it was a bit more labor intensive than I had first thought, but it was so worth the extra effort. Let me explain.
Banish the avocado
Here is what the table looked like when I purchased it over a year ago. Yes, this is avocado green.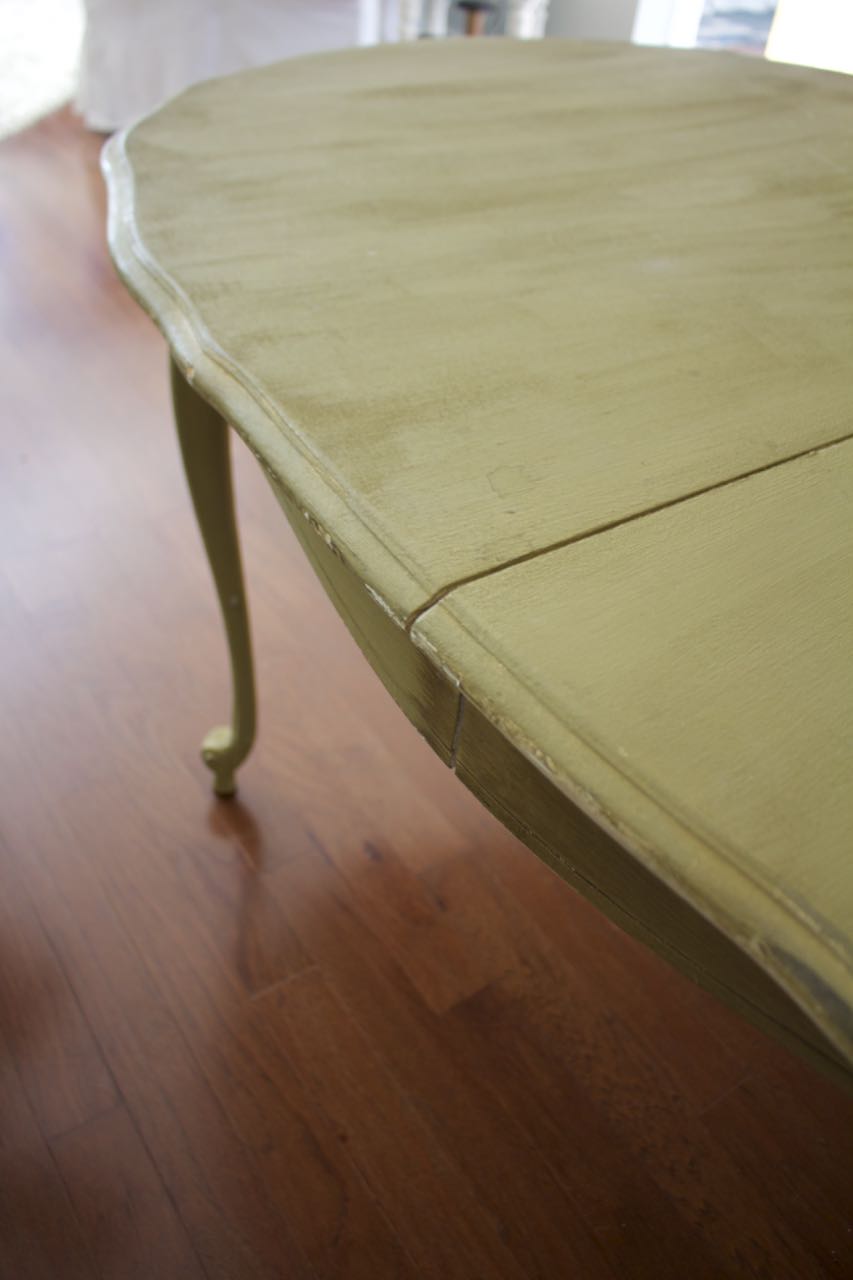 Are you familiar with that Dolly Parton song "Coat of Many Colors"? That is how I lovingly referred to this table. I counted over 7 colors of paint on the surface and I'm not sure why there were so many.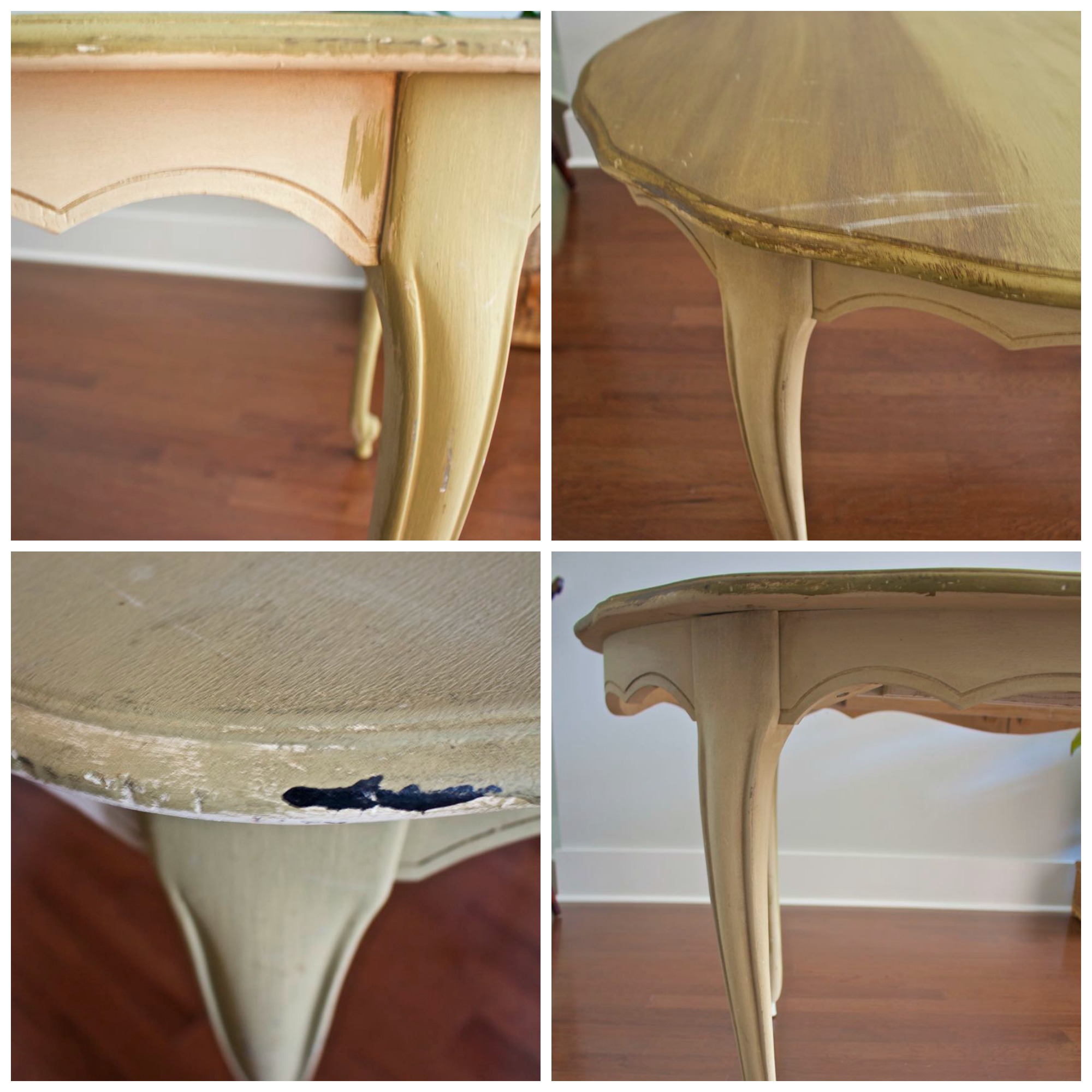 This table was a lucky purchase for $25. I loved the lines and the legs and it is solid wood. For my dream finish it was imperative that the table top be taken down to raw wood. No problem. I have done this many times on many tables.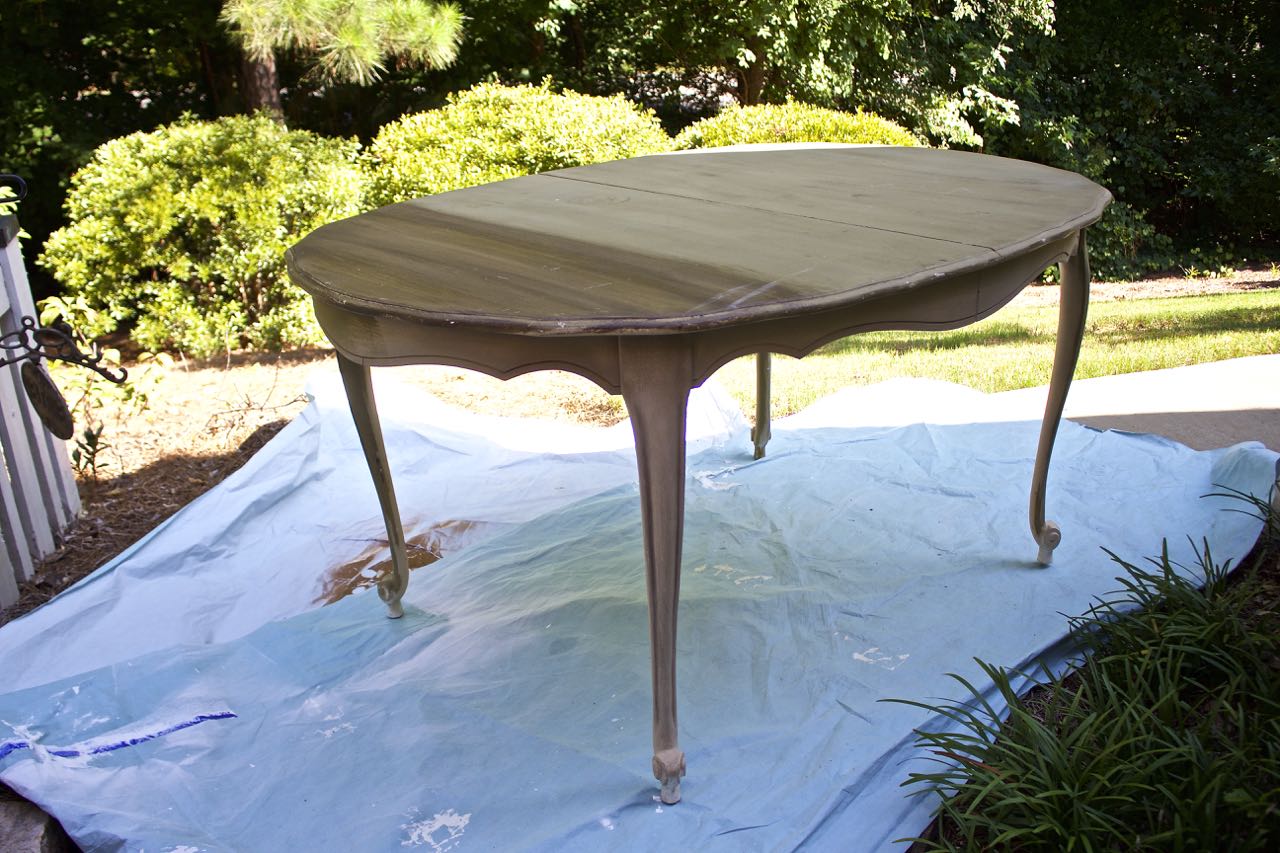 Time to get busy
All I needed to do was use my trusty palm sander. Typically I can sand tabletops down to bare wood in fairly quick time.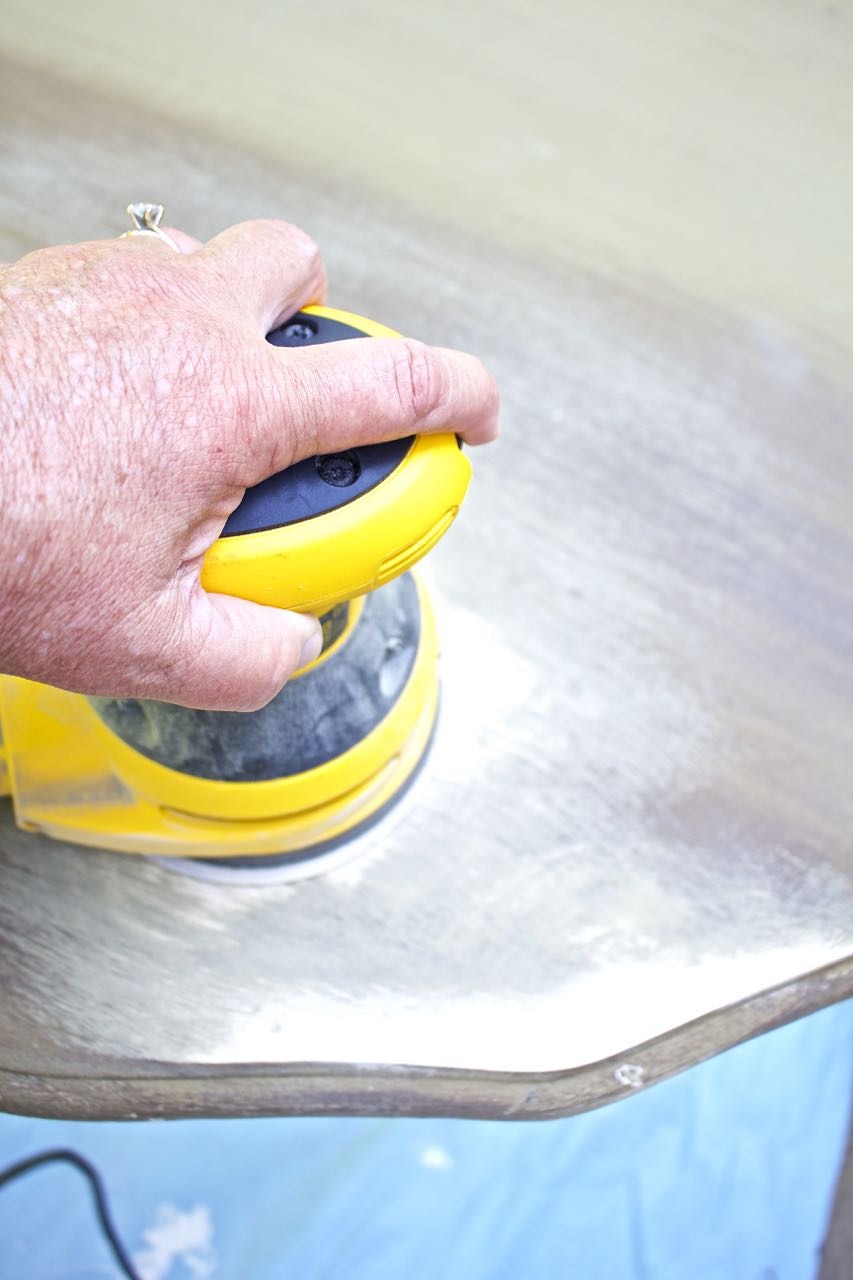 And this method wasn't working…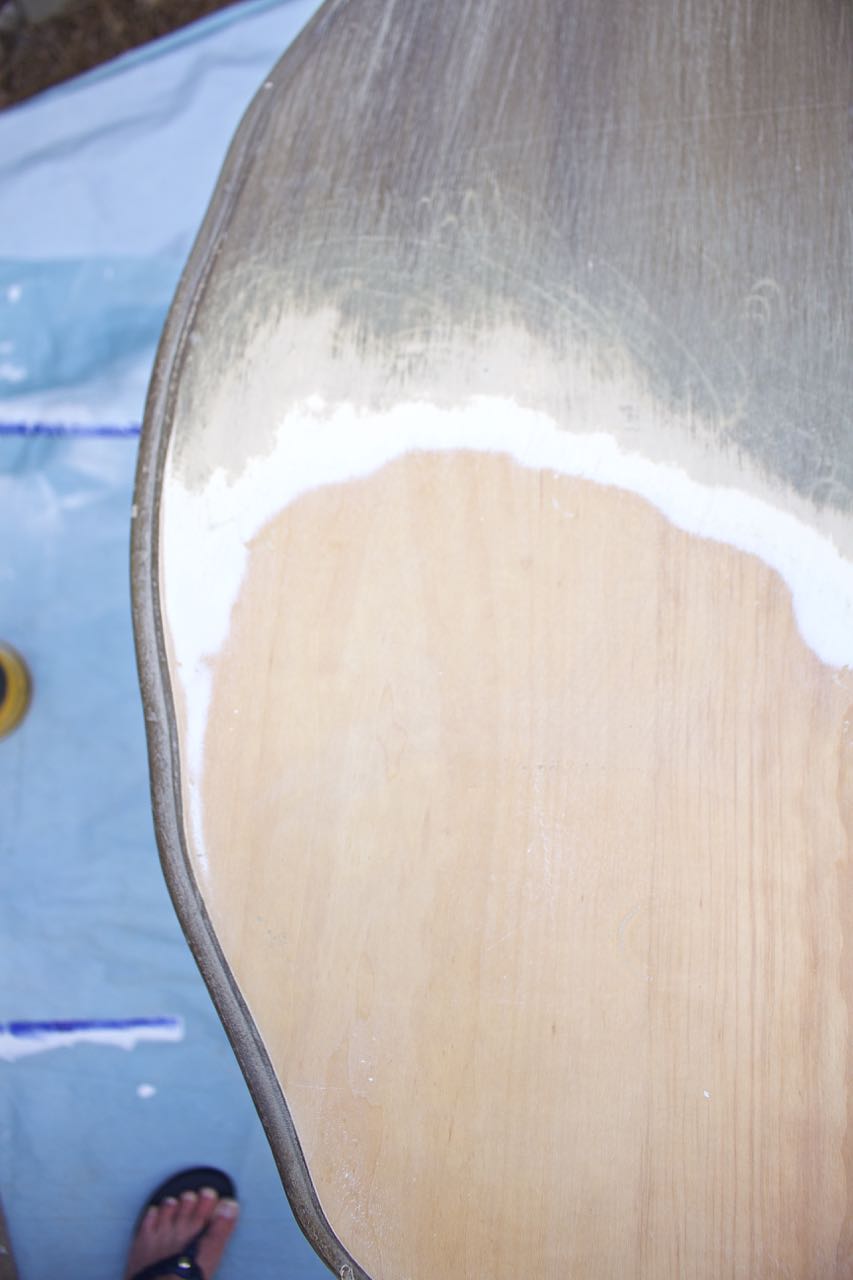 …until I worked my way further into the center of the table. Underneath all of these layers of paint was the thickest layer of primer I have ever scene. My palm sander was getting hot and I wasn't making any headway. I retreated into the house and asked Honey Bee if he could please help me. He didn't hesitate to say "yes". I am forever grateful because I would never have been able to complete this task on my own. It was a super hot day and it took over five hours to complete. Honey Bee says his hand is still vibrating 🙂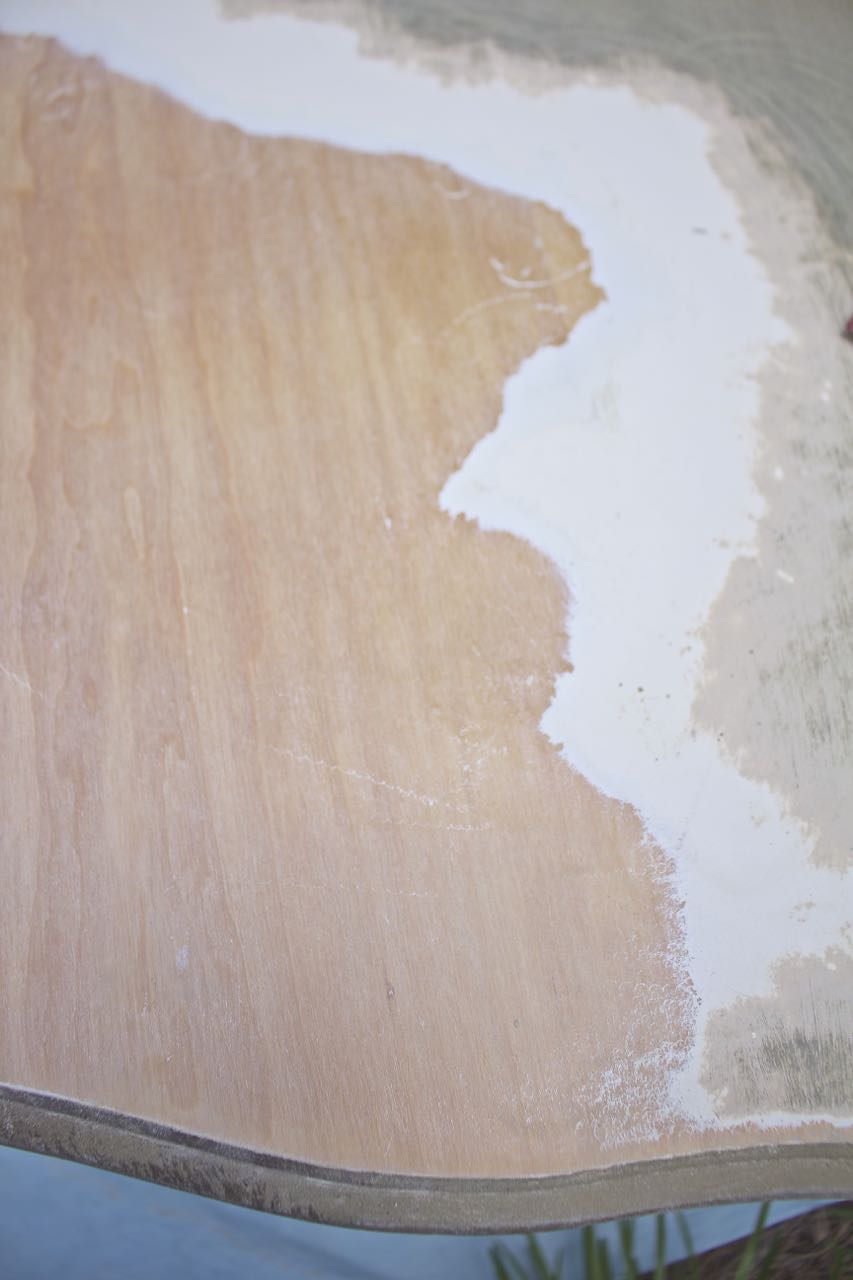 Beautiful, right?
This is the reason why the tabletop needed to be taken down to the bare wood. In order to achieve a weathered wood look for the top of the dining room table all remnants of paint and stain needed to be removed. I used my weathered wood recipe of vinegar and steel wool.
This stuff is a magic! When applied to raw wood it instantly gives wood a weathered, aged finish. It's like a chemical reaction. There is no odor, no waiting because it dries quickly. This is a great brush too.
Being that I applied this outside in the sun, it practically dried instantly. And look at that gray weathered finish – exactly what I wanted for my tabletop.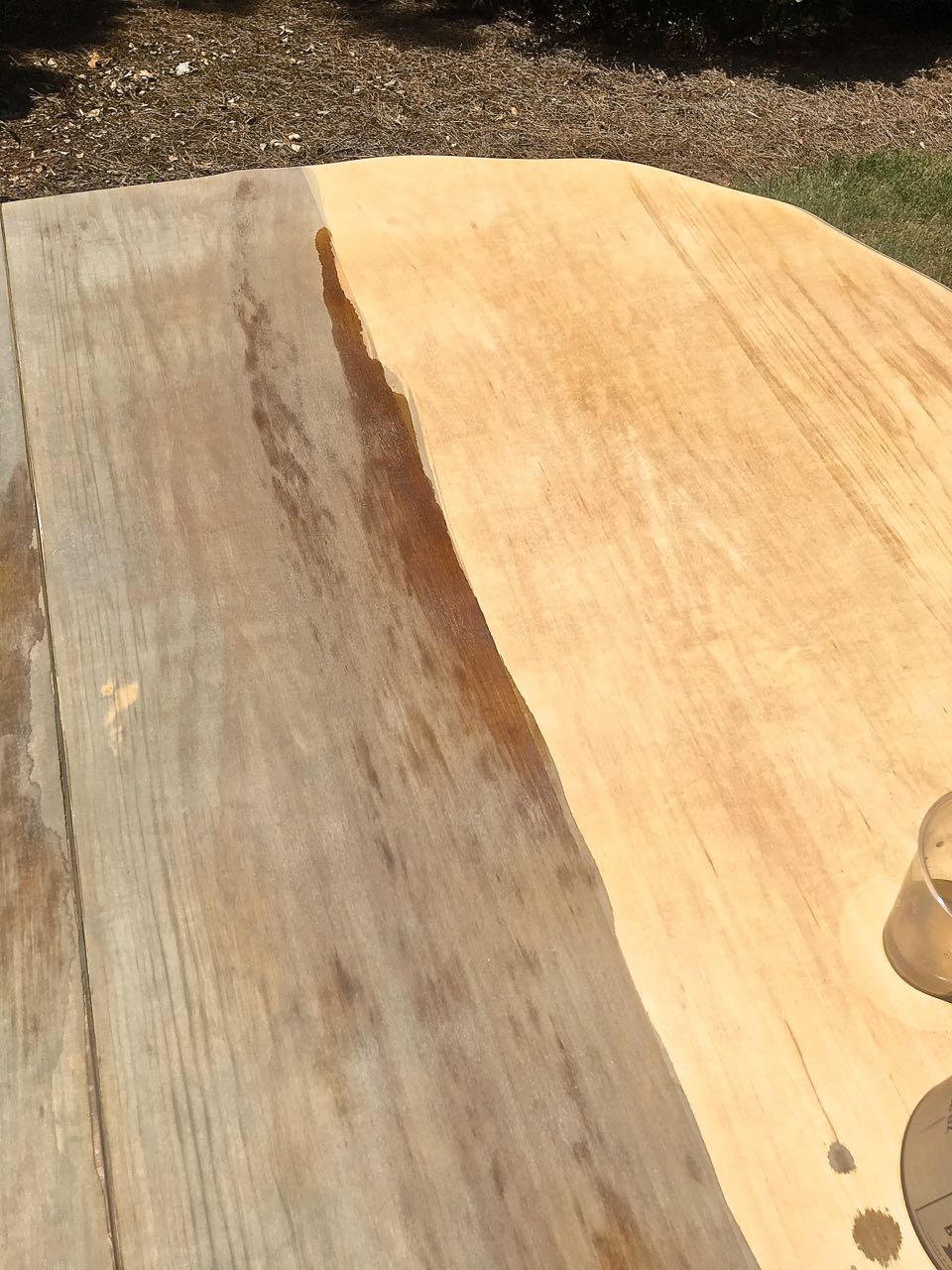 My makeover vision for this table also included dark gray legs. Amy Howard makes a fabulous One Step Paint and this color "Good Man Is Hard To Find" is the perfect color.
I painted the legs, apron and trim in this gorgeous color.
Being that this table will be used every day it is important that it is protected from water rings and spills. After much research I used Minwax Polycrylic Protective Finish. Here's where I had a definite what the fudge moment.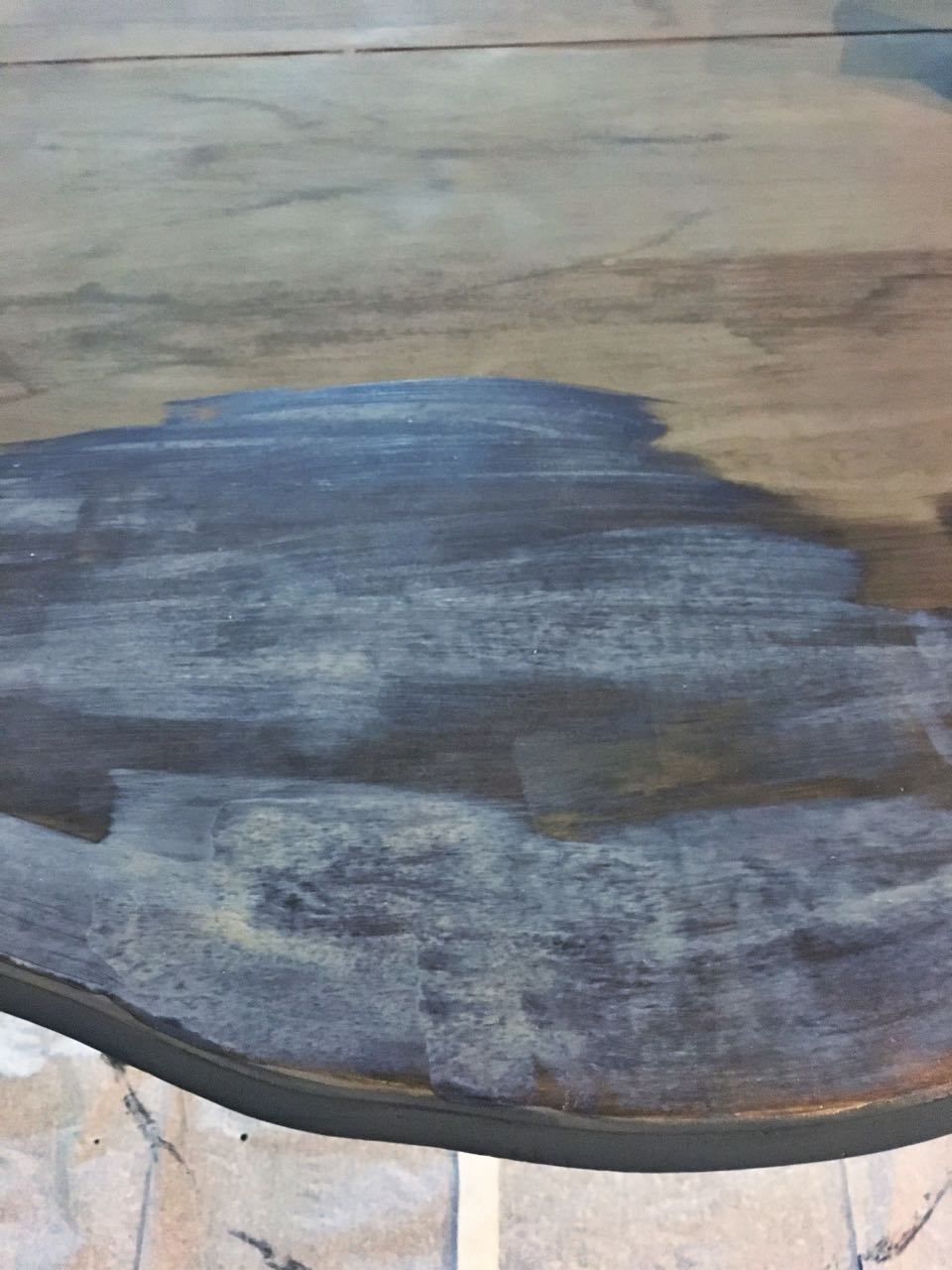 As soon as I brushed it on it seemed to thicken and turn blue. I worried that I had ruined my table. Quickly I read online reviews and was assured to keep going and not to worry – definitely follow all directions on the can carefully. I added three protective coats to the tabletop.
I also added a light dark wax coat to the painted legs and apron of front.
Are you ready?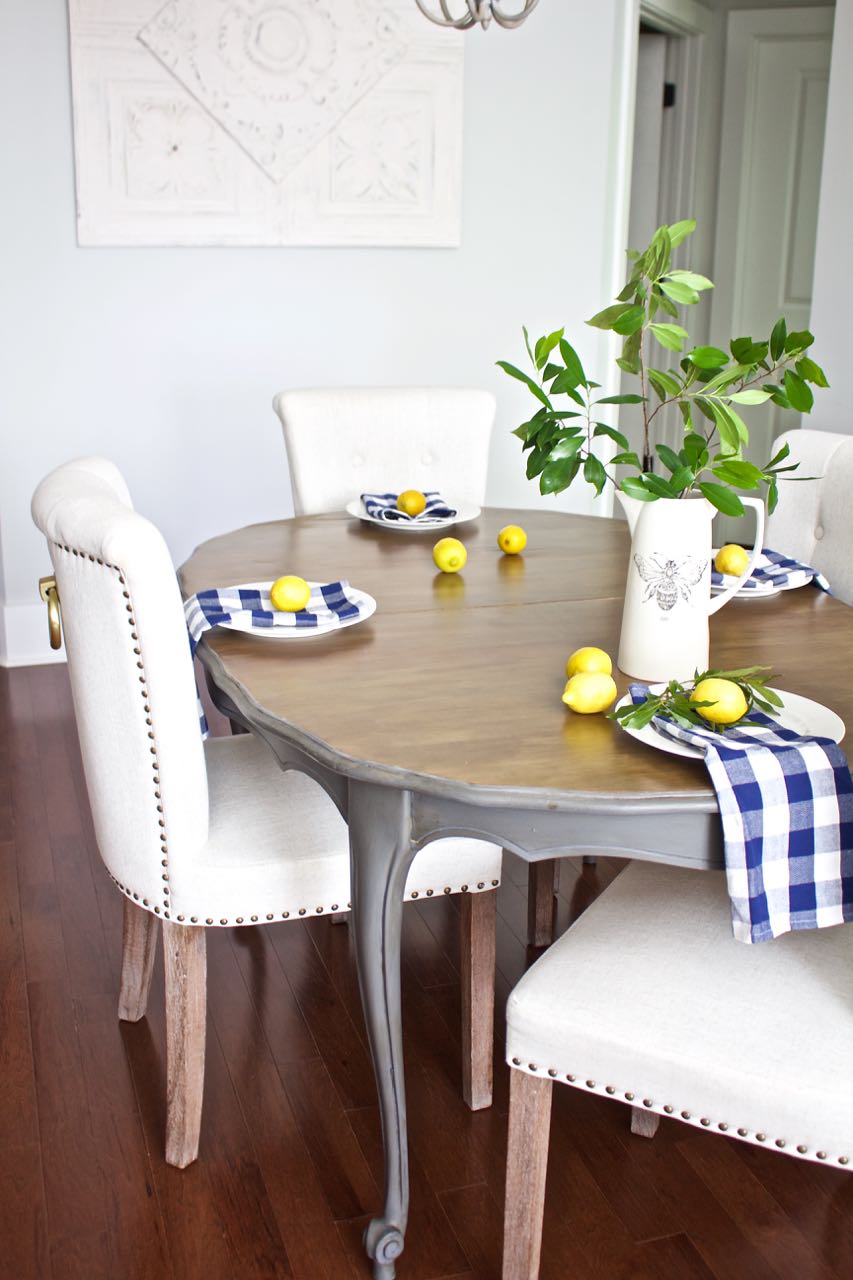 Can you believe that this is the same table?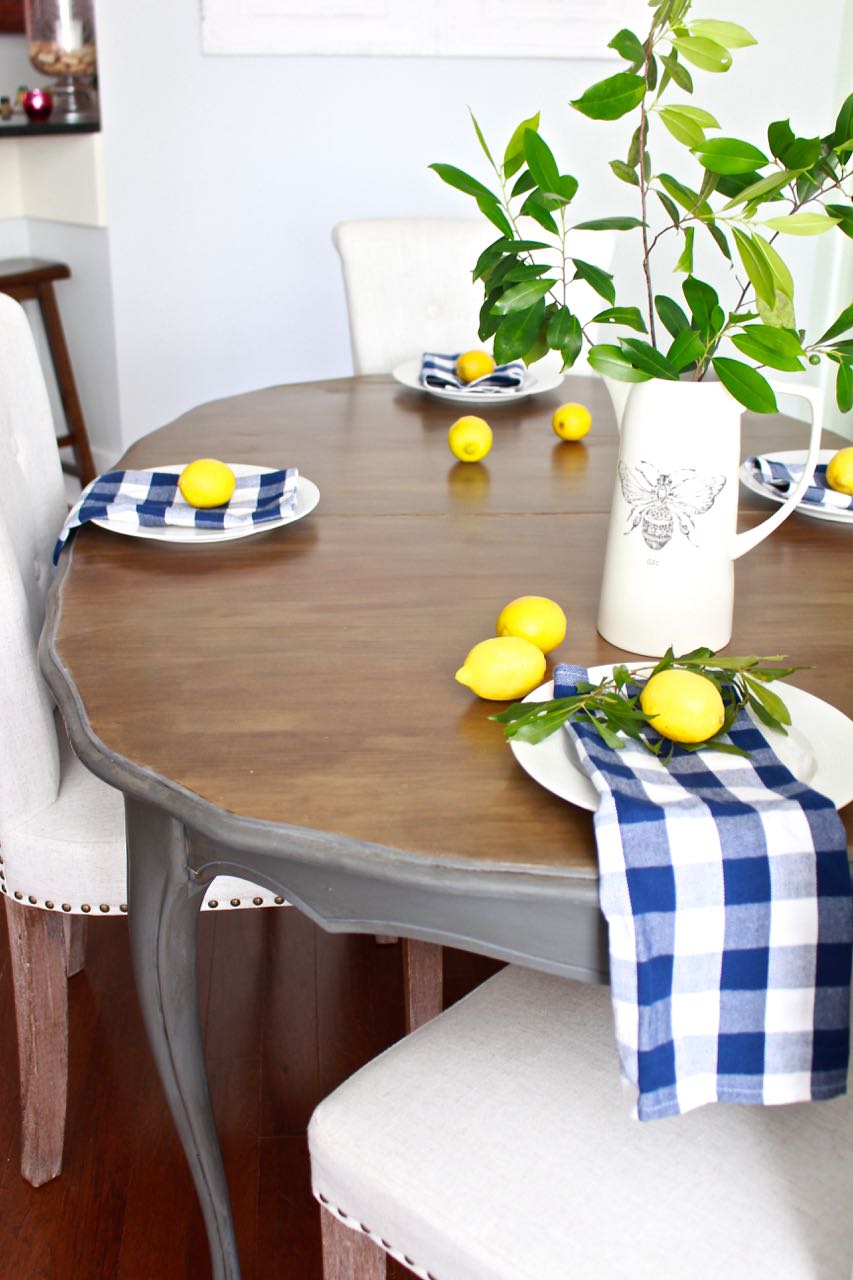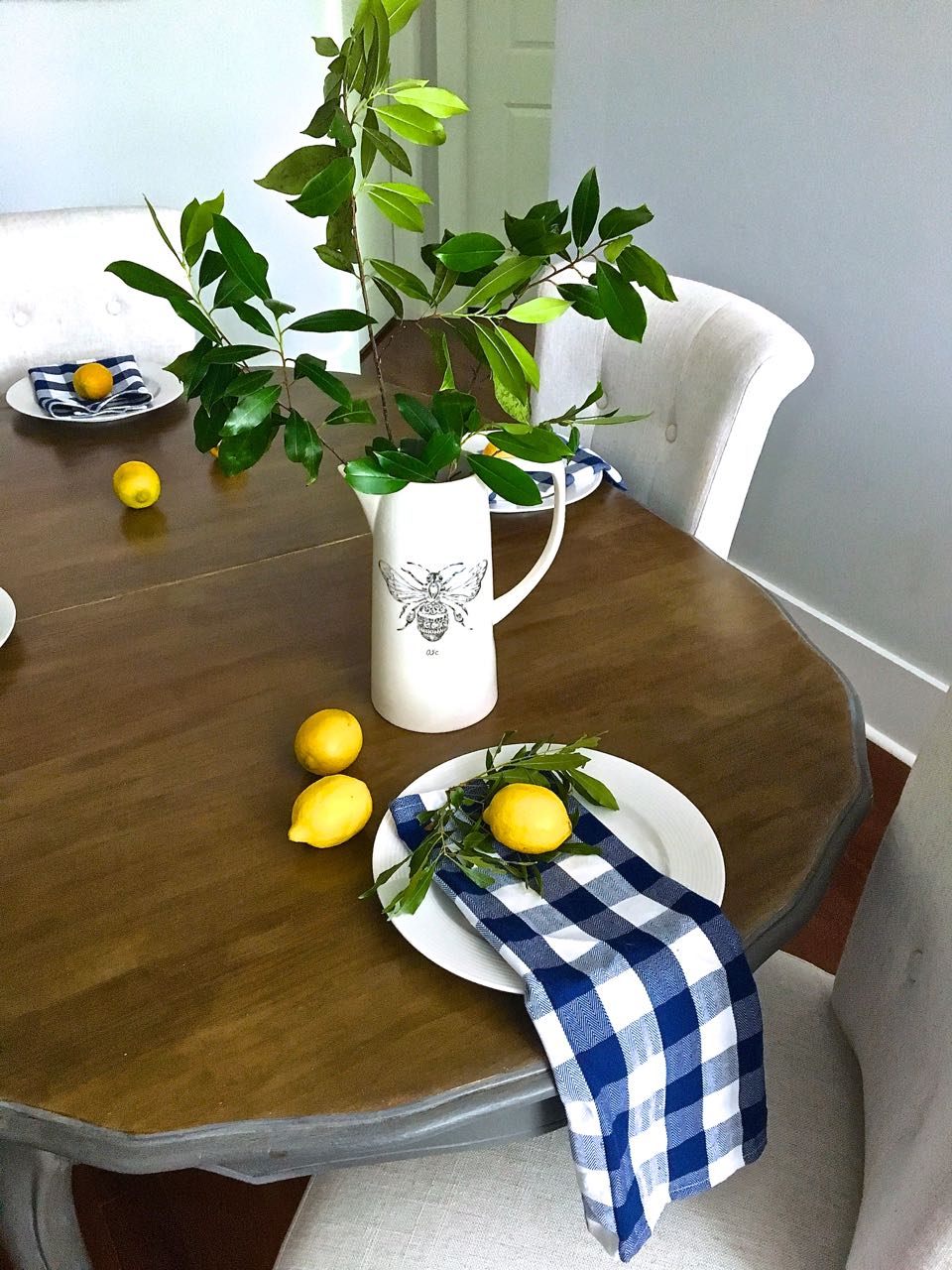 It turned out beautifully!
We have already entertained numerous guests here – our friends can't believe that this is the same table!
Even though it was more work than I initially thought, it was well worth it in the end. I have a dining room table that I love and am very proud of!
The dining room is slowly coming together bit-by-bit. Now I'm on the hunt for a new rug and artwork for the wall. Until then I will be enjoying my new table and chairs!
Have a wonderful weekend! Be sure to come back on Monday…Jenn and I are co-hosting a wonderful new monthly series, Back to Basics. This month is all about Summer Tablescapes.