Rosemary Garlic White Wine Vinegar
Please note that this post contains affiliate links. As an Amazon Associate, Rewards Style influencer and Jane Influencer, we earn from qualifying purchases and any sales made through such links will reward us a small commission – at no extra cost for you.
Easy to Make and Delicious, Rosemary Garlic White Wine Vinegar.
During the deep heat of the summertime, I really don't like to cook. I much prefer pasta salads, antipasto or garden salads for dinner.Taste and flavor are still the most important part of our meals. Recently I created rosemary garlic white wine vinegar to add extra zip to our salads and marinades.
Honey Bee and I eat a lot of salads. Typically we have one for lunch. Dinnertime, we either have a salad as our meal or a smaller one as a side.
Fresh Rosemary
Lucky for me, I have a huge rosemary bush growing in my yard. I use it all of the time, especially for grilling meat and veggies. The fragrance and flavor are fabulous.
After reading several methods and recipes online, I decided to create my own recipe for rosemary garlic white wine vinegar.
How to make Rosemary Garlic White Wine Vinegar
Clip two stalks of fresh rosemary – or purchase fresh rosemary at the grocery store. Wash and squeeze the leaves to release the natural oils and aromatics of the rosemary.
I used white wine vinegar, mainly because it was BOGO at my grocery store. Feel free to use red wine vinegar as well. Do NOT use distilled vinegar as it is harsh and better left for cleaning recipes.
Rosemary White Wine Vinegar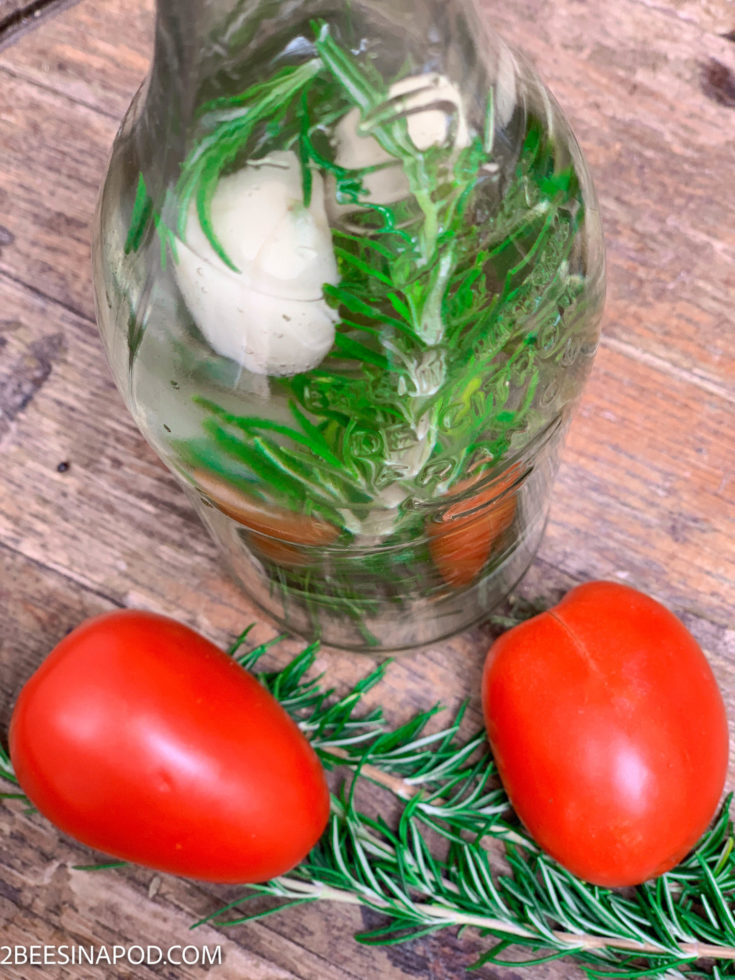 Ingredients
clean 16 oz bottle with tight-fitting lid
12 oz white wine vinegar (NOT distilled vinegar)
2 stalks of fresh rosemary - washed and dried
2 large cloves of peeled garlic *optional* - lightly scored with a knife
Instructions
Gently crush the rosemary stalks to release the natural oil.
Push the stalks into the 16 oz bottle.
Lightly score cloves of garlic - if using - add to the bottle
Pour 12 oz white wine vinegar into the bottle.
Add tight-fitting lid.
Let sit for 2 weeks to fully infuse flavor.
Use rosemary white wine vinegar in any salad dressing or recipe calling for vinegar.
The bottle that I used was saved from French lemonade. I especially like it for the seal-tight flip top. Feel free to use the bottle that your vinegar came in. Simply add the ingredients to the existing bottle of vinegar.
This
is a really good one, too.
Fresh rosemary stalks are added to the bottle.
Next, I added fresh garlic that I lightly scored. This releases the juice from the clove.
Carefully pour white whine vinegar into the bottle. You might need to use a funnel to avoid spills.
Tightly seal the top of the bottle.
Now, be a little patient. Let your bottle sit for at least two weeks.
This allows time for the rosemary and garlic to fully infuse the vinegar.
This rosemary garlic infused white wine vinegar is perfect for salad dressing recipes. It also takes great with fresh tomatoes drizzled with olive oil, salt, pepper and the infused vinegar. Even better if you add fresh mozzarella and basil!
Have you made infused vinegar before? You might also like our easy strawberry vinaigrette dressing.
Don't forget to pin this to your favorite Pinterest board!