Pretty Blue and White Fall Mantel Decor
Please note that this post contains affiliate links. As an Amazon Associate, Rewards Style influencer and Jane Influencer, we earn from qualifying purchases and any sales made through such links will reward us a small commission – at no extra cost for you.
I am so happy to share my blue and white fall mantel.
Being totally honest with you, because I know we're friends, this was my second attempt at putting this blue and white fall mantel together. I stood back and took a photo with my iPhone and it barely looked like I had any fall at all up on the mantel.
So then I grabbed my camera equipment and tripod. Because certainly after I go to the trouble to take a photo with my good camera, somehow the mantel will magically appear to look more fall-like. I even went to the trouble to edit the photo – but deep down inside I knew I was only kidding myself. Texting the original mantel photo to Jenn I asked her "Honestly, is this too simple? Have I lost my pumpkin spice?" There was something about that last sentence that got us both tickled and then I couldn't stop laughing. It was just the spark I needed to break me out of my recent funk and within minutes I decorated this blue and white fall mantel.
Blue and white and pumpkin spice
Cobalt blue reigns supreme in the living room. A couple of weeks ago I was in the attic looking for fall decor items and discovered a small, unopened packing box. It was clearly marked in bold lettering "Vintage Trophies – This Box Goes into the House". During our move, how this box ended up in the attic is beyond me. There are only a few boxes in the attic and they are only fall and Christmas decor. Finding these trophies was like discovering gold. I was so excited as I have used the trophies so often in my home decor.
Using natural elements is one of my favorite things to do. Branches and twigs collected over time, wicker pumpkins, white pumpkins, berries and one of the orange pumpkins I brought home from our Girl's Getaway in Franklin TN.
Vintage cobalt advertising bottles are getting harder and harder to find for a reasonable price.
Is the finial on the trophy perfection or what? The year 1938 holds a special place in my heart too.
Doesn't everyone have a champion steer? LOL
I mixed in one little faux pumpkin in with two pumpkins from the market.
These craft berries are my favorite. You can twist and bend them into any shape or form.
You can find a similar large wicker pumpkin HERE.
I just love this fresh cut stem on the pumpkin.
Earlier this year I did a makeover on this vanity bench using a tea towel for the cover.
It's perfect for extra seating when guests come over.
I'm happy to say I've rediscovered my pumpkin spice and my favorite season is back on track. Later this week cooler temps should finally come to town and that always makes everything better!
Pin this to your favorite Pinterest board.
Now, I know my mom taught me to never brag. BUT I made a super cute wreath…maybe the cutest wreath ever! So you won't want to miss that tomorrow!
See you then!
Be sure to visit the Fall Tours!
Vignettes on Monday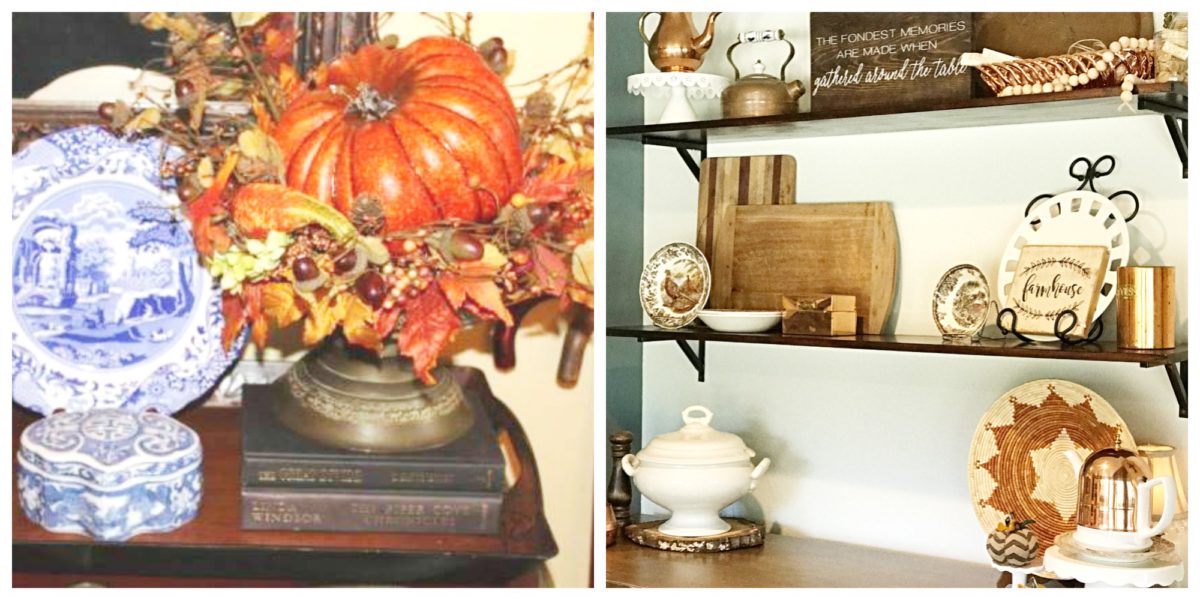 My Creative Days
Elizabeth Joan Designs
Noting Grace
2 Bees in a Pod
Belle Blue Interiors
Farmhouse On Elder Hill
Front Porches on Tuesday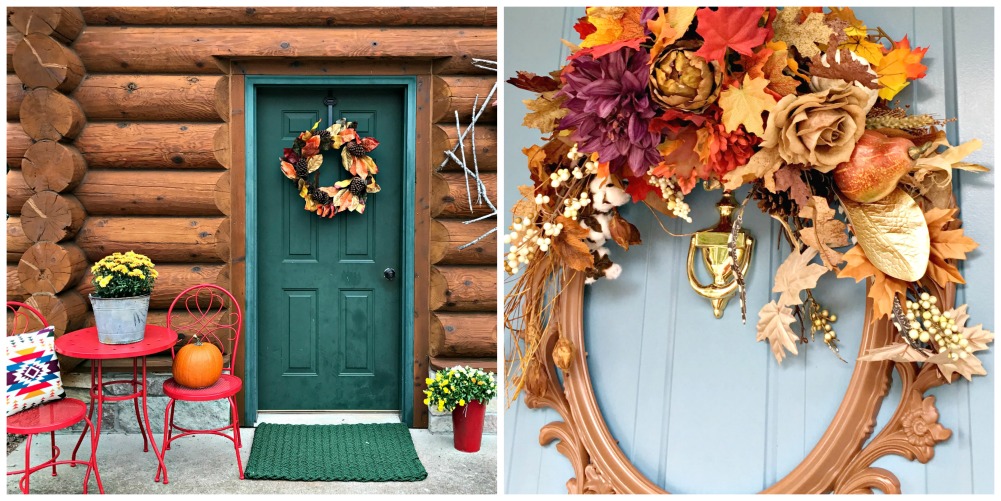 Little Brags
Life Love Larson
Hood Creek Log Cabin
Poofing the Pillows 
White Arrows Home
Celebrate & Decorate