Perfect Pot Roast in the Oven or Slow Cooker
Please note that this post contains affiliate links. As an Amazon Associate, Rewards Style influencer and Jane Influencer, we earn from qualifying purchases and any sales made through such links will reward us a small commission – at no extra cost for you.
Do you have a favorite go-to supper recipe? My mom made the most delicious pot roast and thankfully she shared her recipe with me.You can make this perfect pot roast in the oven or slow cooker.
When we invite guests for a dinner party, the first thing I do is create a menu. I want the evening to be special, but not formal. It's important to me that our guests feel comfortable, happy and entertained. Additionally, I don't want to spend the entire evening in the kitchen. This perfect pot roast can be made ahead earlier in the day. Whether I cook it in the oven or in the slow cooker, it frees up my time.
To create a carefree atmosphere…and to reduce stress for me…I prefer to create a menu of dishes that can mainly be made ahead. This way I'm not stuck in the kitchen cooking while everyone else is having fun with special bevs and appetizers. I mean – I want to have fun too 🙂
For this occasion I wanted the meal a little extra special so I made my favorite pot roast which is my mother's recipe. It is delicious, hearty and easy to make in my slow cooker!
Yield: 6 to 8 servings
Perfect Pot Roast in the Oven or Slow Cooker
This pot roast is delicious, juicy and flavorful. It turns out perfectly every-single-time! You can cook this roast in the oven or the slow cooker. We love to serve it for Sunday Supper.
Ingredients
3 tsp olive oil
1 - 2 to 3 pound boneless chuck roast or rump roast
1 small bag sliced baby carrots
1 large white onion, thinly sliced
2 cups of mushrooms, sliced
1 TBS rosemary, chopped
3 cloves of garlic, chopped
2 TBS tomato paste
2 cups of beef stock
1/2 to 1 cup red wine
10 small red bliss potatoes - peeled or unpeeled
salt and pepper to taste
fresh parsley for garnish
Instructions
OVEN METHOD

Preheat oven to 350 degrees
Add oil to large pan or dutch oven and heat
Salt one side of the beef and add to the hot pan, salt side down. Sear until crusty and brown - about 7 to 10 minutes. Salt the meat and turn over and repeat.
After meat has a nice sear on both sides - remove from pan and place on a plate and set aside.
To the hot pan add onions, carrots, mushrooms, garlic and rosemary. Cook until onions are translucent.
Add wine, beef stock and tomato paste.Cook for 3 minutes.
Place meat back in dutch oven with the vegetables and broth. Add potatoes as well.
Cook in the oven uncovered for 1 hour. turn oven temp down to 275 degrees and cover. Cook for 1 ½ to 2 hours more until beef is very tender.
SLOW COOKER METHOD - Follow all of the same steps above. Add everything to the slow cooker - meat on the bottom. Cover with lid and cook on low for 7 hours.
The secret to this roast is the searing of the meat. I actually prefer cooking this in the slow cooker as opposed to the oven method.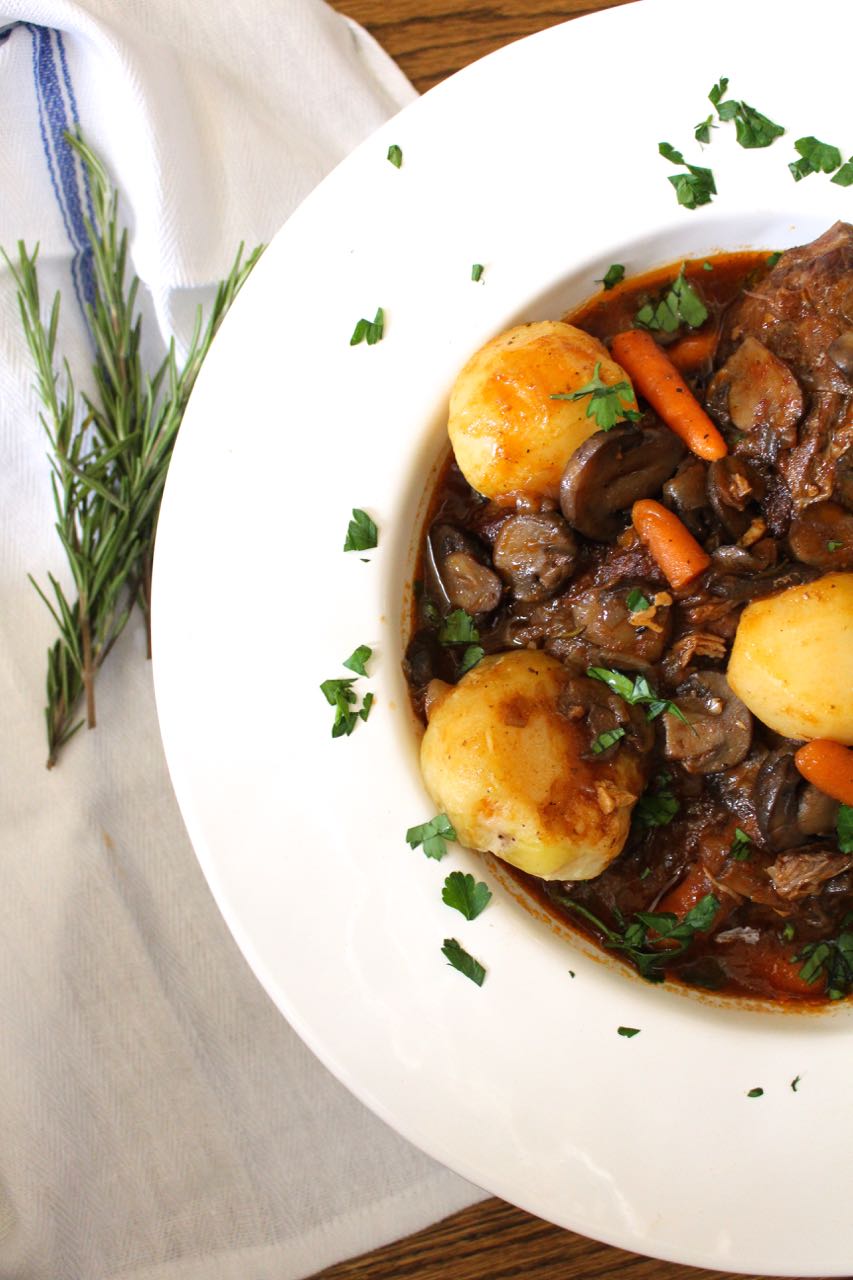 I like to serve it in this oversized bowl for easy passing at the dining table. The roast is juicy and fork tender.Make sure to serve it with crusty bread to sop up the scrumptious gravy All of our guests thought it was delicious!
There were six of us, but this recipe could easily serve eight people.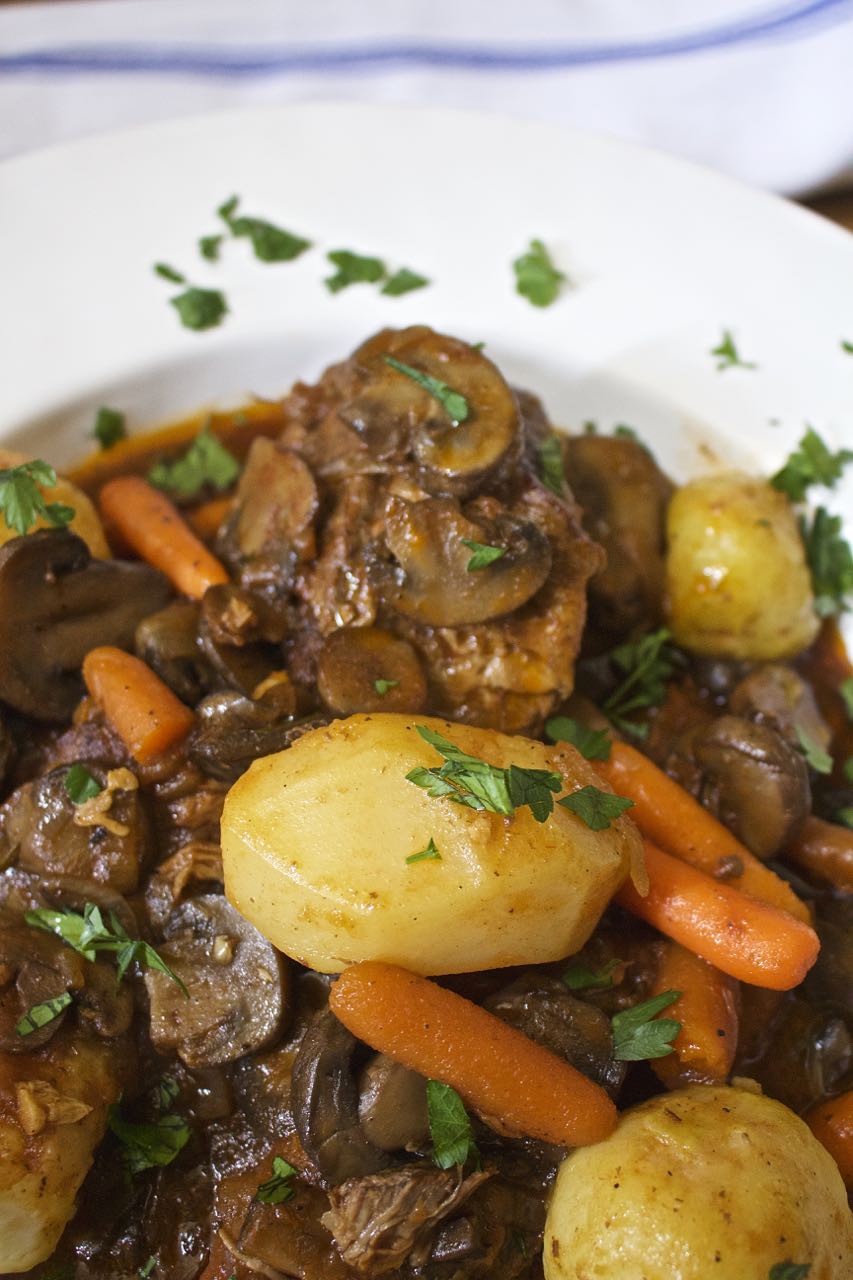 Being that this main dish also has potatoes, carrots and mushrooms there really isn't a need for a lot of extra food. I roasted some artichokes and toasted some French bread. And of course we had wine – lots of wine 🙂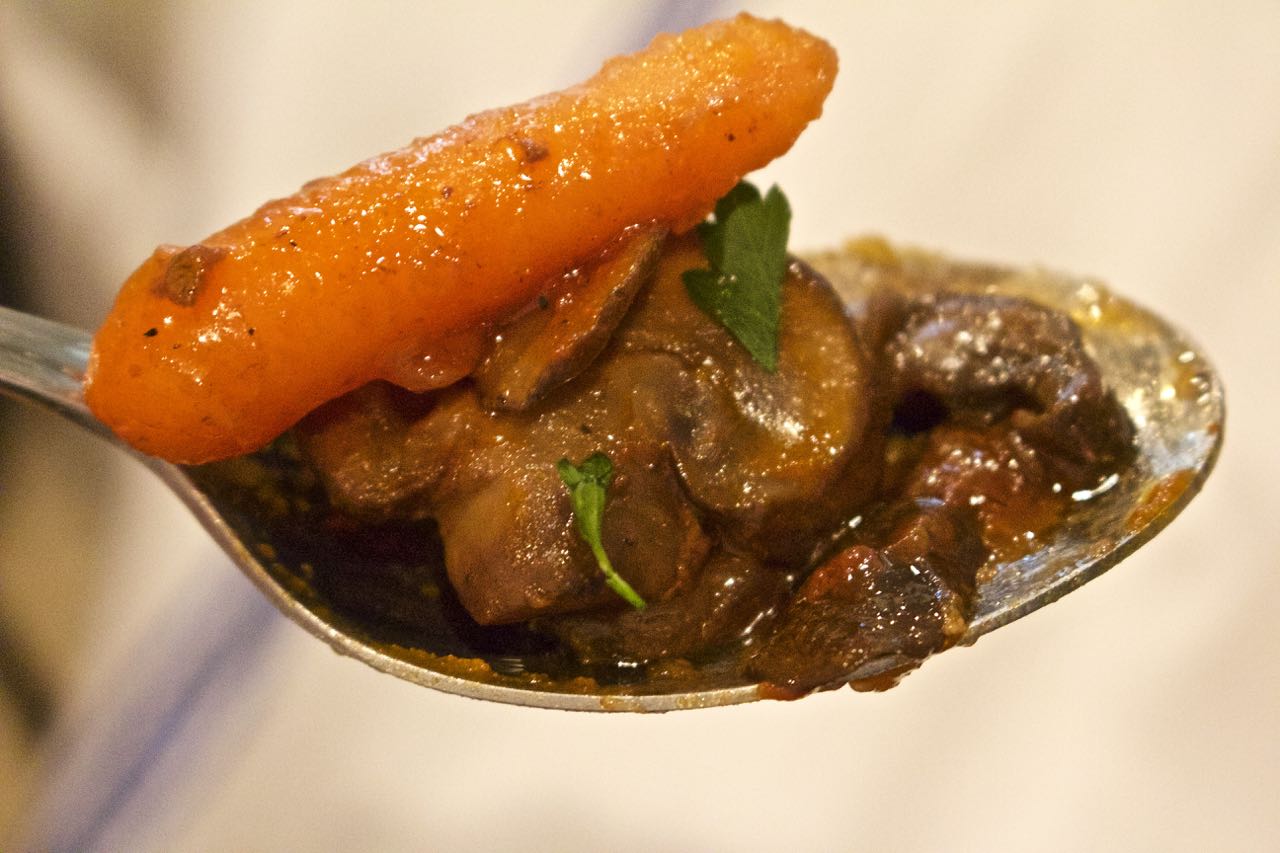 As I mentioned before, this is my favorite time of the year to entertain. I feel it's important to slow down, laugh, have fun and create memories with those that we love most. There's just something about sharing a great meal with people that mean the most to us. Try it…you'll like it!
Don't forget to Pin this to your favorite Pinterest board!