Painted Wagon Makeover – Would You Have Done It
Please note that this post contains affiliate links. As an Amazon Associate, Rewards Style influencer and Jane Influencer, we earn from qualifying purchases and any sales made through such links will reward us a small commission – at no extra cost for you.
Some of you might think this painted wagon makeover is a bit of a sin.
Please let me plead my case and the method to my madness before you start casting stones LOL. You see, I have had this adorable Radio Flyer Little Red toy wagon for at least 10 years now. In the box. Never taken out or put together. It was a purchase I made when out shopping one day with my mom before she passed. Back then this wagon was only $7 – can you believe it?
I don't even know why I bought it. Have you ever done that? I can still hear my mother saying to me "What in the world are you going to do with that?" It's true – mom's always right. And then it sat in my garage at the old house, until it moved to my current garage. Last week I was out there rummaging around for items to take to my booth when I came across this box.
Still like new.
Right then and there I decided enough is enough. The time had finally come where something did need to be done with this toy wagon. How utterly ridiculous to keep this in the box and never do anything with it. Part of the issue for me is obvious, well beside the fact that this is a toy 🙂 The wagon is new, bright, shiny and red. None of these would describe me or my style, except for maybe my lipstick.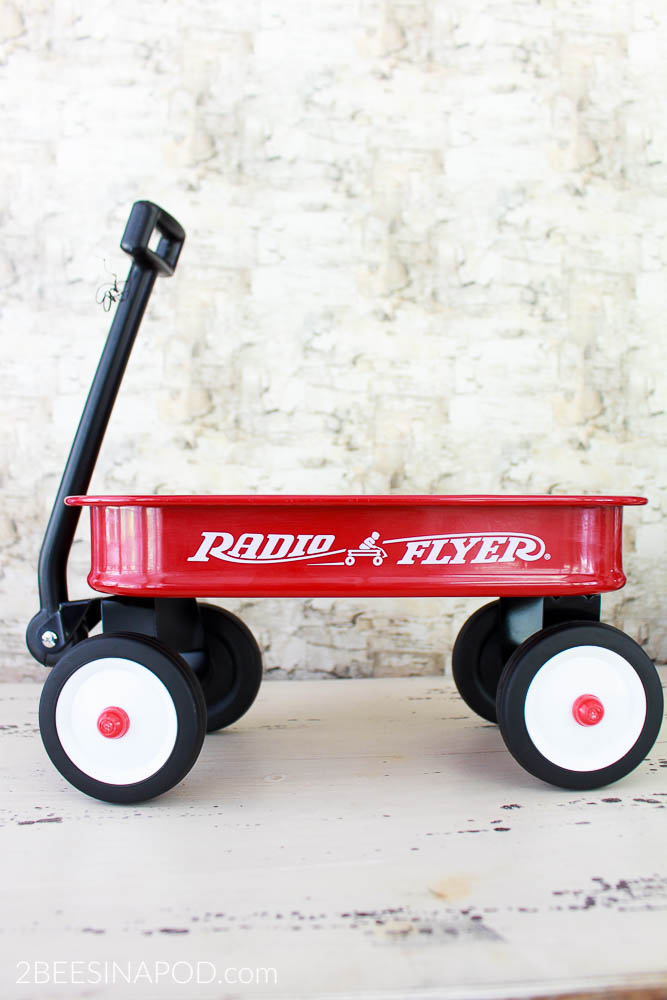 Most of the wagon is plastic and flimsy. It took a bit of work to put together too. This made me more assured of my decision. Again I realize this painted wagon makeover is a personal decision to alter, but I am so glad I did!
I used chalk paints in the colors of Old White for the body and Graphite for the handle. I added a little bit of paint and old wax to the wheels to give the appearance of mud.
Here you can see just how small this wagon really is. Oh, and how cute it is with its new look!
Now my sweet wagon will be used all of the time in seasonal decor. Definitely as fall progresses there will be pumpkins and maybe some gourds displayed.
This will look cute at Christmastime too with little trees or ornaments.
So I hope that I am forgiven for painting a Radio Flyer toy. Now this little painted wagon makeover  will get used more than ever before.
Don't forget to pin this to your favorite Pinterest board!
Come back tomorrow as I have been making some progress on the guest bedroom!