One Room Challenge She Shed – Week 4
Please note that this post contains affiliate links. As an Amazon Associate, Rewards Style influencer and Jane Influencer, we earn from qualifying purchases and any sales made through such links will reward us a small commission – at no extra cost for you.
We are so excited with our progress with the She Shed that we just can't stand it! So much has come together this week and the shed is beginning to look like a fun, functional entertainment room. Welcome to week 4 of our One Room Challenge project. You can see the progress each week and get caught up here in case you have missed the previous weeks:
This week was all about the outside areas of the shed. I mean – you can't have the interior looking gorgeous without making the outside look just as fancy, right? Honestly, a lot of hard work was devoted to this. If you follow us on Instagram you may have seen this sneak peek of what our week entailed:
Lots and lots of gravel. Thank God for our neighbor who let us borrow his wheelbarrow. If not, we would still be out there shoveling gravel. Here is what the exterior of the shed looked like before we got to work. The exterior of the shed definitely needed some TLC and something other than dirt surrounding it.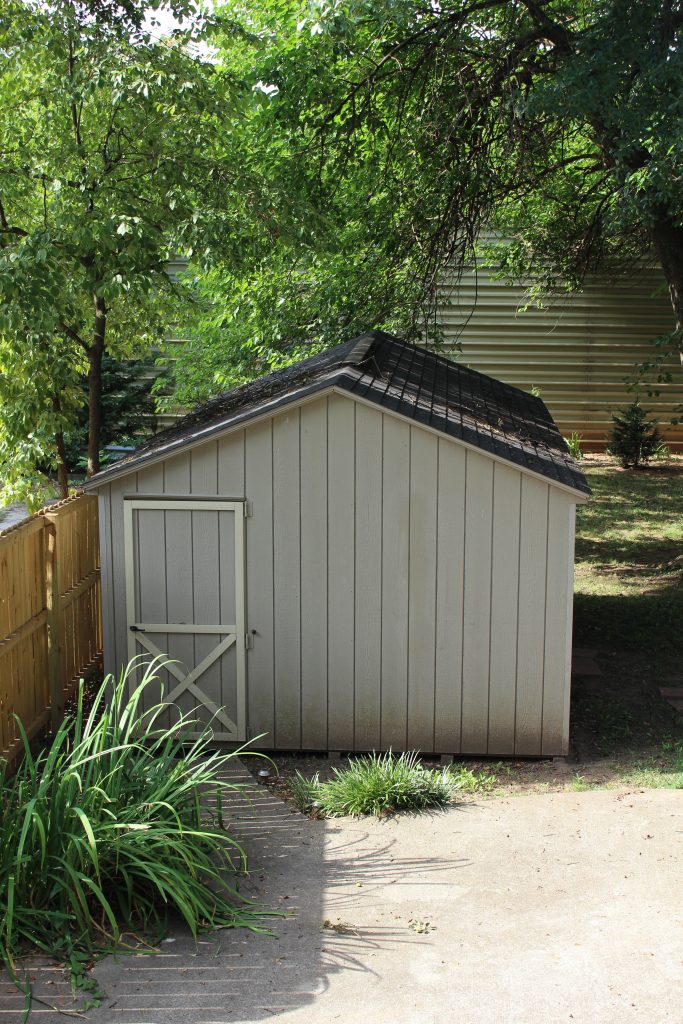 The shed has these great double doors at the front that will make it perfect for entertaining.
We started the weekend by taking out the plants on the side of the shed, as they just did not look good in our opinion. We decided to get a couple of evergreens to add to the space and let me tell you, things can just never be easy. The ground was essentially rock and it took forever to dig the holes, but we did it!
Here is the shed after this weekend…it is starting to look like a tiny home and we love it! And I have to toot my own horn here because I built this deck, which I think has turned out great. We'll be sharing more details on how we built it next week, so stay tuned. We still have more to do on the exterior, like adding flowers to the window boxes and other landscaping elements, but it is getting there.
Also, can I just do a side rant about the amount of leaves that have already fallen? I feel like we keep raking the leaves, we turn around and they are instantly back. Anyone else feel the same way?
The next two weeks we'll be focusing on the interior and doing the final push to get everything done. We have some great little projects we're working on for the interior and once that is done, we get to do the fun part…decorating! Cannot wait! Also, be sure to visit Calling it Home to see the progress of other bloggers. There are some really great projects being done this round of the One Room Challenge.
XO, Jenn