One Room Challenge She Shed Reveal
Please note that this post contains affiliate links. As an Amazon Associate, Rewards Style influencer and Jane Influencer, we earn from qualifying purchases and any sales made through such links will reward us a small commission – at no extra cost for you.
The day is finally here when we get to show you all of our hard work. We transformed our storage shed, which was a hot mess, into a She Shed. It was definitely a big task to take on in just six weeks for the One Room Challenge, but we were excited to get to work. There have been some late nights, Plan B's that had to be created when Plan A's didn't work and some panicked moments. All in all we had a fun time working on this DIY project. The She Shed is now a perfect place for entertaining, as well as a relaxing retreat space.
Here is what we were working with at the beginning. First we had to take everything out of the shed, which let me tell you was a blast haha!
And now for the reveal…welcome to The Hive! We are so in love with this space and I think we'll be spending quite a bit of time in here.
We added some evergreens, installed some window boxes, oh and built a deck! The shed really does look like a little cottage.
Voila! The interior of our adorable little hive.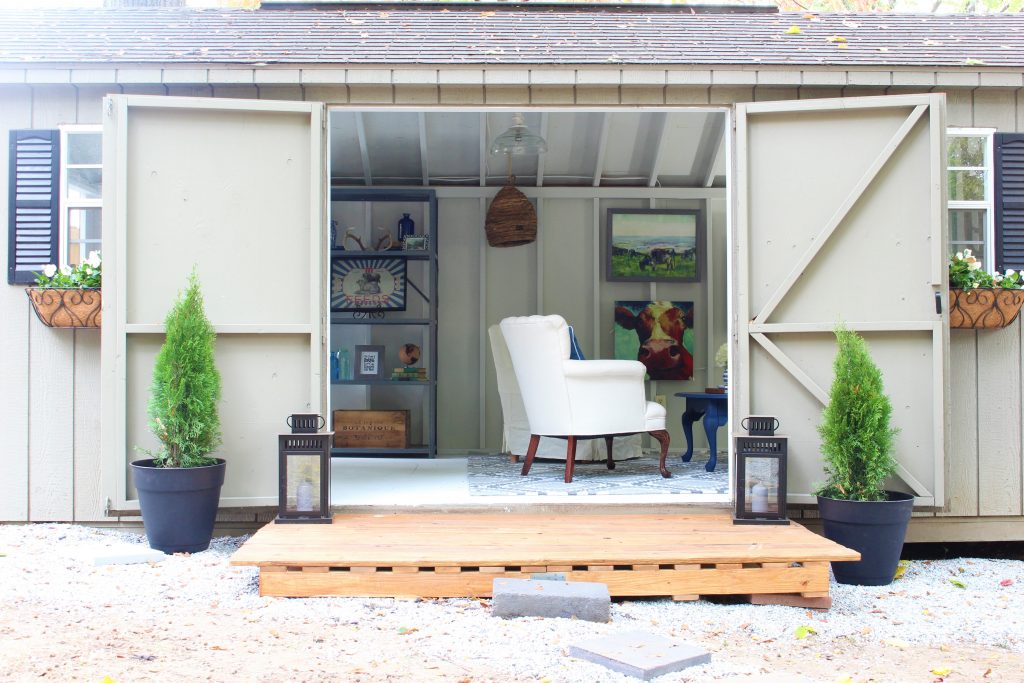 We got these lanterns from IKEA for only $15 a piece…such a great little addition.
We are so in love with this space! It's cozy with farmhouse and rustic touches. It really is such a great space for entertaining or curling up with a good book.
Tobacco baskets are hard to come by and when you do, they are so expensive. Luckily for us, we got a great deal on this one from a small little antique store in Bishop, GA. And these shutters we have had for years that we got from an estate sale.
Isn't our gallery wall of cows precious? Two of the prints came from Minted, and the other one we've had in our stash. Can we also talk about this gorgeous rug from Nuloom…in love!
This bee skep is perfect for The Hive and helps fill some empty space by hanging it.
So, this metal shelf was in the shed when we purchased the home. We decided to make it work in the she shed and we gotta say it does fit right in. On a recent trip to the mountains, we found this awesome feeds print that we couldn't pass up.
The image in the frame is actually a post card of what our neighborhood looked like in the 1920's. It was fun being able to incorporate a little nostalgia of Grant Park.
Since we love to travel, this cork globe from Uncommon Goods is a great addition to the shelves. We added pushpins to places we have traveled.
Now for the part of the She Shed that will likely have the most amount of people around it…the bar! We made the chalkboard window years ago, but it's always been under utilized, so it made us happy to include it into the bar area.
To the left is easy and inexpensive artwork we created to add a little more pop of color.
These glasses are another great find…it is a street map of Atlanta that even includes our historic neighborhood. Too cute!
And we of course had to include a craft beer from one of our favorite local breweries 🙂
We are so in love with our She Shed makeover and can't wait to have friends and family over. The Hive will definitely be buzzing!
Also, be sure to visit Calling It Home to see the reveals of so many other great projects. So much inspiration!
XO, Jenn & Vicki