Please note that this post contains affiliate links. As an Amazon Associate, Rewards Style influencer and Jane Influencer, we earn from qualifying purchases and any sales made through such links will reward us a small commission – at no extra cost for you.
I am so excited to bring you my new home tour! Moving from the big city to a small town has been a dream come true.
It's hard to imagine that it has been a little over a month since we moved from the big city to small town living! While change is always a little hard, we have settled into our new home and town and are absolutely loving it. Just the other day we looked at one another and said that this was the best decision we had ever made. Although the new home tour is when it was empty, it shows the awesome blank canvas we're working with.
We've loved exploring our quaint little town and already finding some of our favorite spots. Our new neighborhood is also amazing with a ton of families, not to mention awesome hospitality. We've met more neighbors here in the short time we moved in than we ever did living in Atlanta. Within the first week neighbors had brought over farm fresh eggs, chocolate pie, and tomato pie. We couldn't believe it!
Moving Day!
I'm excited to share our new home with you. As many of you know, we had been living in a 1901 Victorian home, which I loved! I've always loved older homes as they offer so much charm and character. However, for this home search we decided that we wanted a newer home. Don't get me wrong, if the perfect older home had come on the market, I would have 100% gone and seen it. But that was not the case haha.
As many of y'all know, the real estate market is absolutely crazy right now. Our house had gone under contract within 24 hours, which was great, but that meant we had to find something fast. And we had already been looking and knew there wasn't much available. It was basically down to 2 houses. Each one was new construction and neither would be quite ready for when we needed to move. But we were in a pickle so we had settled on one of the houses and figured we could find an Airbnb for a month or so, though definitely not ideal.
Plot Twist:
As we were waiting for the contract to come through on the new construction (which had taken more than a day so far to receive from the sellers agent), this house popped up on Zillow. I texted it to our Realtor, who was amazing by the way, and within 5 minutes she was asking if I can go see the house within the hour. Kara was already back in Atlanta and my parents were out of town, so Everett and I went and saw it. When I pulled up to the house I knew it was exactly what we were looking for. The house is only 2 years old and the previous owners took such amazing care of it. Plus the best part was we could move straight from the old house to the new house, which would make life a lot easier.
New Home Tour!
Love these front doors and the extra light they bring in!
The living room has super tall ceilings and a ton of natural light. It's also open to the kitchen, which is new for us and we're loving it. We get more family time that way. Also, at first this fan was a little large in my opinion, but it's growing on me. It's literally called a "Big Ass Fan" and I'm sure in the summer months we'll be in love with it.
The kitchen decor was pretty perfect for us, as we love white cabinets. It also has an eat in kitchen and additional storage. In the old house we only had an island to sit at to eat. Now we're spoiled with an eat in kitchen and dining room.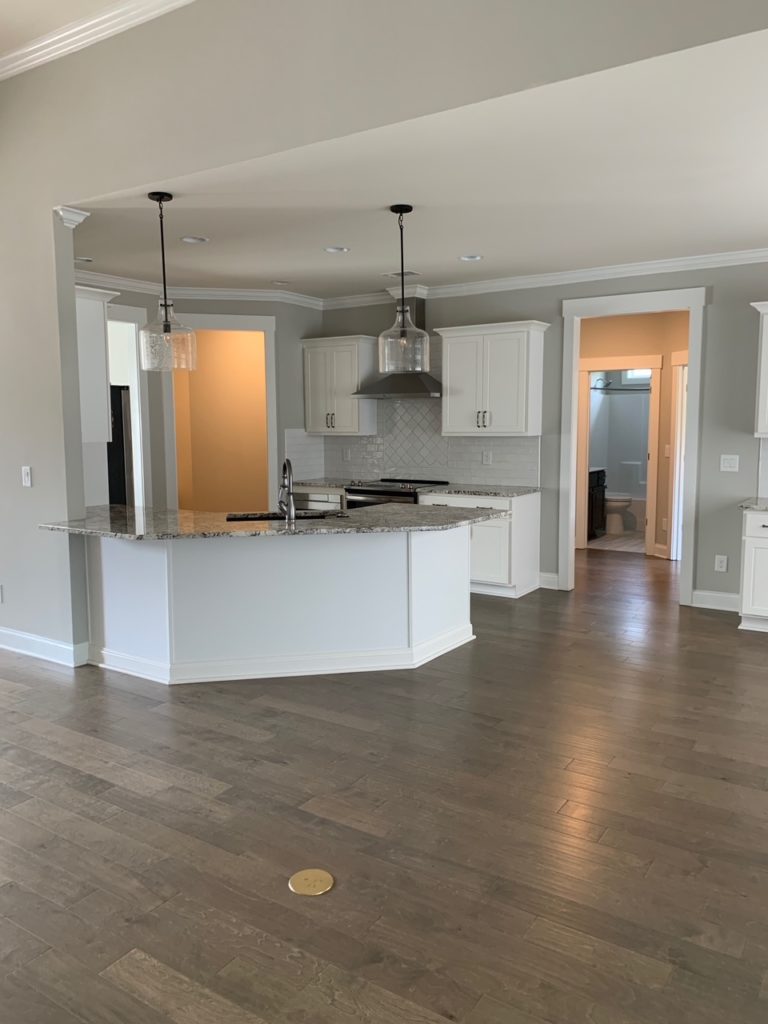 The main bedroom is super spacious and has an awesome bathroom with double vanities, which again is such a treat for us. For this room we definitely want to have plantation shutters installed to align more with our style.
In this house we decided to give Everett the smallest room for now. This part was a little hard for me because he had such an awesome room in the old house that was huge. I felt bad at first, but then remembered that he is a baby and we don't spend a ton of time in his room at the moment anyways. We'll eventually change this when he gets older, but it was the only other bedroom that has hardwood floors, which we prefer.
It's so nice to have this little mud room off the garage, as well as the spacious laundry room.
I somehow forgot to get a picture of the bonus room empty, but this is a picture from the listing. It's honestly a little bit of a hot mess at the moment as we're trying to figure out the direction we want to take. It will definitely be a home office space, but then trying to determine the rest of it. It's an awesome space though with a ton of potential.
The screened in porch and backyard are really what sealed the deal for us. We have spent so much time out here already and soaking in the amazing spring we've had.
One thing that did give me a ton of anxiety was that Kara hadn't even seen the house. This was such a huge decision and I kept overthinking if it was the right one. Luckily she was able to see it during the inspection and she loved the house. After that, it was smooth sailing. For the most part we really don't have to do anything to it. Some projects down the road include replacing the carpet in the 2 guest bedrooms with hardwoods, tiling the guest bathrooms, and installing plantation shutters. But we're in no rush to get those things done. For now we are still settling in and enjoying the peace and quiet of the country. I hope you've enjoyed the new home tour and can't wait to show you the home all decorated, so stay tuned!
Don't forget to Pin this to your favorite Pinterest Board!