Mason Jar Christmas Vignettes
Please note that this post contains affiliate links. As an Amazon Associate, Rewards Style influencer and Jane Influencer, we earn from qualifying purchases and any sales made through such links will reward us a small commission – at no extra cost for you.
We hope everyone had a wonderful Thanksgiving and were able to spend it with family and friends! We know we had a great time this year and are now excited to really delve into the Christmas season, which is both my mom and I's favorite holiday. We've been slowly working on some projects for Christmas, but now we are into it full steam ahead.
I don't know about you and your family, but for us the minute Thanksgiving is over we are decorating for Christmas.  This year I wanted to try something different and incorporate some more rustic elements into my decor.  I decided to use mason jars to create a little Christmas vingette and I am so excited about how it turned out.
For my project I needed mason jars, small trees, fake snow, a glue gun, and other small elements I wanted to incorporate…
I started by using the glue gun and placing glue on the entire lid.
Then I added the fake snow (be sure to do this quickly, as the glue will dry fast.)
After this was done, I added glue to the bottom of my tree and added this to the snow.
Believe it or not, I could not find small Christmas trees.  I looked at Michaels, Target, Hobby Lobby, Dollar Tree, and the list goes on…everyone was sold out.  I really wanted a smaller tree, so using wire cutters I cut a taller tree to make it shorter.
The trees turned out really well, if I do say some myself 🙂
While at Hobby Lobby I found this cute red truck, which was an ornament, but I knew I could incorporate it into my project.  I decided to turn the mason jar on its side and include snow on the bottom.
I then cut another tree down and added it to the back of the truck.  I just love how this turned out.
Now I have a great new centerpiece for our coffee table and I could not be happier with how it turned out!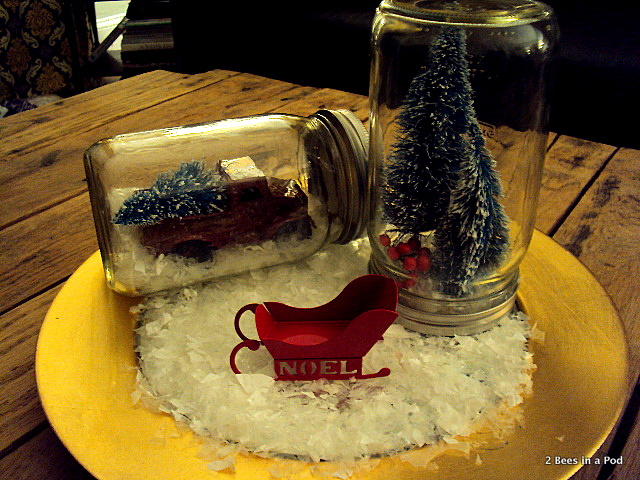 We can't wait to show you more of our Christmas decor in the next few weeks 🙂