Please note that this post contains affiliate links. As an Amazon Associate, Rewards Style influencer and Jane Influencer, we earn from qualifying purchases and any sales made through such links will reward us a small commission – at no extra cost for you.
I think it's time for me to publicly admit…I'm a sentimental hoarder. I have bits and pieces of memorabilia that have travelled with me for years! In this particular case it's skeins of my paternal grandmothers yarn.
Keep in mind I don't crochet or knit. Oh, my poor grandmother tried to teach me to crochet as a young girl. I could crochet a single chain the length of a football field – but I could never loop the chain in a double stitch – my visions of creating a potholder for my mother were dashed and I hung up my crochet hook. But, grandma's yarn was important to me. These balls of yarn have lived with me in Florida, North Carolina and Georgia and I have never used them…until now!
I was rummaging through my craft supplies and saw these creamy white skeins and knew instantly what I would use them for…yarn trees!
Here's what I used:
3 different types of creamy white yarn

Elmer's Glue
Styrofoam tree forms in varying sizes
I added a bit of glue and started wrapping the harm around the styrofoam. I wasn't perfect with my wrapping, which is the effect I wanted for my trees. The glue dries clear so you don't need to worry about it getting all over your yarn.
On the smaller trees I added a bit of glitz with these .10 cent mini ornaments…
And here's a peek at how I'm decorating with them in my living room…
I created a vignette with other trees from Christmas' past and some shiny reindeer 🙂 I really like how it's coming together.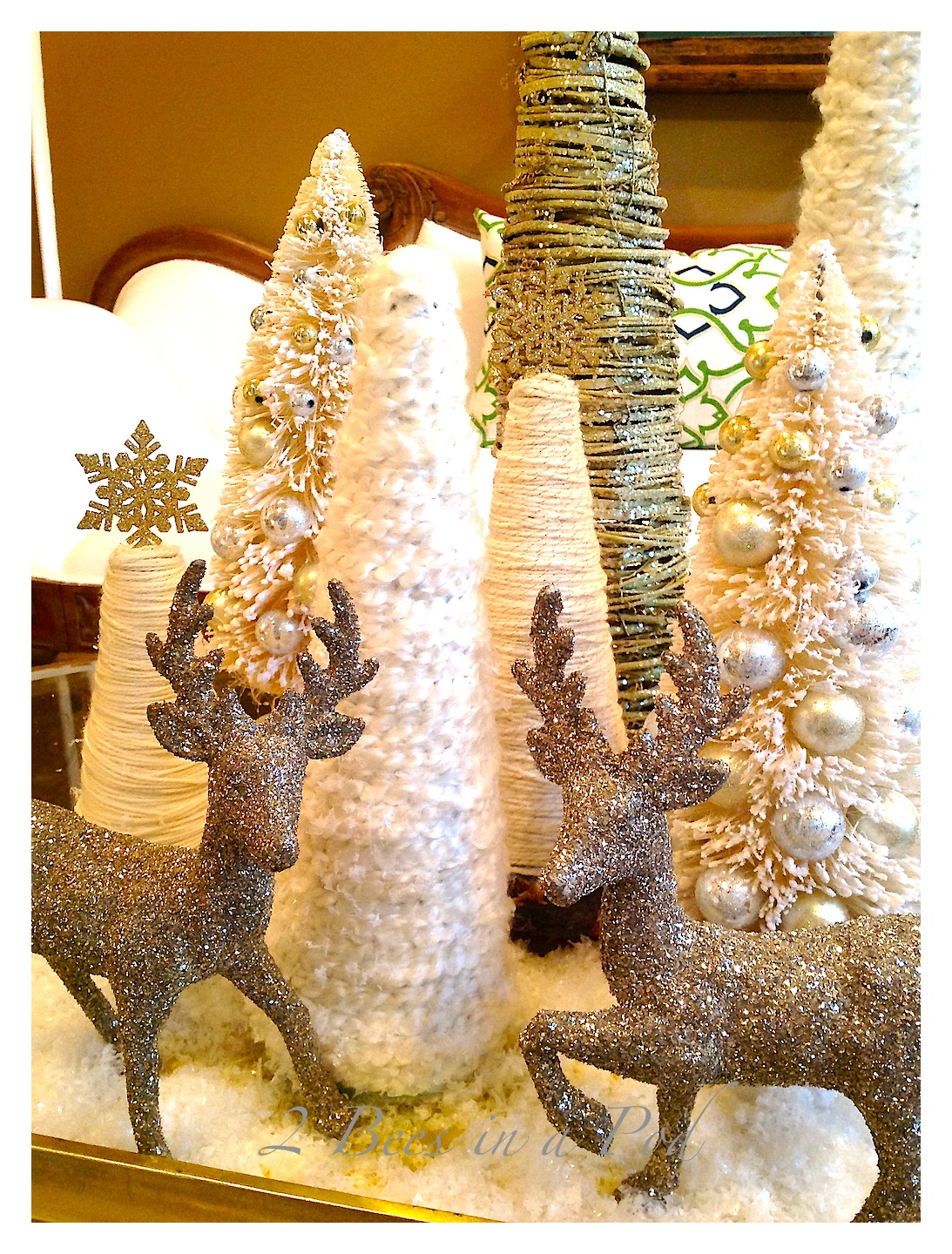 Have you started decorating for Christmas yet? We've done arts and crafts to get us ready for decorating. The day after Thanksgiving we will bring everything up from the basement…and it's a lot of stuff – I've been collecting and decorating for a long time 🙂 My goal this year is to not purchase any decorations and use what I already have…I'm up to the challenge!
xo-Vicki