Make a Watercolor Using Your Own Photos…
Please note that this post contains affiliate links. As an Amazon Associate, Rewards Style influencer and Jane Influencer, we earn from qualifying purchases and any sales made through such links will reward us a small commission – at no extra cost for you.
Don't hate me…I just returned from paradise. I was fortunate to be on a Hawaiian vacation for nine days with Honey Bee. I will be sharing more of my trip with y'all in later posts. Today, I wanted to share an App with you…I know it sounds crazy, but stick with me.
When we were on one of our long flights, I was browsing with my IPad and I did a search for "best new apps".  Luckily, for me I discovered Waterlogue among the listings. This is an awesome and fun application that will turn your own photographs into a watercolor painting…cool, right? I was so excited because I thought timing was perfect – I could turn some of my vacation photos into watercolors. I was more than willing to pay the $2.99 purchase price and try it out. Check it out below…top photos compared to transformed photos:
Sunset in Waikoloa, Hawaii: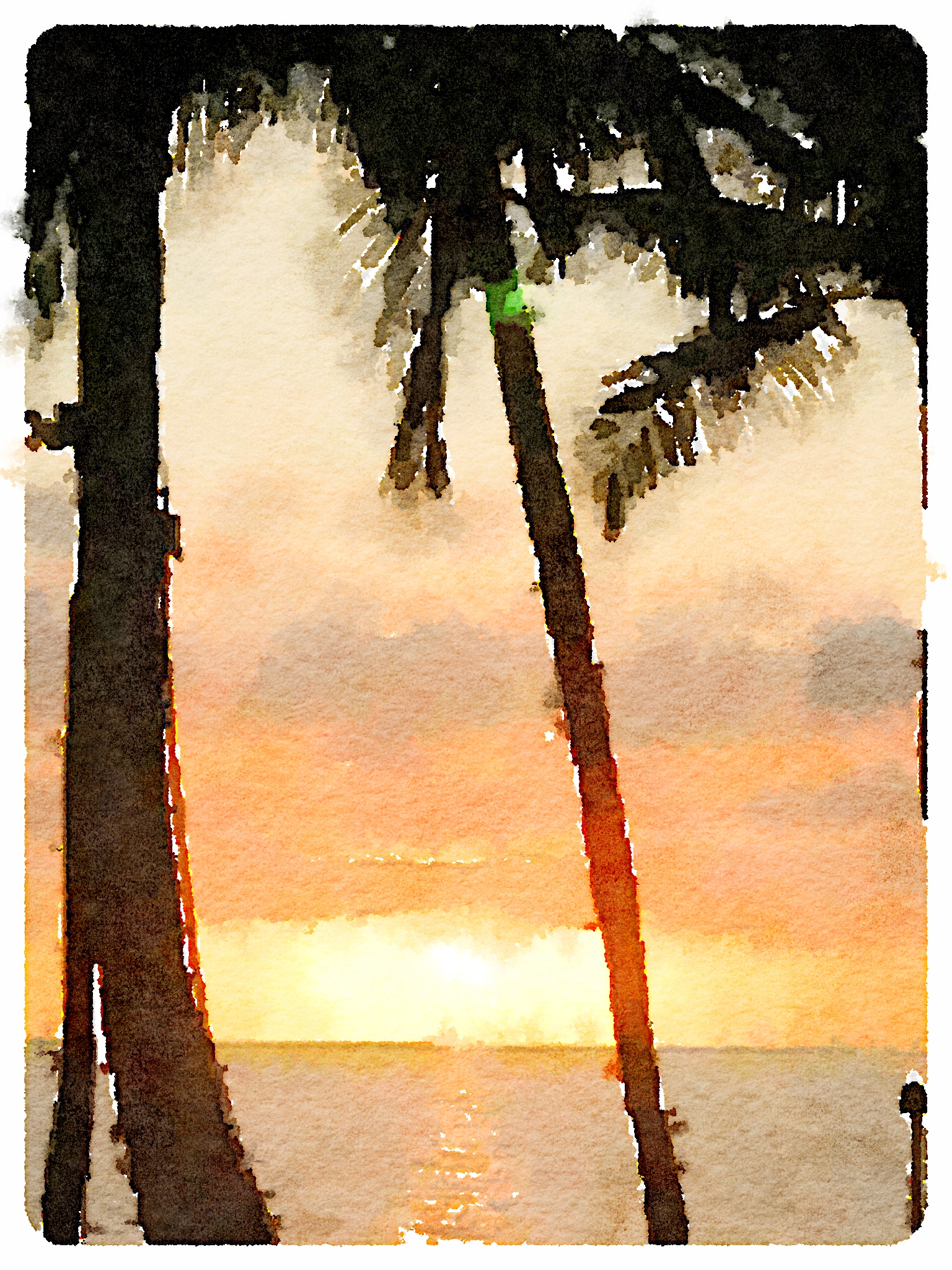 I have always loved watercolor art. It is so free-flowing and pretty…but I always make a mess of it. I love to paint – but don't always make the time to do it.  My hope was that this App would be a wonderful solution for me. Little did I know how addicting it would be!!!  Seriously, I was lost in time transforming my own photos, saved photos and snapping photos in my house. I couldn't stop! You just wait…you have been officially warned 🙂
Mai Tai's at sunset at Hula Grill in Waikiki:
Parrots at Waikoloa, Hawaii
My very last photo in Hawaii – Honolulu palm trees swaying in the beautiful blue sky:
I honestly think an investment of $2.99 was totally worth it. This is just my personal review of this App and I really think y'all will like it – so I wanted to share it with you on our blog today. The application is very user friendly and is a little bit like Instagram, if you are familiar. After you download the App, all you have to do is:
Look for the little camera icon and press it.
This takes you to your Camera Roll, photo Stream and Instagram photo albums
Select a photo
Use the different filter options and play with the different features until you are happy with your watercolor art
Press the heart on the right and see the options for saving your artwork.
Don't become addicted 🙂
Here are some converted watercolors from previous photos from our blog:
Jennifer's adorable cottage in the Atlanta snow:
My super cute dog, Starbuck:
Vintage Cookbooks:
I hope you have found this post to be helpful. Let me know if you decide to use this App and what you think of your watercolor art creations!  We can be addicted together…enjoy!!!